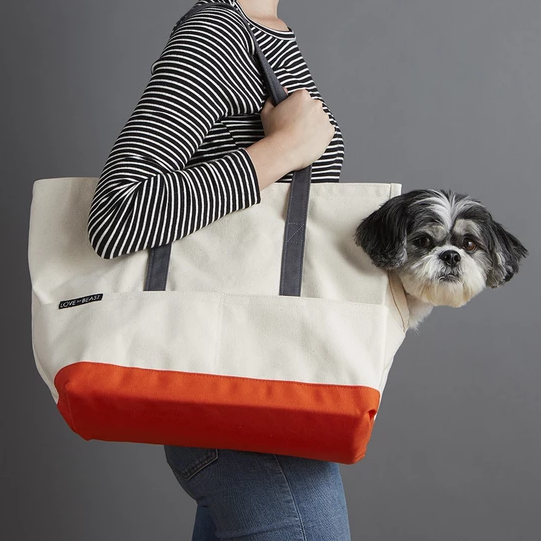 Photo: Courtesy of retailer
If you own a dog under 30-ish pounds, chances are you also own some kind of bag to carry it around in. Since 2016 New Yorkers have been banned from bringing pets on subways and buses unless they are "enclosed in a container," and similar rules apply to varying degrees in other cities, and on Amtrak trains, taxis, and airplanes.
Over the past few years, the confluence of this crackdown on dog carrying, the rise of dog influencers on Instagram, and people's apparent willingness to splurge on accessories for their pets has birthed a new market of elaborate and stylish bags that you can use to tote around smaller dogs. Functionally, the best ones are durable, easy to clean, and comfortable for both owner and pup (the latter even more important for owners who commute with their dog, or use the bag as a prop for Instagram posts). But aesthetically, determining which of these day-to-day dog carriers will actually make you look like the parent of dogfluencer can be a little harder. Parisa Fowles-Pazdro, the founder and owner of luxury dog-gear store Maxbone, describes the type of bag most of her customers seek as a "super-simple bag that fits into their everyday lifestyle, like a dog tote. They want it to hold their dog safely, but they also want something stylish they won't be embarrassed to be seen holding." We talked to her and nine other stylish dog owners, including folks behind some of Instagram's coolest dogs, to get their picks for the best-looking (and still functional) doggie bags. Read on for their suggestions.
Two status dog totes
The closest thing to a status dog tote that we found is this bag by New York City–based brand Love Thy Beast, which came recommended by four of our cool dog people, who say these are the ones they see most often at trendy dog haunts around the city, and on Instagram. Logan Mikhly, the co-owner of Manhattan's only off-leash dog café, Boris and Horton, says "the most popular pet tote we see in the café is the Love Thy Beast tote. People like that it's super-comfortable and that it comes in a lot of fun colors so you can match it to your personal style."
Emily Wang, whose Instagram focuses on life with her two dogs, carries her Pembroke corgi, Chibi, in a Love Thy Beast tote, and says that it is "the most popular" among her dog-owner friends. (She also specified that the tote works better for her corgi than a backpack, because those are uncomfortable on the dog's back.) The Love Thy Beast tote is also beloved by Kathy Grayson, owner of Bertie the Pomeranian, whose Instagram boasts 385,000 followers. Grayson, who runs The Hole Gallery in NYC, says, "I only use Love Thy Beast bags. They're made locally, so they're expensive, but honestly they are perfect." And Candy Godoy, owner of a pug named Boogie who has nearly 30,000 followers on Instagram, agrees that the Love Thy Beast tote is the "It" dog bag for "when you're on the go."
Godoy and Mikhly also mentioned Wagwear dog totes as one of the most popular brands they see, and Perry Betts (the owner of a miniature dachshund named Thor) told us that she did a ton of research before settling on the WagWear Boat Canvas Carrier. She says, "It's sold at all of the best fancy dog stores in town, and I've see it among cool dog owners who want to avoid looking overly bougie with the Louis Vuitton carrier. It's also super-rugged and almost chew-proof, and there's a lanyard inside to attach a collar or harness. It looks exactly like a great casual tote, but has a cutout for your little friend to see the city." One likely reason these totes are slightly less popular than Love Thy Beast's right now is that, even though Wagwear is an older company (it debuted in 1998; Love Thy Beast launched in 2012), it came out before Instagram or dogfluencers were a thing, and therefore has stayed slightly more under the radar.
But the look of both Wagwear's and Love Thy Beast's totes recall that of the classic L.L. Bean Boat and Tote, which Mindy Montney — the owner of Dog & Co., a style-focused dog-gear shop in a tunnel within the Columbus Circle subway station — says is what dog owners carried their pets in before the niche pet-carrier industry blew up. "Classic tote shapes are the most popular dog bags in the city," she says, and since dog owners were already using L.L. Bean and similar canvas totes to carry their pets on the subway, it made sense for designers to customize that style of bag with "a U-shaped cutout where the pup's head can hang out." As further proof of this look's popularity, Montney told us she's launching a new version of her own dog tote bag, which has a similar aesthetic.
The status dog backpack
If you prefer to carry Fido on your back, Wang, Godoy, Mikhly, and Montney all said that the K9 Sport Sack is the dog-backpack style they see most around the city and on cool-dog Instagram. Wang's other dog, Kokoro, prefers it to tote-style bags. "A lot of people I know use the K9 Sport Sack. My American Eskimo likes the backpack style by K9 Sport Sack best. Her proportions fit comfortably so that she can sit upright and put her paws on our back as we carry her." And Godoy uses it when she needs to be truly hands-free and while hiking or biking. "We travel a lot and are very active, so we use the K9 Sport Sack a lot." Mikhly says this backpack is "the one that I end up talking to customers about the most because it's kind of striking — it looks really cute, like the dog is giving its owner a hug from behind, with its head on the owner's shoulders."
Other notable dog bags
Grayson likes this twist on the classic Love Thy Beast tote, which the brand designed specifically for use on Amtrak trains and New York City buses, where dog bags are required to be fully closed. She calls it "Bertie's secret bag," saying that it has also helped her "sneak him into so many places."
Yena Kim, the owner of Bodhi (a Shiba Inu known to the world as Menswear Dog who has an Instagram following of 377,000), agrees that "most small dogs are in L.L.Bean–style totes, or something like this bag from Wild One." Kim doesn't own this bag (she says Bodhi is too big for it), but says it checks the box of "a dog bag that doesn't scream 'DOG BAG' and can be integrated seamlessly into your everyday commute."
Two of our cool dog people also like to carry dog totes with extra-cushy soft padding, with Montney saying that this one, from TopZoo, has been her dog's "personal favorite for years." On top of it coming from France, Montney says "it's a super-soft, less-structured tote option that rolls down into a little bed for your pup." For another cozy option, Jenn Lee, the owner of a chocolate Pomeranian named Oak (who has more than 27,000 Instagram followers), recommends the carriers from Korean brand Monchouchou.
Kind of like a rolling suitcase for dogs, this wheeled bag isn't necessarily the nicest looking, but both Ian Patterson (the owner of a famous rescue Chiweenie named Tuna who has 2.1 million Instagram followers) and Kim say the Sherpa is a solid option for transporting dogs that are too heavy to comfortably carry around in a tote or a backpack. Kim says she used the bag (which is actually designed for airplane travel with pets) to cart Bodhi around when he was smaller, and Patterson agrees it's as beloved by dogs as it is by humans. "We tend to cart Tuna around in this wheeled airplane bag from Sherpa and he loves it. It's like his little man cave."
L.L.Bean doesn't make a dog-specific tote bag, but the brand's spiritual cousin, Land's End, does. It costs a fraction of what you'll pay for one of the more similar-looking statusy brands — and you can have it monogrammed, which is why we felt it worth including, even though none of our cool dog people specifically mentioned it. The only drawback with this bag is that it's one size fits all, while most of the others on our list offer multiple sizes.
The Strategist is designed to surface the most useful, expert recommendations for things to buy across the vast e-commerce landscape. Some of our latest conquests include the best acne treatments, rolling luggage, pillows for side sleepers, natural anxiety remedies, and bath towels. We update links when possible, but note that deals can expire and all prices are subject to change.