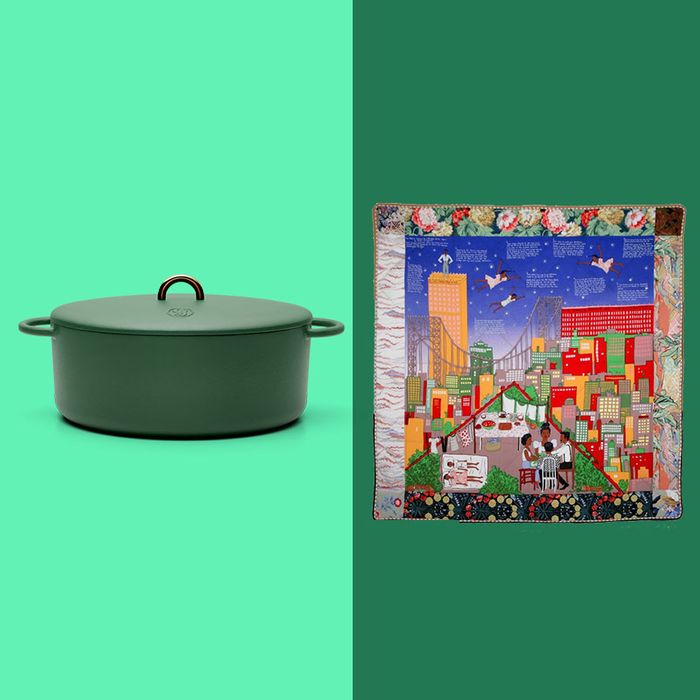 Photo-Illustration: retailers
Kiyanna Stewart and Jannah Handy are the owner-curators behind Blk Mkt Vintage, a Bed-Stuy vintage store that also offers interior-design services. Their collection of Black ephemera and heirlooms ranges from first editions of Their Eyes Were Watching God to Free Assata pins to Baoulé colon statues from Cote d'Ivoire to Steve Urkel action figures. The pair recently got engaged — exchanging vintage-inspired rings from jeweler L'Enchanteur — and though the wedding is a ways off, they've already nailed down their registry philosophy. "We thought about a few things," says Kiyanna. "What interests us? What are the things we can enjoy together? What are things that are going to complement our home?"
Their engagement also coincides with a move — the two recently purchased a Victorian-style home in New Jersey that they're looking forward to making their own. "We've coined this term, 'Afro-Victorian,' that's also going to be mid-century and modern at the same time," Kiyanna tells us. Their registry is a reflection of that. It's a mix of classic line items like a Smeg toaster and Great Jones Dutch oven; art from Black artisans and artists like Mickalene Thomas, Lolly Lolly Ceramics, and Faith Ringgold; and a splurgy Moroccan wool rug.
Kiyanna Stewart: I can see this in so many places, from a dresser to a sideboard. We have four fireplaces in our new house, so I think this could be an accent there. I could see it with some pampas grass coming out of it or as is.
Editor's note: This is currently available for purchase, but won't ship until after May 31.
KS: We typically like clean lines, modern, mid-century. So this is a departure from the shapes we usually go for. I think its nonsymmetrical shape will be a really cool accent to the other pieces we're bringing to the house.
KS: I have a Dutch pot that has been with me since grad school, when I got my first apartment, and when we moved in together, the pot came with us. Many oxtail dinners have been cooked in it. But I want something new that matches the rest of our cookware. The broccoli color is gorgeous, but blueberry is also really beautiful.
KS: I collect mugs and I love her work. She's a Black woman ceramicist and I enjoy her videos and seeing the behind-the-scenes process of her craft. She did this silent drop with West Elm, so I bought four of them because I've never been able to get them from the drops. Having a few extras would be great for when folks come over.
Jannah Handy: Kiyanna and I go back and forth around enclosed shelving versus exposed shelving in a kitchen or a bathroom. Some pieces can serve multiple functions, so this mug is not just a vessel for drinking, it's also an art piece that can be on display.
KS: They have incredible textiles and the colors are right up our alley. This is an accent rug from them that we love. Any of them would do, but I can't put the entire website on my registry. I see this near an accent chair in the living room or a reading nook in the bedroom. It's a really special abstract piece.
JH: We love her stuff and her aesthetic. Jungalow is a brand we come back to often for our clients and ourselves. This basket is great because we have all the things, so we can stow and go, but also leave it out because it's so visually pleasing.
KS: We have some vintage bikes that have traveled with us over the years that we bought as gifts for each other. Last year we brought them on vacation, and having a cute basket for them when we're riding around up on the Vineyard or around Brooklyn would be nice.
KS: I love her colors. She does a really good job at giving a mix of bright tones and some more muted colors.
JH: This is one of those save-for-later things. We can't wait to add some of these colors to the culture of the new house.
KS: We don't have a toaster currently; we put things in the oven. Smeg is interesting because it's chic, but there's something bold and branded about it. It's slightly gaudy, but I love the aesthetic.
JH: When Ghetto Gastro came out with this whole line, I was really impressed. I was like, I can't wait to get married so someone can buy me the whole line. I picked the air fryer because I'm a snob about reheating food and I've heard that they can reheat French fries.
JH: We are set on using this somewhere in our house. What really speaks to me about it is the reclamation of French toile and superimposing us into these narratives that were made devoid of us. I really appreciate that aspect of Sheila Bridges's work.
KS: This wallpaper is a statement, and what she's created is a staple — classic and timeless. That's something I want to reflect in our space as well.