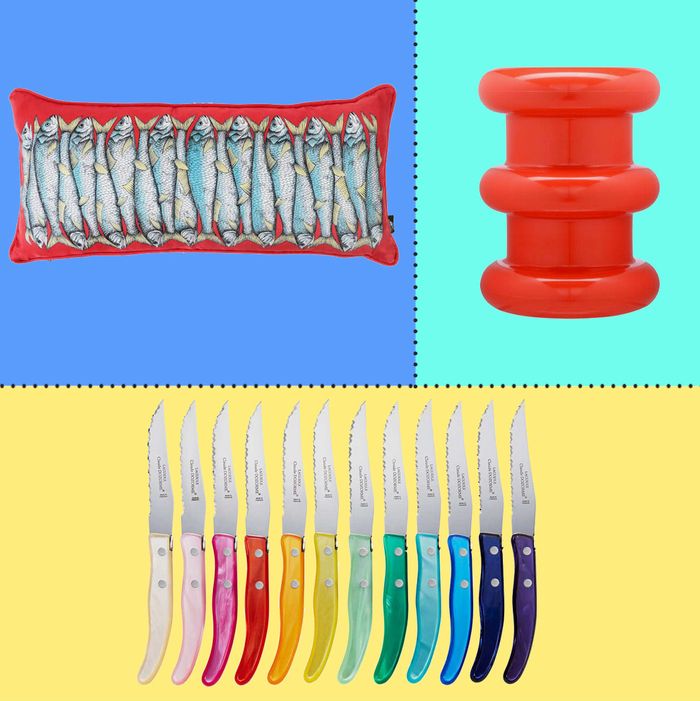 Photo: Some of the "fun, colorful, joyful" items on their registries.
In the midst of launching and running their brand-new cookware line, Great Jones, co-founders Sierra Tishgart (former Grub Street senior editor) and Maddy Moelis also got engaged and are in the process of building their wedding registries. Tishgart says, "It's funny putting a registry together now, because I used to think, 'Do I have to get married to have nice things?'" (In fact, their company was designed to answer that question with a resounding no.)
When it came time to create her registry, Moelis, who previously worked at Zola, focused on "mixing high and low pieces and price points." She also made sure to include practical things like "appliances we've been putting off buying because we knew we were going to get married." Tishgart, for her part, admits that she is not "super practically minded when it comes to presents" and chose to highlight items that were "really special or unconventional" that felt "personal to me and my fiancé."
Sierra Tishgart's Wedding Registry
"My fiancé's family has this big lazy Susan in their home and I've always really enjoyed it whenever we're over there," says Tishgart. This one by Concrete Cat is made by hand with pigmented concrete and is perfect "for hosting dinner parties."
"I've been working on making my morning routine a little more pleasant, and my dream scenario is to drink tea in this mug while I slowly make oatmeal in one of our pots," says Tishgart. These mugs are designed by artist Peter Shire and made by residents of Echo Park in Los Angeles. The mugs have a short silhouette and a unique splatter-paint pattern, so no two are exactly the same.
"My fiancé hasn't even looked at our registry once," says Tishgart, "so I've been trying to find things that will also make him happy. And he loves dinosaurs." This fig-scented candle, which features a crowned T. rex from Jean-Michel Basquiat's 1984 painting Pez Dispenser, fits the bill. Plus, the square porcelain container can serve as a catch-all bowl once the candle has been burned.
According to Tishgart, "This is one of my favorite things on my registry. I think it's really sweet when one of us makes breakfast for the other and this tray will be perfect for holidays or special occasions." And besides, "Who doesn't love breakfast in bed?"
"I've definitely fallen for Memphis-inspired design," says Tishgart, and this Pilastro stool, designed by Kartell as an homage to Memphis guru Ettore Sottsass, is something she's "been eyeing for a long time." Plus, this versatile stool is multipurpose: "I could put a plant on it, I could use it as additional seating, I could use it as a bedside table," she says. The stool is also available in lilac, purple, green, and black.
"I'm a big Fornasetti fan and I also love to eat sardines, so this pillow is a merging of two major interests," says Tishgart.
The Hill House Home pillowcases are made of cotton sateen and are finished with envelope enclosures. "I love how they do embroidery," says Tishgart, adding that the ability to customize homeware adds a unique, personal touch — although, she adds, "I haven't figured out exactly what sort of cheeky message I'm going to put [on mine] yet."
This vintage-inspired glass mirror with brass accents "is definitely a splurge and is a very aspirational" addition to the registry.
Having just moved into a larger apartment, Tishgart says she is enjoying "feeling like I have more space for entertaining, so I was really imagining a fun little dinner party outside in the garden with these napkins." This bright linen set was made in collaboration with Italian textile producer Mascioni. "I definitely like to use a lot of print and color."
Tishgart says, "I love a good coffee-table book and I like having something that people can sift through as they have a drink when you're entertaining." And since Tishgart's fiancé is a "massive Star Wars fan," this book was a no-brainer.
"I love referencing old cookbooks, and it's where I get a lot of inspiration for Great Jones," says Tishgart. Irma Rombauer's Joy of Cooking has been reissued in a special-edition leather-bound copy for its 75th anniversary. While it also comes bound in oxblood, gold, or black colors, Tishgart was drawn to this blush version. And while "it's definitely a little bit more expensive than the regular edition, it's really beautiful."
"The print was so different and looked really elevated," says Tishgart. Similar to the Ettore Sottsass stool above, this ottoman will be great "for providing additional seating and flexibility to the home when we have guests over."
Maddy Moelis's Wedding Registry
Status-y ceramic line Workaday Handmade also sells mugs, vases, and planters. "I've been following Workaday for a while, so I finally have a good excuse to put it on my registry and hope someone buys it for me," says Moelis. "And I can picture exactly where it's going to be in my apartment."
"I pretty habitually come home, sit on my couch, and put a blanket on," says Moelis. So this blanket, which comes in a variety of colors, is the "perfect, cozy" addition to elevate that "everyday experience." Tishgart adds, "I also added this to my registry after I saw that Maddy had it. I feel like there are chic blankets and comfy blankets and nothing in between. But this blanket looks to be both."