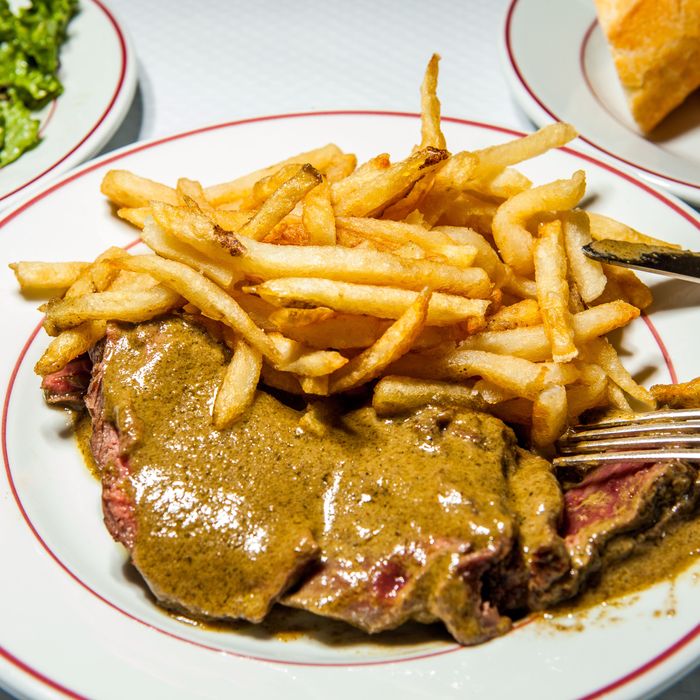 Welcome to Reading Lists, comprehensive book guides from the Strategist designed to make you an expert (or at least a fascinating dinner-party companion) in hyperspecific or newsworthy topics, like North Korea or wine. Here, we surveyed French and French-trained chefs to find the essential French cookbooks.
For our primer on French cookbooks, we consulted a group of ten chefs who work at or own French restaurants, or are French-trained, having attended culinary schools such as Le Cordon Bleu in Paris and L'Académie de Cuisine. This panel of experts included Eric Ripert, chef and co-owner of three Michelin-starred Le Bernardin; Daniel Boulud, chef-owner of seven New York City restaurants, including two Michelin-starred Daniel; Corey Chow, chef de cuisine at three Michelin-starred Per Se; Daniel Rose, chef at James Beard Award–winning Le Coucou; Gérald Barthélémy, co-owner and executive chef at St. Tropez; Eric and Bruce Bromberg, co-founders and co-owners of Blue Ribbon Restaurants; François Payard, culinary director of KarVér Brasserie and author of Payard Desserts; Nicholas Stefanelli, chef and owner of Michelin-starred Masseria; and Sung Park, executive chef at Brasserie Seoul.
Each chef sent us a list of favorite French cookbooks, from their most-referenced encyclopedias to the newer cookbooks that are inspiring their dishes now. We included all titles that were recommended by two or more chefs. However, since most of these highly trained, professional chefs use these cookbooks for reference or inspiration rather than for step-by-step recipes, we've also included a few honorable mentions that are better suited for home cooks. So whether you're an aspiring chef who's dreaming of your own Michelin star or an occasionally fancy diner who wants to feel more confident ordering at a French restaurant, there's a French cookbook here for you.
Five of our ten chefs mentioned Larousse Gastronomique. "It's like the cooking bible; everything you need to know about French food is in here," says Gérald Barthélémy of St. Tropez Wine Bar. "It not only contains recipes, but teaches readers about the history of French cuisine and how to properly use French techniques." Eric and Bruce Bromberg of Blue Ribbon Restaurants call it "indispensable," and Daniel Boulud cops to owning about five editions in his library, calling it a "great classic." Corey Chow at Per Se keeps the Larousse on his desk, as a quick and easy way to reference specific terms that come up in French cuisine and fine dining, especially for new cooks in culinary school or home cooks who want to teach themselves some basic terminology or techniques.
If Larousse is a dictionary of phrases, Escoffier is an encyclopedia of technique, and according to Chow, that's why these two books go hand in hand. When you look up a specific dish in Escoffier, you don't get a translation of ingredients as you would in Larousse or a formal recipe with measurements. Instead, it gives you a technique and a brief paragraph explaining what steps you need to take to make the dish — which means it's more geared for those who already know how to sauté and make a roux. But it's comprehensive, over 900 pages long with 2,500-plus short recipes, and it's stood the test of time. This book, originally published in 1903, also comes recommended by Barthélémy and François Payard of KarVér Brasserie, who calls it "très classique."
If you're looking for something a bit more portable than the Escoffier, both Daniel Rose of Le Coucou and Nicholas Stefanelli of Masseria recommend Le Répertoire de la Cuisine. Rose describes Le Répertoire as "a sort of catalogue of French recipes and techniques [and] an infinite source of inspiration." It was written by a student of Escoffier's back in 1914, so it's got a lot of the same basic information and techniques, but it's much shorter and is meant to be used as a quick reference for professional cooks, rather than as a complete encyclopedia. However, that also means it's better suited for intermediate or advanced cooks rather than beginners.
One of the most prolific figures in modern French cuisine is Alain Ducasse, a chef with 21 Michelin stars under his belt whose books were referenced by five of the ten chefs on our panel. "He's one of the best of the best French chefs," says Barthélémy, though part of what made Ducasse revolutionary is his ability to mix highbrow and lowbrow. His three Michelin-starred Le Louis XV in Monaco, for instance, served "basically rustic cuisine that was cooked for fine dining, and it was probably the first time we were seeing peasant cuisine being served in a very luxurious way," says Eric Ripert of Le Bernardin. That's why Ripert recommends Riviera D'Alain Ducasse, a book about Ducasse's flagship restaurant. At the other end of Ducasse's bibliography is Bistro, a newer title recommended by Park of Brasserie Seoul that collects recipes from Ducasse's more casual restaurants like Benoit and Aux Lyonnais and is much friendlier to English speakers and home cooks.
But Grand Livre de Cuisine, also known as Alain Ducasse's Culinary Encyclopedia, was the book most commonly cited by our chefs, even though it's out of print. According to Stefanelli of Masseria, the Grand Livre is a must-have to understand the fundamentals of modern French technique. Boulud calls it "a reference to the next generation and the generation to come." It's encyclopedic, like Larousse or Escoffier, but unlike those more traditionally styled books, this one weaves in modern ingredients, acknowledges the evolution of French cuisine around the world, and is presented from Ducasse's perspective.
It is all but impossible to talk about modern French cuisine without mentioning Paul Bocuse, who has been described in this magazine as "the most legendary chef in France." All the chefs who recommended his books — including Boulud, Chow, and Ripert — speak of him in similarly reverential terms. "He's the godfather of French cuisine," says Chow, and for Ripert, this title "is probably why I ended up in the kitchen. I was reading the recipes like you would read a novel"
Part of what made Bocuse revolutionary at the time was his commitment to fresh ingredients. "You're talking about the 1970s, and Paul Bocuse was going to the farmers' market every day, and making classic cuisine based on the ingredients the market would offer," explains Boulud, noting that the original French title was Cuisine du Marché, or "market cooking." This book, first translated into English in 1977, gave an early look into Bocuse's seasonal, market-driven food that, according to Boulud, "sometimes could be very rustic cooking; sometimes it could be very sophisticated, but it was real soulful cooking of Lyon and France." And though this title is out of print, Boulud calls this title a must-have "for any aspiring cook who wants to learn about French cuisine."
If you're looking for a still-in-print title from Bocuse, Chow recommends Paul Bocuse: The Complete Recipes. It's "more referenced to the home cook," he explains.
"Cuisine minceur" means "spa food" in French, a term coined by chef Michel Guérard in the 1970s to refer to a lighter style of cooking, which is laid out in this now-out-of-print book. "As cooking trends change, it is amazing to see that chef Guérard was cooking healthy-minded cuisine 40 years ago," explain the Bromberg Brothers, calling him and this cookbook "way ahead of his time!"
Boulud worked with Guérard for a year, where he "could witness this entire transformation of taking French cuisine and breaking down the recipe and rebuilding them with different ingredients where you don't lose the essential part of the French taste, but you replace butter with yogurt, and try to really create a nutritional and balanced and light and healthy cuisine." That's why Boulud recommends this book for a young chef or home cook trying to learn how to balance health and flavor, and cites it as a current inspiration, even though it's out of print.
"Thomas Keller's The French Laundry Cookbook, I think, is the best cookbook out there," says Payard. "Very, very beautifully published artisan cookbook." The book — and the restaurant — were sensations when they came out about 20 years ago, and Keller was able to create a new style of American fine dining relying on classic French techniques. And according to Chow, who also recommended this title, it is still referenced in Keller's kitchens, at both the original French Laundry in Napa, California, and Per Se, on a regular basis. "I've studied it from cover to cover, and I would say every other day, our teams still look at The French Laundry Cookbook to get inspired for dishes — not the exact dishes, but conceptually the same components or ingredients or techniques."
As you may have noticed by now, so much of French cooking has to do with mentorship. The older generation of chefs with whom you work early on will have an impact on what kind of food you make for the rest of your career. That's why it's interesting that both Boulud and Ripert, who are well-established, to put it simply, recommended books that highlight the up-and-comers of this generation. For Boulud, it's Bistronomy, which he describes as "really welcomed. When you're a chef in a bistro, you don't have time, you don't have the resources to be able to write cookbooks, and I think it's wonderful when there's a compilation of young talent in one book." That young talent includes Stéphane Jégo and Daniel Rose, now of New York's Le Coucou, with home-cook-friendly recipes.
Ripert cites Alexandre Gauthier, who's on the other end of the spectrum with his restaurant La Grenouillère. "He does some very personal, modern cuisine, like Noma a little bit, but with a French influence, and it's a beautiful book as well." So if you want to see what the next wave of French cuisine is shaping up to look like, these are the books to get.
The Strategist is designed to surface the most useful, expert recommendations for things to buy across the vast e-commerce landscape. Some of our latest conquests include the best women's jeans, rolling luggage, pillows for side sleepers, ultra-flattering pants, and bath towels. We update links when possible, but note that deals can expire and all prices are subject to change.
Every editorial product is independently selected. If you buy something through our links, New York may earn an affiliate commission.