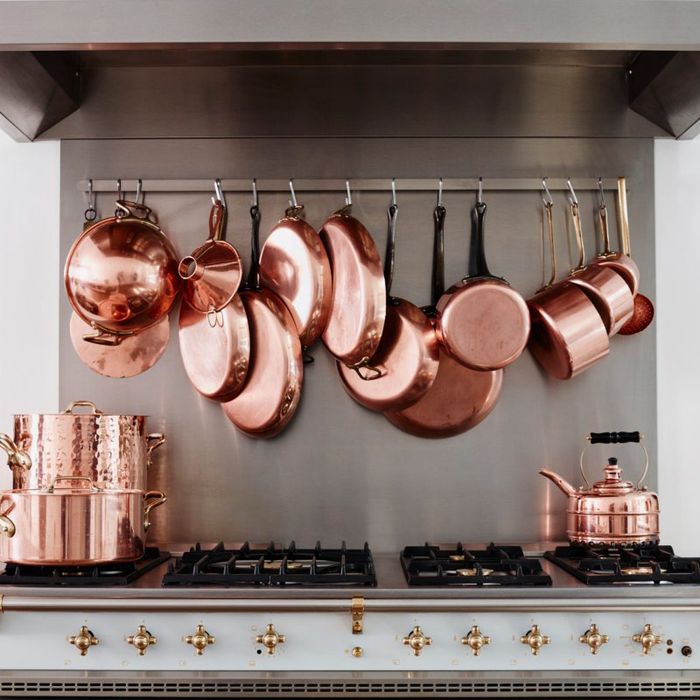 Including advice from the owners of this beautiful kitchen.
Photo: Courtesy of The Cook's Atelier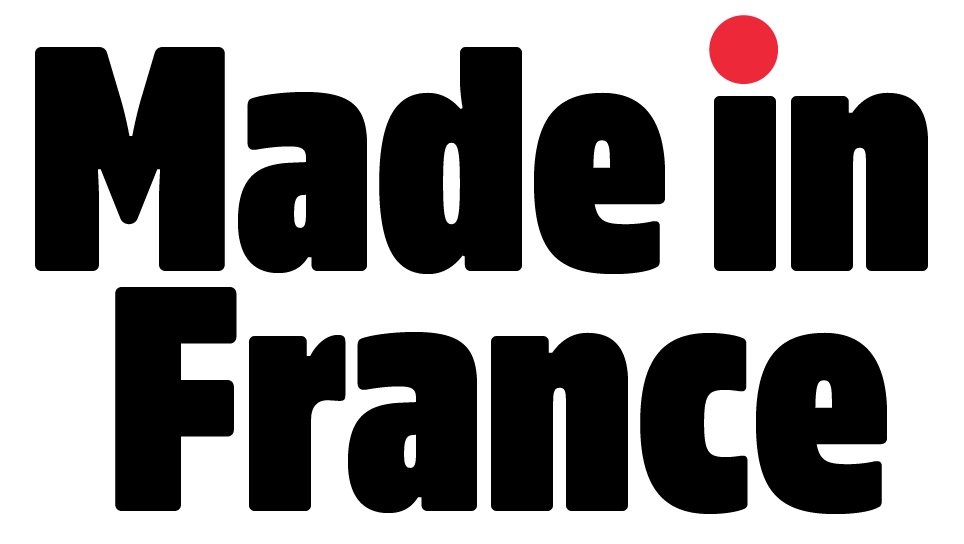 Bastille Day is Saturday, July 14, and to celebrate France's national day, we're dedicating the week to the very best French things. You may be familiar with stories we've done on French pharmacy products and cookbooks, but we're going even deeper this week, from the best books on Paris and French baking to the greatest French pantry essentials and lesser-known French beauty products. Welcome to Made in France week.
Perhaps the only thing more legendary than the French larder is the French kitchen itself. But that can mean one of a couple things: Whereas the look of a rustic French country house still has a certain kind of appeal, most French homes these days contain a mix of trendy accessories and appliances, like pineapple oven mitts and colorful Smeg toasters, and more timeless pieces like Le Creuset pots and Peugeot salt and pepper mills, often handed down from one generation to another. In my own French kitchen of several years, you'll find a woven market basket for weekly visits to my neighborhood farmers' market and stops at the butcher, baker, fromager, and wine merchant; a porcelain pitcher for serving water; and classic Villeroy & Boch flatware for setting the table. But that's just my kitchen. To find out about the essential items in other Francophone kitchens, I asked around and got a handful of people in the food industry to share their must-have everyday items.
Paris café waiters who can pop open a bottle of rosé or Perrier in one swift motion are always using these limonadiers. Julie Mathieu, the co-founder of Fou de Pâtisserie magazine and pastry boutique, keeps one in her kitchen drawer, ready for all possible beverage requests. "This is the bottle opener that all the café waiters in Paris keep in their pockets or aprons. It will open bottles of water or soda and uncork wine. As you can imagine, this is a very important tool for everyday life in France. Many companies have produced modern or more design-forward models, but the original, the one that Parisian café waiters swear by, is the most efficient. My father had one when he started as a waiter at the legendary restaurant Pied de Cochon in the 1960s, and I've kept it carefully in one of my kitchen drawers. I use it to open wine at home and to open bottles of Orangina for my daughter."
In a similar vein: If you've ever been hiking or picnicking in France, you know how well-prepared the locals are with snacks, drinks, and the tools to open both. Opinel, among the most loved heritage brands in France, has been producing handcrafted pocketknives in Savoie since 1890. That its brand name is included in the Larousse dictionary — a folding knife that tucks away into a groove in the wooden handle — is a testament to its influence. Food journalist Jill Cousin, who splits her time between Paris and her boyfriend's permaculture produce farm in La Manche in Normandy, says the N10 knife never leaves her bag. "It doubles as a bottle opener, and since improvised picnics and aperitif gatherings along the Canal Saint-Martin are frequent when I'm in Paris, I'm always prepared to open a few bottles and cut up slices of sausage. And when I'm walking through the fields in La Manche, it's a precious tool for collecting ripe vegetables. With its supersharp blade, it can cut anything, and it's perfect for cooking no matter where I go."
Trends in tableware have gone from elevated (expensive) to utilitarian (Ikea) to artisanal (ceramic). But as the French have looked to reconnect more and more with tradition, there has been a revived interest in vintage and flea-market finds. That's the insight that drove Ajiri Aki to launch Madame de la Maison, the latest online destination for antique tableware and linens, as well as a growing personal collection of her own. "Every French kitchen has antique plates, silverware, or glassware — people inherit them or find them at one of the country's many flea markets," explained Aki. "There's always something special in showing off a wholly unique piece."
Just for oysters — also very French.
The great thing about kitchen shears is that they don't have to be used for just cooking. You can use them to open packaging, cut paper, snip off the tags on a new dress. But for those serious about cooking, these are shears designed by the pros. "These kitchen shears from Michel Bras," — the famous French chef — "cut well and are ideal when you need to work with delicate ingredients, or put the finishing touches on a dish with great care," says Delphine Plisson, who opened La Maison Plisson gourmet grocery in Paris a few years ago. "But handling them requires the right tools. The blades can be removed and cleaned thoroughly (dishwasher-safe!), which is super practical. I use these all the time in lieu of knives, particularly to cut fresh herbs."
Some things don't change much, and that includes the rectangular pieces of fabric that hang from every oven door. Striped tea towels from the mid-20th-century pop up at antique markets across the country and are coveted abroad for the sense of place they inspire. Food photographer Joann Pai sees them not only as iconic but useful in far more ways than as a styling prop. "I like this particular nod to French country style because it's both stylish and multipurpose. I use it for drying, cleaning, and even wrapping day-old bread to keep it fresh." These linen ones from French line Merci are simply perfect.
And for a good muted look-alike.
Marjorie Taylor and Kendall Smith Franchini, co-owners of the French cooking school the Cook's Atelier, offered some advice on buying authentic Laguiole knives: "Many people don't realize that some knives featuring the bee symbol and the name Laguiole are made in China. Unfortunately, the trademark was never enforced during World War I, so this has allowed many companies to reproduce the knives, but they are not traditional or authentic. Handmade by La Forge de Laguiole in Laguiole, France, this particular set was specifically made for the Cook's Atelier, our cooking school and larder in Beaune. Each knife measures 23 centimeters in length and is made by one knife-maker, taking six weeks to produce. These knives dress our vintage farm table every day."
If Mauviel has become a chef's greatest ally, it's largely because of its reliability. The company has been making copper cookware in France, nearly the same way, for 150 years. As excellent conductors of heat, their pieces allow for precise cooking. Michelin-starred chef Jean-François Piège in Paris swears by their copper sautoir, also called a rondeau in the United States. "You can cook almost anything in this sautoir, depending on the size you get. It's one of the essential elements in both my professional kitchen and at home. I can make everything from steak au poivre to poule au pot and sautéed vegetables quickly."
Sourdough bread and eggs are France's go-to breakfast staples. But not just any eggs — soft-boiled eggs. Check the cupboard in almost any French household and you'll find eggcups (some kitschy, some vintage) and some form of accessory to aid in breaking the shell, carefully. Some opt for a simple teaspoon or butter knife to give the shell light taps, others swear by tools that create a clean break. At La Cuisine Paris cooking school in Paris, owner Jane Bertch is decidedly in favor of a clack opener. "Presentation is everything here. For that beautiful breakfast à la Française, I love the Toqueur a Oeuf (or clack egg opener in English), a scoring tool that allows you to perfectly remove the top half of your egg shell when serving an œuf à la coque. It's handy when you want to be able to dip your 'soldiers' piece of toast into your runny egg yolk."
Le Creuset is ubiquitous in American kitchens and wedding registries (and the brand is a known Strat favorite), but the rainbow-colored cast-iron cocottes, or Dutch ovens, are known around the world for a reason. They've been made the same durable way for over 90 years in a foundry north of Paris. The products don't come cheap, but they last forever, and the company will replace the product should it somehow become damaged. So it should come as no surprise that French families consider them legacy items to be passed from one generation to another. And it isn't only a staple in home kitchens — the professionals swear by them, too. Paris-based chef Peter Orr, co-owner and head chef at Robert, talk about his: "We have the oval 27 centimeter in blue. They last forever and are made to a professional quality. They conduct heat very well and can be used both on the stove or in the oven, and for anything — roasting whole chickens, making a big batch of soup or curry," he says. "And they look great. We leave ours on the cooktop all the time."
Whether you're making eggs or salad dressing, a good, well-made whisk is a fixture of any kitchen. But in the country that invented the five mother sauces and artful patisserie, you can be sure that one type of whisk could never suffice. After much trial and error, Jon Bonné, the author of The New Wine Rules who splits his time between Brooklyn and Paris, found the coil whisk to get the job done right. "Everyone should have this whisk. It has the perfect ability to aerate and emulsify quickly, much more effectively than balloon whisks, which makes it the perfect tool to make vinaigrette and other dressings blazingly fast. I've never gotten better texture in a vinaigrette than with these things." Sold.
The favorite knife brand also produces simple but efficient tools like this vegetable peeler, with the same signature beechwood handle they're known for in their knives. Food stylist and author of Paris in Stride Jessie Kanelos Weiner says the peeler is an everyday kitchen item for her. "Its sharp steel blade and curved point make it a cinch to quickly prep potatoes and carrots, two ubiquitous staples of French cookery. I have a red one that's easy to find among all the other knives in the drawer."
Imagine you've just cleared the main course at a dinner party, and like a proper French host, prepare to serve the cheese course (there's always a cheese course). What do you use to display the cheese? Some might go for a simple wood or marble board, others a large platter. Not David Santori. "I don't think I have a childhood food memory that doesn't involve a cloche, whether it was to protect various cheeses, a scrumptious dessert, or assorted fruits. A cloche — from the French for bell — is a tableware cover used to display food or to keep it fresh," says the French-born food blogger at Frenchie and the Yankee. "I still fondly remember my grandmother removing the cheese from the fridge right before lunch to arrange it under the cloche, which is also a way to make sure it wasn't too cold by the time we would eat it."
We also like this stately one, for bread.
The Strategist is designed to surface the most useful, expert recommendations for things to buy across the vast e-commerce landscape. Some of our latest conquests include the best women's jeans, rolling luggage, bed sheets, coffee makers, and bath towels. We update links when possible, but note that deals can expire and all prices are subject to change.

Every editorial product is independently selected. If you buy something through our links, New York may earn an affiliate commission.