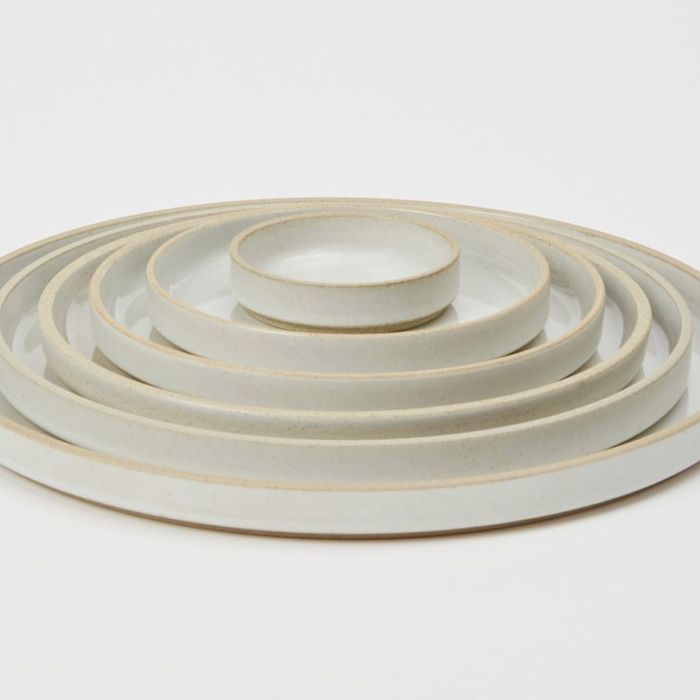 Photo: courtesy of retailers
Lol. I'm laughing because maybe you thought my obsessive homewares search ended after I decided on flatware. Nope. That was just the start. Or maybe the end. The time between then and now has blurred most memories of the hunt, which I've only been able to recall thanks to a search in my sent mailbox. Whatever it was, I forced the whole damn registry drama upon my loved ones again in search of dinnerware. Again, I found emails with subject lines like "Dank Dinnerware" (which was maybe a typo for Dansk, but appropriate nonetheless), "More Plates," and "A Question About Your Arc Plates." This time there was also a previously undisclosed recon trip to Dimes restaurant.
I feel like it is only fair to note here that my partner does about 80 percent of the cooking in our home, while I do 100 percent of the stressing over what dishes we should own. He had one note: Food looks better on lighter-colored plates. With that directive, let's move on to the contestants.
I knew pretty much immediately that I wanted something ceramic, and I guess I'll fess up to it, basic-but-cool (except mostly cool). I can't remember where online I first saw them, but Hasami's porcelain in this glossy blue-gray was pretty much the exact vibe I was going for. I do remember walking around Canal Street Market one lunch hour and seeing them in person for the first time and thinking, Yes, this is it.
You might remember from part one of this series that I visited Abode and happened upon some gorgeous matte-black cutlery. During that same trip, I also spotted this Teema dinnerware set, which comes in a few colors. A plate trend that I have fully bought into is raised edges, where every plate looks like its own little contained universe. Gone are flat rims. I'm over little pieces of rice sliding off the side of my plate. This look is also practical because it's very helpful for scooping things off of the plate without necessarily needing both a fork and knife. Anyway, a few months after that trip to Abode, I saw these plates again on a scouting trip to Bloomingdale's and confirmed that, yes, I definitely liked them.
Throughout this process, I learned that I'm a big fan of Finish tabletop brand Iittala, who manufacture the aforementioned Teema collection and the Kastehelmi collection pictured here. I began to daydream about serving on all-glass tableware — so modern, so sleek — and the little dewdrops on these plates and bowls added a playful touch. The set also comes in an amazing light blue.
I fell deeply in love with Massimo and Lella Vignelli's Heller dinnerware set; the raised edges I mentioned before, the dog bowl–shaped soup bowls that could be fun with cereal or a floating matzo ball. I also found them in all the colors of the rainbow on Etsy. These are made of a material called melamine that I had to Google because it's not so common today. It was most popular in the '40s and '50s, and it's basically a super-durable, dishwasher-safe plastic. But I wasn't sure what it actually felt like. I found out that the restaurant Dimes actually uses these exact plates, so I walked over there and literally asked someone behind the counter if I could hold one of their dishes. She kindly handed me a light-yellow salad plate, no questions asked.
Following an enjoyable dinner with pretty plates at abcV, I decided to look at ABC Carpet & Home's website. Are these not the most precious, dainty plates you've ever seen? Between these raised dots and the scalloped Marguerite line, I was seriously considering just mixing and matching all of the Astier de Villatte I could buy there.
And then, through a link-jumping rabbit hole, I learned of Richard Brendon, the British product designer, and his hand-painted, modern Art Deco Arc collection. It's expensive and it's fancy and it's not everyday dinnerware. A big question I hear often about registries is, Do people still ask for fine China? Is that passé already? And to that I say, if you want fine China, ask for fine China.
Continuing on with the kind of dinnerware you may get for your wedding that, later in life, inspires sessions of reminiscing with your kids and grandkids about the favorite aunt who bought it for you: This is Poc a Poc. It is Limoges porcelain. And it is what fancy dinnerware should look like.
I briefly fell in love with Richard Ginori. Not the red one pictured here, technically, but a blue one in a pattern called Celeste that is now completely sold out everywhere. Still, this is a close second. But, I would pay a lot for just, like, an ashtray in that Celeste color scheme.
If I decided to go rustic, this pewter trim is the look.
Here's what I eliminated first:
—On that trip to Dimes to check out their plates I learned that melamine is a mildly fancier version of plastic, and it looks and feels that way. I loved the colors, but it wasn't what I wanted to use every day. It's really more the kind of material and dishes you might use if you go on picnics so often that you'd like to buy reusable plates just for the activity. If you do, however, want plates of a similar style in colors besides white, check out this post for some options. If you prefer white, CB2 sells a very good dupe in porcelain.
—I decided against the Poc a Poc because I liked Arc better.
—Kastehelmi, a true fave, had to go because I just found the soup bowls too weird. Their shape and size were just not suitable for real-life daily use. I compromised by getting the serving bowl.
—The Ginori sold out :(
—I visited ABC Carpet & Home to check out the Astier de Villatte IRL. I stood there for about an hour touching each plate and bowl, deciding how they looked mixed and matched between patterns. Ultimately, I had to put them down and leave empty-handed. They were too expensive and they were also too precious, too nice for my mediocre Brooklyn rental. I will return to these when I enter my '40s.
—I still do like the pewter, but the truth is that I just landed on them deep in the hunt, but they weren't really the style I was looking for.
Now that we've been through all of this together, there's one thing you should know about me. I keep kosher at home, which means that I don't use the same plates for dairy meals and meat meals. I ultimately needed two sets of dishes. The first set I added to my registry were the Hasami because sometimes you just have to go with your gut. Today, I use those for dairy. If you, too, decide to buy the Hasami dishes, you'll notice that the plates come in six sizes, from mini to X-large. I use the large as dinner plates, which are ten inches in diameter, and the medium plates, which are just over seven inches, as salad plates. The bowls I have for cereal and the like are a size medium.