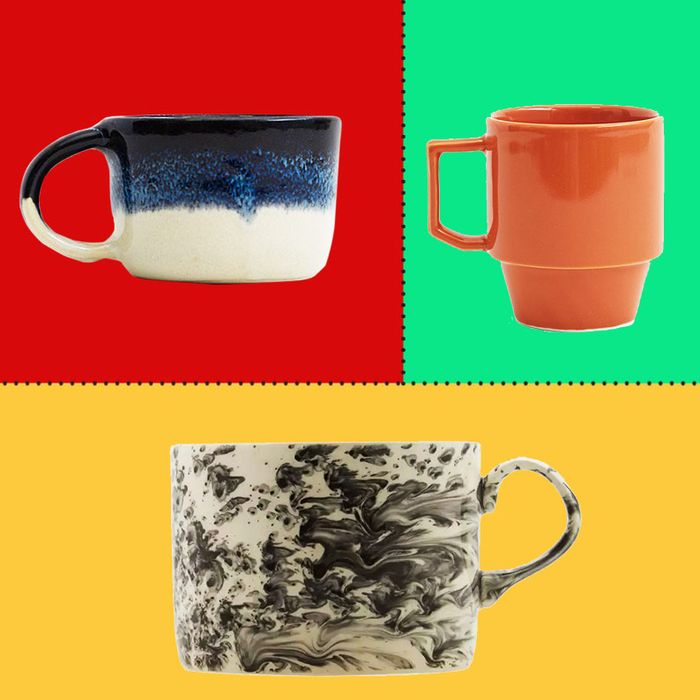 Photo: Courtesy of the retailers.
After an actual living plant, there are few things that liven up a cubicle or desk like a well-loved mug. Your work mug is one of the easiest ways to add some personality to an otherwise sterile environment, and it's probably the first thing everyone brings from home to a new job. If you want to project some vibes, a design-forward mug is a good place to start. To help inform your next purchase, we asked a bunch of mug-loving creative directors to tell us what they currently have on their desks and what they want to add to their collections.
Both Kyle Garner, founder of Sit and Read, and Deva Pardue, creative director of The Wing, told us about their love of classic Heller mugs. "The Lela and Massimo Vignelli Heller mug is a favorite for work," says Garner. "I love the story in the Lella and Massimo Vignelli documentary about the original design for this mug and how it needed to be changed when they brought it over to the U.S. market because silly Americans were filling their mugs to the top and spilling. Would love to find one of the originals someday!"
Rich Damiani, associate creative director at Highsnobiety, picked another classic by a design giant: Michael Graves. "This one looks very cool and very functional at the same time."
Another museum-quality mug recommendation came from Joanna Godard of A Cup of Jo, who's had her eye on the positive-vibes New Museum mug for her brother. "I'd get my little brother this 'Hell, yes!' mug for his desk at his new job."
Garner always has more than one mug on his desk at a time. But they're not just for coffee. "I have three mugs in my office actually! I have a McCoy Smile mug on my desk with a plant in it, a trigger mug for tea, and a pink Heller mug with pens in it."
For another cartoon-face mug that doubles nicely as a desk planter, consider this vintage-inspired Snoopy-head mug.
Garner's third mug (mentioned above) is also a classic, this time from Vermont-based Bennington Potters. "I have a soft spot for Bennington. Their utilitarian design is unmatched. I've had my trigger mug for a decade at least. I think I bought my first one at a flea market for $5."
"I've collected a bunch of these over the years. They're the best," he says.
Damiani also recommended a black and white marble mug from the father-daughter duo behind 1882 Ltd. "My favorite mug is the 1882 x Queensbury Hunt Slick Additions mug, because it represents expert craftsmanship and supports a family business, all while being priced pretty reasonably."
If you like the marble effect above you might also like this ombré glazed mug from Brooklyn-based potter Helen Levi.
Or the layered speckling and drips on this pair of Uzumati mugs.
Kristen Morabito, creative director at Mohinders, chose a similarly "imperfect"-looking tumbler. "I'm one of those people who always has four beverages hoarded around my desk! Coffee from our neighbors Andytown, chai made with my fave mix One Stripe Chai, lemon water, kombucha … all at once."
Kristen Miglore, creative director of Food52 is something of an expert when it comes to handmade ceramic mugs. "We love big-personality mugs (and ceramicists) so much at Food52 that we commissioned limited batches of new designs from 20 artists, in what we ceremoniously called "The Mug Project." There are still a handful left of some of them."
Pardue currently uses a mug designed by her team at The Wing, which she says is great for morning coffee and for keeping hydrated throughout the day. But her other favorite right now is this "okay"-sign mug from Wolves Within. "It's super cute and has cozy earth-tone vibes, perfect for a cup of tea."
For something with a kindred delicate and charming vibe, we like these handmade mugs from ABCV.
Sean Santiago, art director of Out magazine and the founding editor of Cakeboy, had a few favorites to share. "At work, I have the Large Mug from Heath Ceramics in white."