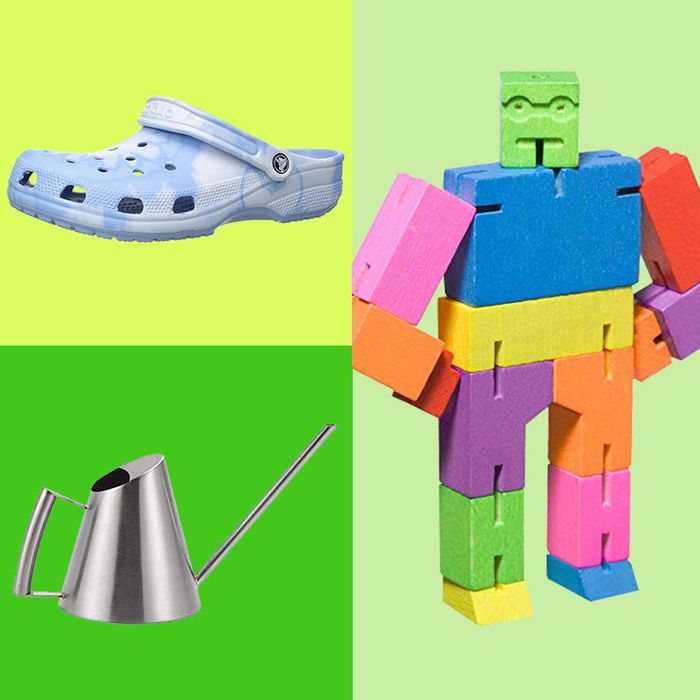 Photo: Courtesy of the retailers.
Office Secret Santa exchanges should, in theory, be a lot of fun — who doesn't like getting presents? But if you draw the name of someone you barely know, someone you really want to impress (a.k.a. the big boss) or, God forbid, your office crush, finding an appropriate gift can be a daunting challenge. The best co-worker gifts are useful and personal without getting too personal. To help you navigate your office Secret Santa shopping this year, we put together a list of unimpeachable gifts for every type of colleague, work wife, or HR rep. Don't miss all of the Strategist's holiday gift coverage right here, too.
For the co-worker who hoards free snacks
A popcorn to please even the most discerning of snackers, it's dusted with nutritional yeast and packed with B vitamins and protein.
For the bookworm coworker
For the co-worker who always brings baked goods
For the co-worker who's an office-supply aficionado
Italian pushpins with a Pantone-esque color palette to hang up family photos and office memos alike.
For the co-worker who always brings their salad from home
Place wet greens in the sling and swing it in a circle to dry your veggies with centrifugal force. Not only is it space-saving, but it is also much more fun than a boring old colander.
For the co-worker who wishes there was more than just Cheerios in the office kitchen
One pound of off-brand cereal marshmallows should do the trick.
For the co-worker who needs a distraction
An old-school (yet still unexpected) desk accessory.
For the co-worker who always plans game night
This frantic and fun card game is one of board-game designer Will Sorrell's favorite games to gift.
For the co-worker who loves an impromptu office happy hour
They could even keep them in the office freezer.
For the co-worker who could use a cubicle buddy
A little friend and a puzzle wrapped in one.
For the co-worker who's always losing their pen
A very well-ranked pen from our list of pens in a subtle black rather than fluorescent pink (though of course you can get that one, too).
For the artsy co-worker with kids
This pen set is, hands down, the best set with which to colorfully adorn whichever latest craze someone might be into, from coloring books to bullet journals.
For the work wife who's allergic to scented candles
Scented candles can be too intense for perfume-sensitive people but this beeswax sculptural candle is pretty and mild.
For your work crush who's a die-hard Snoopy fan
This mug adorned with Snoopy's from over the years will make your work crush feel special without making you seem creepy.
For the co-worker who craves coziness
A classic for a reason, these socks are the "sock stocking stuffer" that people actually want, whether they're hiking the city streets or the Rockies.
For the Deadhead (or hypebeast) who craves comfort
Tie-dye is one of the biggest trends of the last two years, making these Crocs guaranteed win.
For the co-worker with a house upstate
This room spray subtly clears the air like a mountain breeze.
For the work husband who's a little bit hipster
There's no such thing as too many beanies. These come in a ton of bright colors, in case red is a little too Steve Zissou.
For the 20-something co-worker who's learning to cook
The ultimate starter skillet, perfect for frying eggs or a grilled cheese.
For the witchy co-worker who's into astrology memes
The OG deck for beginner tarot heads.
For the cubicle neighbor with lots of plants
A handsome watering can for the person who's been using a coffee mug to water their plants.
For the OCD co-worker who cleans their desk daily
Great as a desk accent, greater as a way to clean dust out of their keyboard.
For the co-worker who reads the Cut
Or someone who loves Meghan Markle.
For the co-worker who does cross-fit before work