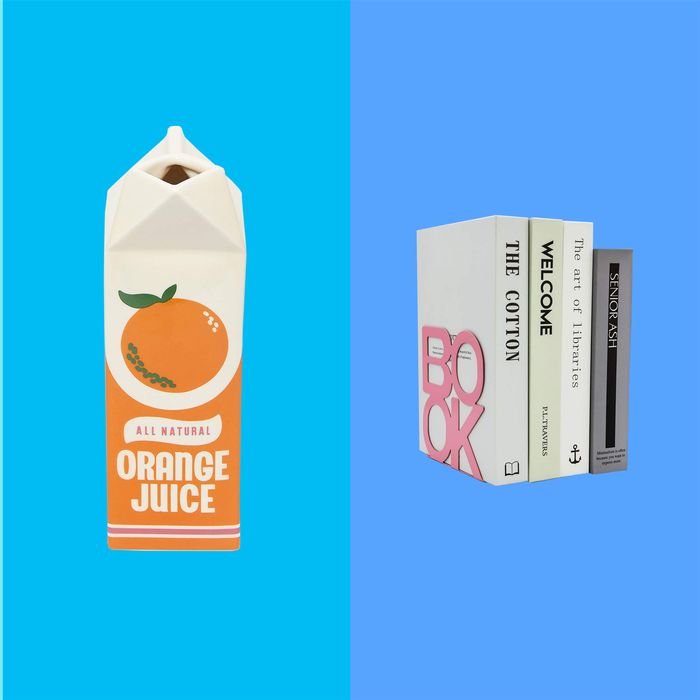 Photo-Illustration: retailers
Coming up with gift ideas for co-workers can be surprisingly difficult, especially now that many of us are starting to venture back into the office for the first time in a year — you may be searching for something for a co-worker you've only seen on Zoom. But the general principle of co-worker gifting remains the same: You're looking for items that are thoughtful, don't cost too much, and won't accidentally offend. This is not an easy balance to strike, which is why we did the legwork for you and hunted down the best gifts under $50 for every type of co-worker, from your department's intern to the HR representative who patiently explained your company's retirement benefits to you. And if you're looking for a present for your hard-to-please boss, we have a separate gift guide to shop from.
For the co-worker who's literally afraid of metal straws
Trip and fall while drinking with a stainless-steel straw … and, well — you've read those stories. (And so has your worrisome co-worker.) Pasta straws are the latest alternative to the now-shunned plastic straws, and they have the benefit of being thicker and more rigid than their flimsy paper counterparts, so they won't fall apart in your cold brew. Strategist contributor Natalie Toren has used them in everything from iced coffee to blueberry smoothies and hibiscus tea and can confirm that they are, in fact, "far superior."
For the co-worker who's always meal-prepping
Heavy glass containers are impractical for the co-worker whose work bag is already overflowing. Nutrition expert and founder of NAO Wellness Nikki Ostrower feels the same way, so she uses these, which "collapse like an accordion." Your co-worker can separate veggies from dressings in these color-coded containers — and you won't have to hear about their wilted lettuce again.
For the co-worker who wraps her sandwich in reused aluminum foil
This is a bag that's reached "It" status — and just so happens to be sustainable. We've heard many raves about these bags over the years, including from Strategist contributor Alison Freer, who swears by them and owns "every size, shape, and fun color they make." Several ecofriendly experts gave them a green-thumbs-up, too. The bags have a super-tight seal to keep snacks from becoming stale or spilling over.
For the co-worker who sticks to the same instant noodles almost every day
Photo: Retailer
Get them out of their lunch rut with these easy-to-make noodles. When we asked chefs and food writers to recommend their favorite instant noodles, New York Times food reporter and Indian-ish author Priya Krishna raved about these, calling them "spicy, salty, and equally delicious whether prepared really soupy or more like a loose sauce." Krishna is a self-described "Maggi masala-noodles devotee" and adds soy sauce, black pepper, and sautéed ginger or garlic to them.
For the co-worker who's two coffees in before 9 a.m.
We've been Zojirushi fans since 2016 because, as Strategist contributor Laura Perciasepe put it, the Zojirushi "keeps things as they are. Liquid … stays cold if you want it to be cold. It stays hot if you want it to be hot."
For the co-worker who's three teas in before 9 a.m.
Singer Brandy tipped us off to these crystals, which she discovered during her debut Broadway run. The crystals turn into tea once they're in hot water. "It feels so good when it goes down," she says. "I feel like my voice is being taken care of and coated. After I started drinking it for a while, I could hit notes that I normally wouldn't have been able to hit without it."
For the co-worker who has become a quasi-professional barista
Photo: retailer
They've probably already mastered their perfect cup of hot coffee — so help your co-worker take on cold brew with this combination cold-brew-maker and tea infuser that MochaBox Coffee co-owners Harlin Thomas II and Floyd Sartin call an "affordable, easy-to-use" device. It could also work for the co-worker who's always hinting at the health benefits of green tea while you're downing your third latte of the day.
For the co-worker whose homemade bakes are Great British Baking Show–worthy
You know the one who always comes to the office with a tray of brownies, cookies, or cupcakes. This Bundt pan — which cookbook author Vallery Lomas (who also happened to win The Great American Baking Show) uses for her pound-cake recipe — is sure to inspire your bakes-for-fun co-worker to bring in a cake for your afternoon fika sessions.
For the co-worker who's serious about hydration
This gigantic water bottle beloved by contributor Caroline Goldfarb fits one gallon of H2O and features a bunch of inspirational words to help you finish every last drop.
For the co-worker who's obsessed with Scandinavian design
These reusable Swedish dishcloths are "a game changer," says writer Ashlea Halpern. "They are superabsorbent, able to soak up 20 times their own weight in liquid," she writes, adding that these dry quickly in between uses. These have taken the place of paper towels in her kitchen, wiping away "granite countertops, stainless-steel appliances, and [a] streak-prone cooktop." We're particularly partial to this veggie-print version.
For the co-worker who desperately needs a new work bag
When we asked working women about their favorite work bags, one pointed us to this faux-leather tote, which is just classic enough to work for any aesthetic and has enough room to hold a laptop.
For the co-worker who travels light
For only the essentials, this fanny pack is on trend, speaking to "the '90s moment we're still embracing," stylist Lauren Messiah told us. It's sporty enough for their after-hours athleisure looks, too.
For the co-worker who has a new apartment
A coffee-table conversation starter, these tiles were praised by new homeowners for their ability to do double duty: Separated, they can be graphic coasters, and together, they can act as a trivet for the day's dinner.
For the co-worker who has a tiny new apartment