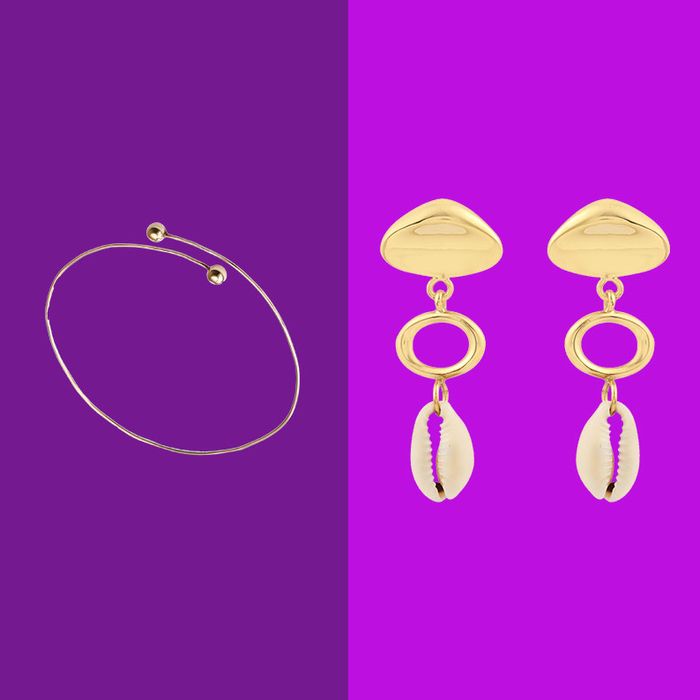 There are lots of places to buy jewels and gems. But not all of them are exceptionally made, and certainly not all of them are both (relatively) affordable and have been worn by the likes of Erykah Badu. Enter: the Black-owned jewelry list, a compilation of rings, necklaces, hoops, chains, and finger caps from brands like Johnny Nelson (maker of a four-finger jewelry ring) and OMA the Label, which makes the kind of perfectly vintage-looking pieces you'll want to slip on with every outfit.
Founded in 2017 by Gina Love and her husband, Steven Feldman, Auvere (which we've dubbed the best for high-end gold jewelry) makes handcrafted, high-karat gold jewelry in classic, timeless designs. One such design is this stackable, 22-karat polygon ring with a satin finish that can be customized to fit your finger.
Johnny Nelson Jewelry, which was also founded in 2017, is best known for honoring important cultural figures through wearable sculpture, which takes the form of necklaces and rings. The first time I saw Nelson's jewelry up close was backstage at Pyer Moss's NYFW spring/summer 2020 show, where the models wore the faces of Black music icons like Missy Elliott, Nina Simone, and Erykah Badu around their necks, in their hair, and on their hands. Before that, I spotted his effigies as buttons at the Met Gala — Kerby Jean-Raymond (the founder of and designer at Pyer Moss) wore his eight favorite rappers, and producer and actor Lena Waithe wore eight LGBTQ+ icons who have changed history. If you're looking for an everyday piece consider this Harriet Tubman ring, which can be made in a variety of metals, including gold-plated brass, gold-plated silver, sterling silver, 14K white gold, and 14K yellow gold.
Yam was founded in Astoria, Queens, by jewelry designer Morgan Thomas as a tribute to her late mother. Using upcycled materials, the brand creates jewelry with a vintage feel, ranging from delicate pearl earrings to chunky gold and Lucite hoops. These sculptural, triangular hoops appeared in Lizzo's "Good As Hell" music video late last year, and pair well with everything from a bright-colored dress to a dressed-down white tee.
This NYC-based brand is known for both its jewelry and elevated basic bodysuits. We're particularly smitten with this 18K-gold-plated, vintage-inspired choker, which looks like a watchband and stacks well with other, more delicate pieces.
When head designer and founder Sade Mims launched Edas, it was all about creating jewelry from unexpected home goods and refurbished pieces. In the years since, it's become a full-on accessories brand, with pieces ranging from a clay-colored, cotton-lined baguette bag to these asymmetrical earrings, which are ultralightweight and handmade using Japanese seed beads and brass wire.
Founded by couple and co-designers Kristin and Kofi Essel, Third Crown draws its inspiration from geometric shapes and makes gender-neutral, everyday jewelry. Everything is gold- or brass-plated and features clean lines that pair with practically everything. This necklace-and-bracelet combo is part of their #powerofthepair collection, which combines popular pieces that can be worn by one person or shared between a couple.
For more affordable everyday pieces, we recommend Lelia+Mae, a woman-run brand that makes dainty, made-for-Instagram necklaces and vintage-looking rings. We like these huggie earrings, which have a wavy, braided texture and will only set you back $28.
Inspired by the sights and sounds of the Caribbean, Lisette Scott founded the brand as a way to honor her Puerto Rican and Jamaican roots. Her designs pull from classic Caribbean motifs like tropical plants and cowrie shells that show up in creations like these earrings, which are made from gold-plated brass and combine shells and geometric shapes.
Twin designers Dynasty and Soull Ogun created L'Enchanteur as a way to redefine the heirloom, and they're influenced by everything from fairy tales to numerology. Their designs have appeared in Beyoncé's Ivy Park relaunch with Adidas (they made the custom rings) and Erykah Badu's InStyle spread, where she wore metallic baby hairs crafted by the duo. If you're on the hunt for something statement-making, we recommend the Midas Touch finger caps, which can be made from gold vermeil, sterling silver, or 14-karat gold.
For an industrial take on hoop earrings, we recommend these carabiner-inspired ones from jewelry brand Nikao, founded by self-taught British designer Lisa-Marie Carter, and available in 18-karat gold and rhodium-plated brass. These are currently available for preorder, and will ship in September.
Another brand putting out utilitarian-looking jewels (think thick silver curb chains with dog tags and spinal-cord-inspired hoops) is JeBlanc, founded by designer Jeniece Blanchet in 2018. Most of the brand's signature pieces are multifunctional, meaning you can wrap them around a few times for a chunky, layered-necklace look or even wear them as a belt. We like these hand-wired, futuristic-looking hoops from the brand, made from stainless steel.
Founded by designer Jade Gedeon in 2002, We Dream in Colour handcrafts vintage- and antique-inspired pieces that range from intricate, elaborate chandelier-style earrings to statement-making hairpins. We're particularly fond of these comet-inspired earrings, which look vaguely like the Matisse blobs we've been seeing all over Instagram and are made from hand-painted enamel.