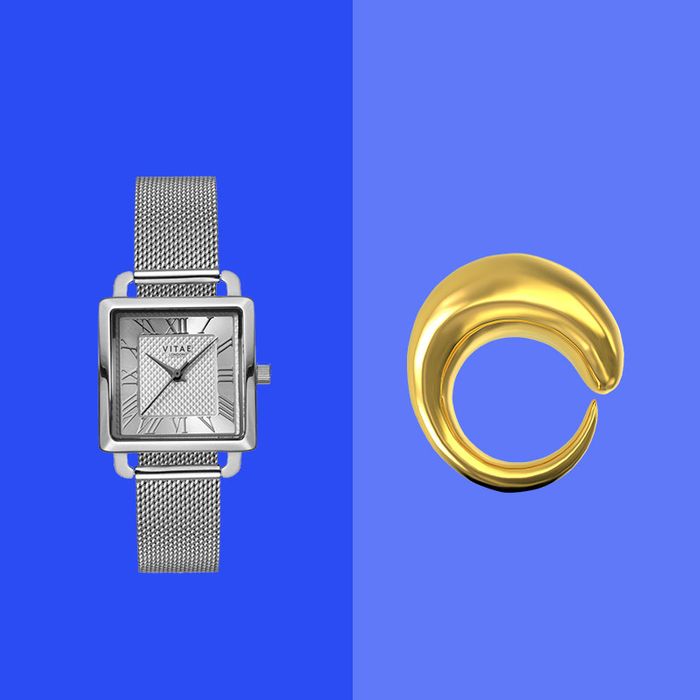 Photo-Illustration: Retailers
There are lots of places to buy jewels and gems. But not all of them are exceptionally made, and certainly not all of them are both (relatively) affordable and have been worn by the likes of Erykah Badu. Enter: the Black-owned jewelry list, a compilation of rings, necklaces, hoops, chains, and finger caps from brands like Johnny Nelson (maker of a four-finger jewelry ring) and OMA the Label, which makes the kind of perfectly vintage-looking pieces you'll want to slip on with every outfit.
Matthew Harris, the self-taught designer behind Mateo, initially launched his company as a men's jewelry brand. In 2014, Harris shifted to fine women's jewelry — but the pieces are striking just the same. We're particularly into this pearl anklet, which we think would be nice for the coming warmer months.
Model and jewelry designer Tanaya Henry — of Beyoncé's Black Is King fame — makes blingy, statement-making jewelry like this cubic-zirconia belly chain, which can be customized to fit up to a 52-inch waist.
For the public-transit enthusiast, Melanie Marie makes necklaces with vintage New York subway-token charms.
Launched by Kimberly Fomby Jefferson in 2011, Sucré offers plenty of classic pieces, like this 18-karat gold-plated herringbone chain, as well as some more daring ones, such as dangling daggerlike earrings and body jewelry in the form of a chain bra.
Another classic yet inexpensive jewelry line is Jooel, which makes everything from chunky square gold hoops to this gold link bracelet, which is made from brass and e-coated with a type of enamel that helps with durability.
Omi Woods honors the African diaspora through jewelry. Many of the necklaces feature pendants celebrating Jamaican, Ethiopian, and Nigerian cultures, among others. Everything is handmade and can be created in a variety of mediums, from sterling silver to 24-karat gold, so there is something for every budget and style. This necklace features an authentic Jamaican coin with the country's national dish — the ackee fruit — on one side and the coat of arms on the other.
Watches that are affordable and stylish are hard to find — so William Adoasi started Vitae London to fill the void. The line's clean and classic watches begin at under $400, plus the company gives back, with proceeds supporting its initiative to provide school uniforms and solar lights for kids in need.
Another Black-owned company making noteworthy timepieces is Talley & Twine. They sell both men's and women's watches with plenty of metal, canvas, and leather bands to choose from. We especially like this two-tone one that will pair well with just about anything.
These mismatched earrings are just one example of the truly unique pieces Sydney Ziems creates. Her brand, Serendipitous Project, launched in 2019 with the mission of making trendy, affordable, and sustainable jewelry, whether that's through its handmade-to-order permanent collection or the one-off upcycled or vintage pieces it sources.
Jameel Mohammed launched Khiry while still in college — but that's not the only impressive thing about this line. The modern jewelry pieces channel the beauty and history of the African diaspora. Mohammed makes elegant, sculptural designs, like two-finger rings, West African mask–inspired pendants, and this sculptural, chunky ring, worn by Tracee Ellis Ross on the Summer 2021 cover of Marie Claire and by Doja Cat on the cover of Billboard a few months before that.
Founded in 2017 by Gina Love and her husband, Steven Feldman, Auvere (which we've dubbed the best for high-end gold jewelry) makes handcrafted, high-karat gold jewelry in classic, timeless designs. One such design is this stackable, 22-karat polygon ring with a satin finish that can be customized to fit your finger.
Johnny Nelson Jewelry, which was also founded in 2017, is best known for honoring important cultural figures through wearable sculpture, which takes the form of necklaces and rings. The first time we saw Nelson's jewelry up close was backstage at Pyer Moss's NYFW spring/summer 2020 show, where the models wore the faces of Black music icons like Missy Elliott, Nina Simone, and Erykah Badu around their necks, in their hair, and on their hands. Before that, we spotted his effigies as buttons at the Met Gala — Kerby Jean-Raymond (the founder of and designer at Pyer Moss) wore his eight favorite rappers, and producer and actor Lena Waithe wore eight LGBTQ+ icons who have changed history. If you're looking for an everyday piece consider this Harriet Tubman ring, which can be made in a variety of metals, including gold-plated brass, gold-plated silver, sterling silver, 14K white gold, and 14K yellow gold.
Yam was founded in Astoria, Queens, by jewelry designer Morgan Thomas as a tribute to her late mother. Using upcycled materials, the brand creates jewelry with a vintage feel, ranging from delicate pearl earrings to chunky gold and Lucite hoops. These sculptural, triangular hoops appeared in Lizzo's "Good As Hell" music video late last year, and pair well with everything from a bright-colored dress to a dressed-down white tee.
This NYC-based brand is known for both its jewelry and elevated bodysuits. We're particularly smitten with this 18K-gold-plated, vintage-inspired choker, which looks like a watchband and stacks well with other, more delicate pieces.
When head designer and founder Sade Mims launched Edas, it was all about creating jewelry from unexpected home goods and refurbished pieces. In the years since, it's become a full-on accessories brand, with items ranging from a clay-colored, cotton-lined baguette bag to these asymmetrical earrings, which are ultralightweight and handmade using Japanese seed beads and brass wire.
Founded by couple and co-designers Kristin and Kofi Essel, Third Crown draws its inspiration from geometric shapes and makes gender-neutral, everyday jewelry. Everything is gold- or brass-plated and features clean lines that pair with practically everything. This necklace-and-bracelet combo is part of their #powerofthepair collection, which combines popular pieces that can be worn by one person or shared between a couple.
For more affordable everyday pieces, we recommend Lelia+Mae, a woman-run brand that makes dainty, made-for-Instagram necklaces and vintage-looking rings. We like these huggie earrings, which have a croissantlike twisted texture.