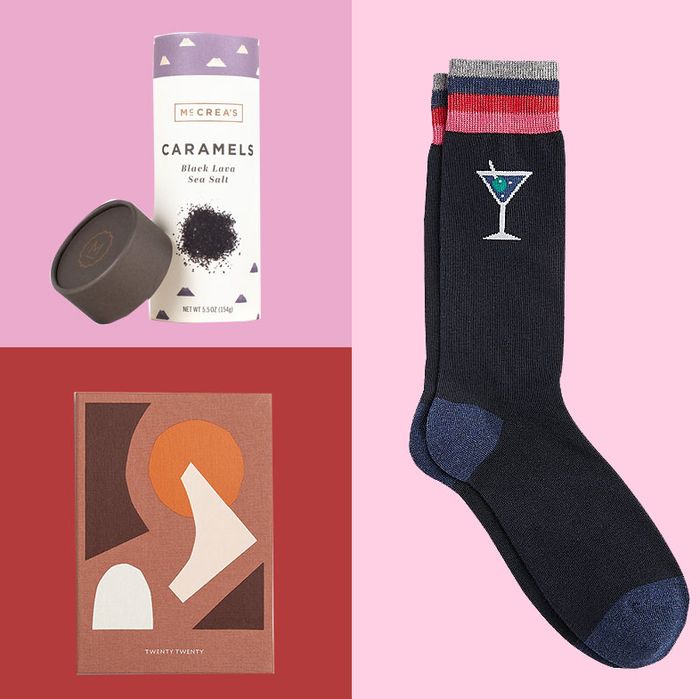 Photo: Courtesy of the vendors
Heavy is the head that wears the crown, especially when you're a Strategist editor during gift-giving season. Not only are we tasked with helping you, our readers, find the perfect gift for everyone on your list, but we also need to cross everyone off our own lists. To kill two birds with one stone, we thought we'd reveal what we're wanting and buying this year, in hopes that it will give you some last-minute ideas. Mom, significant others, friends — please avert your eyes!
Anthony Rotunno, senior editor | What I want
The Memoranda diary is on my list every year, because it is something I use every day. I need to write things down by hand, or I will forget them. This has plenty of room for that while still being trim and compact, so I can carry it pretty much anywhere. It's a week-at-a-glance, with boxes where you can write things for each day, and every week's page sits opposite a regular lined page where you can jot notes or to-do lists. Plus, there's a flap in the back that, with a little finesse, you can slip a checkbook in (for the ten people reading who still write checks).
A few years ago, I bought four mock turtleneck shirts at Muji, and they've become staples in my fall and winter wardrobe. I love throwing them on under crew-neck sweaters, button-down shirts, flannel shirts, and quarter-zip fleeces. They've served me well, but they're starting to wear. So when Scarr Pimentel recommended this Lands' End mock turtleneck for our list of gifts recommended by 130 people with particular, exacting taste, I immediately put it on my list — in (almost) every color.
What I'm giving
Aside from being the mother of my husband, my mother-in-law is also a plant mom. She tends three gardens on her property, including the one in her living room, which, on any given day, is filled with dozens of plants, from 12-foot trees to tiny cuttings. After reading about German company Scheurich's cute little doodads that Strategist UK contributor Coco Kahn says make any plant "self-watering," I bought one to give to her. It seems just the right thing for the woman who gave me my favorite mushroom night-light.
For our wedding this past May, my husband and I worked with a fantastic photographer, Trey Pentecost, who spent no less than 12 (but more like 16) hours documenting the whole day. A few weeks after the main event, he surprised us with 16-by-20–inch prints that featured several rows of film negatives of various shots from the day, creating a sort of chronological photo montage of it all from start to finish. We wanted to get some photos framed for my parents and in-laws as gifts, but Trey took the guesswork out of that with the prints — which are so much better than any one photo — leaving us with just one decision: what frames to use. Six months later, we wound up with these, from Amazon, which are just like the simple black wood frames with white mats that I used to buy at A.I. Friedman on 18th Street before it closed.
Maxine Builder, managing editor | What I want
I've been eyeing this leather carryall from Cuyana ever since I got a new laptop in July. I'd want it monogrammed with my initials, of course, but I've been waffling on the color. I'm starting to think the greige (a.k.a. "stone") would look nice with my space-gray MacBook, and I don't think it'd get as dirty as the blush pink.
What I really need this holiday, more than any laptop case, is a massage. I've been meaning to check out Press in Williamsburg, mostly because it's not too far from my apartment. And doesn't an orthopedic deep tissue–slash–Swedish massage just sound so nice right now?
What I'm giving
My mom either has a very specific gift on her wish list — a bottle of Johnny Walker Red, noise-canceling Bose headphones, a scarf that she saw on the Strategist — or leaves us to fend for ourselves. And fortunately for my still Black Friday–addled brain, she knew exactly what she wanted this year: a Diptyque candle. The scent was left up to my (implicitly impeccable) taste, so I went with Baies. But giving my mom just one candle seems a little sad, and I want to make sure she can properly take care of her new, fancy candle, so I'm also planning on gifting a candle snuffer and wick trimmer.
Yes, this is a French-made black iron box filled with scented lava, and yes, I'm actually giving it to someone as a housewarming–slash–holiday present. The scent I actually bought — Spirituelle — is out of stock at Totokaelo, but Graphite was my second choice, because it smells like expensive wet rocks in the Bois de Boulogne or something. It's ridiculous, but it's tasteful and chic and an excellent gift for the host who already has Aesop hand soap and too many Cire Trudon candles.
Katy Schneider, editor | What I want
My aspirational gift is a painting by Vera Girivi, whom I discovered via our own Jerry Saltz's Instagram. Everything she makes is beautiful, but I particularly like these two.
I would also gladly accept a pair of Eckhaus Latta's E.L. jeans in black. I have them in white, and wear them so frequently a friend recently asked if I slept in them.
And I suppose I wouldn't turn down this on-sale Marni turtleneck.
Or this pretty pink sweater.
What I'm giving
We are going away to be away for Hanukkah this year, so aren't really doing gifts. But my boyfriend's birthday is New Year's Eve, and mine is a week later, so there is still some gifting on the horizon. His wallet is a disaster, so I ordered him a new one from Milanese leather company Il Bussetto.
Lauren Ro, writer | What I want
Maybe I've been influenced by all The Sopranos we've been watching (and a trip to the movies to see The Irishman), but I've recently become obsessed with finding the perfect signet ring. Sophie Buhai — who contributed to our list of gifts recommended by 130 people with particular, exacting taste — makes a classic version with black onyx that's aptly called the "godfather ring." But in her new collection, she's amped it up a bit. The gold vermeil ring has a bulging, oversize lapis stone with the bluest hue that reminds me a bit of antique Greek jewelry and a bit of the movie version of The Talented Mr. Ripley. In other words, it's everything I want. If someone were to gift it to me, you could definitely call it an offer I wouldn't be able to refuse.
I bought a daily diary from Australian stationery store Milligram last year and ended up loving it. I'm due for a new one for 2020, and this time, I'd like to try the "Family Life" weekly diary, which includes space for action lists, budgeting, meal planning, and more. As always, it comes with a linen cover with a cool, abstract design. I still have to go in and cross out all the Australia-specific holidays, but I think I can deal if it's going to help me get organized.
What I'm giving
One of the perks of having a baby is that it's now so much easier to shop for your parents. All they want is pictures of the baby, so pictures of the baby they shall receive! We ordered Artifact Uprising's Everyday photo book for each set of parents during the company's Black Friday sale, and although the books have yet to arrive, we've heard a lot of good things about the company's service and quality (and even included it on our roundup of the best gifts for new and expecting moms). We like that the clothbound cover comes in a range of muted color options and that you can customize it with foil stamping. You can also choose whether you want 30, 40, or 50 archival pages in your book. The interface was relatively straightforward to use, with preset templates that you can swap out if desired. Depending on how these turn out, it might finally be time to make a wedding album. (Artifact Uprising offers everything from a premium "layflat" wedding photo book to softcover albums to prints and more.)
I got this for my sister as a thank-you gift for watching the baby during the week of Thanksgiving when she came to visit from Philly. I happened to scoop it up when it was on sale for Black Friday, but, alas, it's back to its original price.
Hilary Reid, writer | What I want
Any film service that offers all four episodes of Fanny and Alexander in addition to the shorter "theatrical version" is great in my book. I've been meaning to subscribe to the Criterion Channel since it launched, and pre–winter vacation/hibernation seems like a good time — and better yet if I don't have to pay for it.
Something I've wanted for years, but that's unfortunately not available online, is one of Zitomer's fur headbands. To be clear: It's not a fur head warmer, which is easy to find, but actually a headband upholstered in fur instead of velvet or cotton. Just incredible. A good alternative, though, would be one of Officine Universelle Buly's beautiful tortoise combs, which you can get engraved. My favorite is this one called "The Godfather."
What I'm giving
I came across these soaps at Pearl River Mart, where they were on sale for the unreal price of three for $1. I bought a couple of three-packs and gave them to friends at a holiday dinner last weekend — they were a hit! The text color and font make them look almost like art objects, and I feel good about sending my friends into the new decade with wishes for harmony, energy, and wisdom.
Two things my grandmother loves are Venice and glamorous slippers, so I think she'll appreciate this elegant silk Venetian pair that are handmade in Italy. They even have a rubber bottom, which is practical for the slippery floors in her house. The shipping is a bit steep, but could almost be justified if I add a pair for my mom (and, okay, myself) to the order.
Karen Iorio Adelson, senior writer | What I want
Cashmere sweatpants are the kind of thing that feel way too indulgent to buy for myself, but I wouldn't mind being gifted a pair. These look very soft, and because they're tapered joggers, I'd be fine wearing them outside the house on weekends. They're also cropped, so they might actually not be too long for me even though I'm only four-eleven.
I'm a deep-dish girl living in a thin-crust city. Don't get me wrong, I eat and adore pizza of any style, but there's something about deep dish that's especially transcendent to me. While there are options in New York for pizza traitors like myself (I'm a fan of Emmett's), nothing beats the real thing flown in from Chicago. I'm a beggar, not a chooser, so while I'd be equally happy with pies from Giordano's (I'll let true Windy City denizens debate the finer differences between the two institutions), I know from personal experience that Lou Malnati's pizzas can survive the journey and last a while in the freezer for when I'm ready to treat myself.
What I'm giving
My nephew (who turns 2 next month) is obsessed with Peppa Pig. If you're not familiar, it's a delightful British cartoon featuring a family of pigs. Each episode is only five-minutes long so they're perfect for toddlers' short attention spans. Along with this pack of Peppa stickers, I got him these plush toys of Peppa and her little brother George (which are unfortunately sold out online) that oink, giggle, and say silly phrases when you squeeze their bellies. I'm sure he'll get a kick out of all of it.
My husband is a simple man who wants for nothing, which makes him annoyingly difficult to shop for. One thing he can't live without, though, is La Colombe's cold brew. I'm getting him a gift card that will probably last him about a week, plus this T-shirt, since a gift card on its own is kind of boring. He's not a big graphic T-shirt guy, so I'm avoiding th