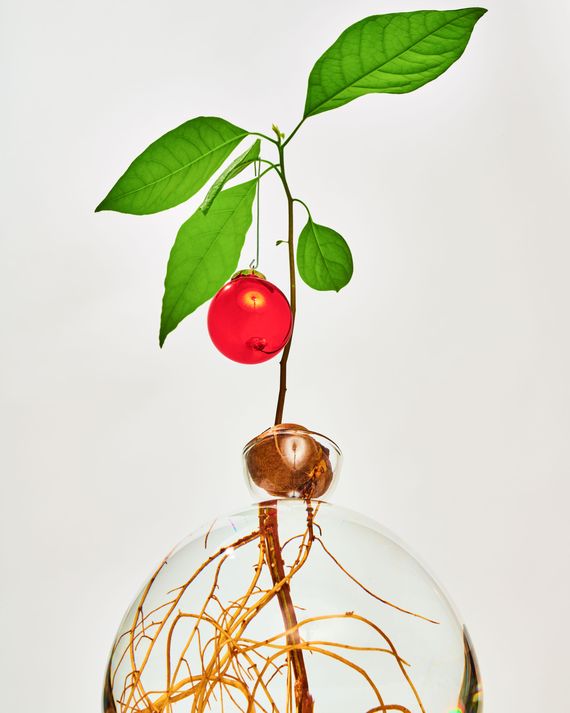 Photo: Joe Lingeman/JOE LINGEMAN
Typically, we share recommendations for the best products, period — it doesn't matter when they came out as long as they are exceptionally useful, beautiful, surprising, or otherwise worth recommending. This year we have gone in a different direction, focusing almost entirely on the world of the new. Here, you'll find a wide assortment of recently released things for every person on your list, from mood music for a plant owner (a rerelease of a 1976 record that apparently helps monsteras and ZZ's grow) to a big-dog-specific tote for a pit-bull parent. Plus, of course, hundreds of other ideas, from a vase that grows an avocado (seen above, $45 from ilexstudio.com) to a handful eerily realistic ceramic peanuts to a Lucite cat bed that could easily double as a side table. Don't miss all of the Strategist's holiday gift coverage right here, too.
Zooey Deschanel's Butter Lettuce
Photo: Courtesy of vendor
To be grown in her newly launched self-watering vertical garden.
Downtown Cowboy Hat
Photo: Courtesy of vendor
Appropriate for a rodeo in Mesquite or a shopping day in Chinatown.
Court Cards
Photo: Courtesy of vendor
Obscure Art Book
Photo: Courtesy of vendor
It documents German-born artist Felix Burrichter's exhibition at the Swiss Institute, and, to be honest, we really liked the cover.
Streetwear Ken
Photo: Courtesy of vendor
He looks about ready to flex on the corner of Mercer and Howard.
Start-up Stomach Relievers
Photo: Courtesy of vendor
Mood Music for Succulents
Photo: Courtesy of vendor
Mort Garson's recently rereleased, Moog-heavy 1976 record is meant to help houseplants grow.
Shelf-Worthy Lube
Photo: Courtesy of vendor
The bottle comes with a little easy-grip koozie.
Trompe L'Oeil Cat Toy
Cartoon Cooler