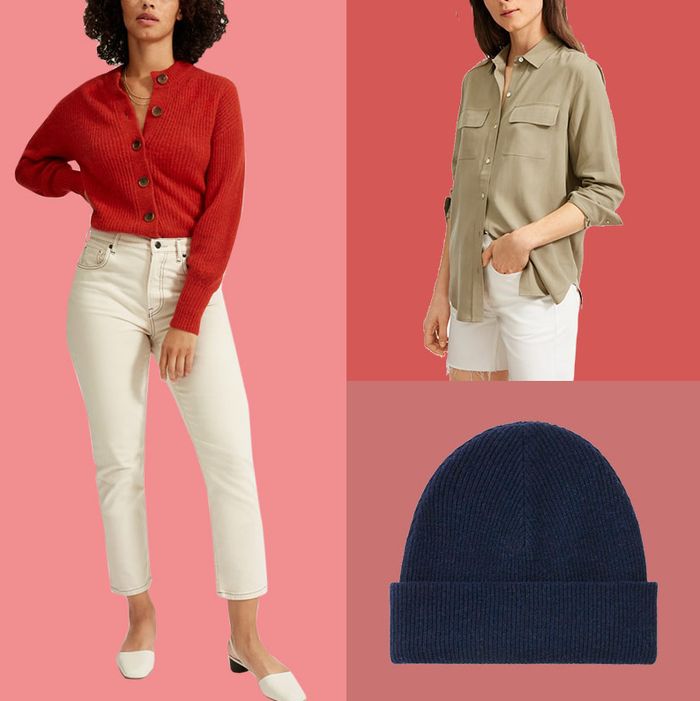 Photo: Courtesy of retailer
We've said it before and we'll say it again: there's nothing quite as satisfying as getting a chunk — or even all — of your holiday shopping done at one place. It saves time, it saves you from having to track multiple shipments, and it cuts down on the receipts you need to hold onto if (God forbid) something needs to be returned. The trick to single-retailer shopping is knowing what to look for — and with that, we're here to help. We're not shy about our fondness for Everlane: the brand excels at those well-priced wardrobe basics you almost always end up living in. And, in these woke times, it doesn't hurt that Everlane makes an effort to use sustainable materials and be transparent about its production. Since there's a good chance somebody on your list likes Everlane as much as we do, we've pulled together some of our favorite giftable things from the brand, from eco-conscious fleece to the alpaca sweater worn by many women in our office. Below, 19 Strategist-approved gifts from Everlane for practically everyone on your list.
For the best friend with a casual office dress code
I and Strategist's two other "Everlaneologists" — who each have been shopping at Everlane for at least three years (and sometimes many more), and won't go more than a month or two without buying something new — all mentioned the brand's silk as one of its star fabrics. Which is why this super easy-to-wear silk shirt tops our gift list. Its silhouette looks just as good French-tucked into jeans as it does hanging loose above slim-cut black pants or a midi skirt.
For the girlfriend with a stricter office dress code
For the sister-in-law who teaches first grade
For the brother who needs an alternative to his company-branded sweatshirt
A nubby sweatshirt that looks a little more polished than the one he got at his new-hire orientation (but still won't look out of place on "campus").
For the daughter who's starting a new job
A streamlined leather work bag that would look sharp in any office.
For the daughter who's starting a new job and is trying to carry less junk (her words)
Sleek and a little smaller than the tote above, so she'll have to edit a bit. It's not too small, though — it can still fit a 13-inch laptop inside.
For the teen niece who loves all things fuzzy
Nab this trendy material (in a trend-proof shape) while it's still in stock.
For the husband who likes fleece but not Gorpcore Fleece