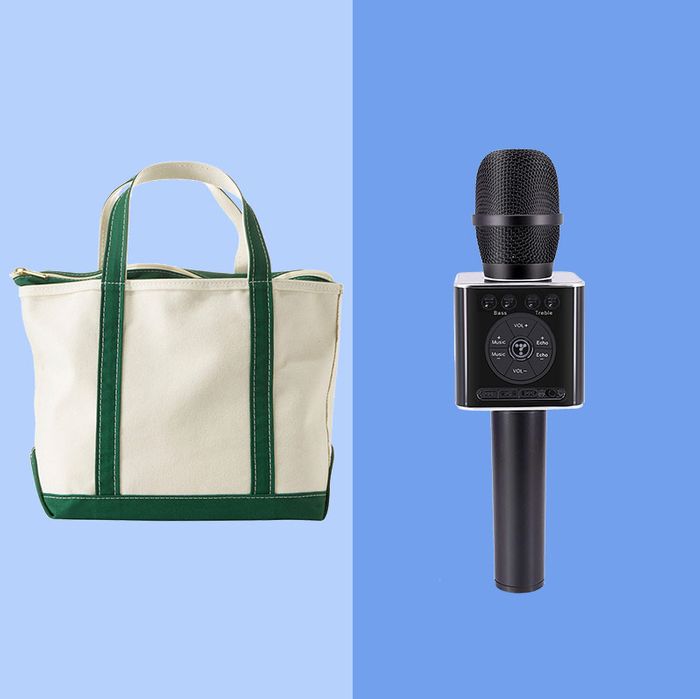 Photo-Illustration: Courtesy of the retailer.
The pandemic has been hard on friendships. If you're starting to tire of Zoom catch-ups but still want to show your best pal you're thinking of them, try surprising them with a little pick-me-up. It will always go a long way — especially these days, when even the smallest gestures can go a long way toward brightening a day. To help you find the perfect something, we've rounded up 44 gifts in a range of prices that are sure to please any type of friend, whether they guzzle coffee, can't stop cleaning the apartment they've been cooped up in, or spend their free time making TikTok videos. While most of the stuff is available on Amazon, we've found some things elsewhere, too, for those who like to shop around.
For the best friend who could use a new best friend (in the bedroom)
Pandemic or not, the extent of your friendship services probably falls short of the bedroom. But if your bestie is the type to indulge in self-love from time to time, the Baci is an air-suction sex toy that experts say can provide slower, more sensual orgasms than a vibrator. It is also cute-looking enough that they needn't worry about leaving it out on their nightstand. (If your bestie would prefer a sex toy for men, we've got plenty of expert-recommended options, too.)
For the best friend who just moved into a new apartment
Trinity Mouzon Wofford, a co-founder of wellness brand Golde, says this water filter is "essential for living in the city" and something she can't live without. According to her, it removes a lot of the mineral build-up and chlorine that can otherwise wreak havoc on skin and hair when it comes out of "100-plus-year-old pipes."
For the best friend who misses the sun
A Memphis-esque light-therapy lamp for their WFH desk.
For the best friend with a sweet tooth
These Italian black cherries will taste great on ice cream, in Manhattans, or straight from the jar.
For the caffeinated best friend
Photo: retailer
"I have used the machine for French press, pour-over, and AeroPress coffee, and every cup tasted smooth, no matter the method," our own Louis Cheslaw writes of this design-y coffee grinder from Fellow, the maker of our favorite design-y tea kettle.
For the best friend that wants to be TikTok famous
This tabletop ring light and tripod combo is ideal for shooting content. It's easily moved from room to room, has three color modes (cool white, warm yellow, and daylight), and 10 brightness levels. The wireless remote shutter makes filming a breeze.
For the best friend who needs a break from TikTok
A 1000-piece puzzle to help occupy their free time. When complete, it will reveal a Bosch print.
For the best friend who needs a good night's sleep
Give them all the soothing benefits of a weighted blanket, but one with a cooling bamboo cover that won't leave them waking up sweaty.
For the best friend who is always cold
According to Strategist junior writer Kayla Levy, this battery-powered heated blanket gets so warm, it can keep her cozy on near-freezing nights (as in 35 degrees) outdoors.
For the best friend who actually enjoys cleaning
Neat freaks will geek out over this motorized shower squeegee from Germany. Our friends at Strategist UK say "it's a vacuum for windows, or any kind of glass or tile, actually."
For the best friend who dreads cleaning
You can't save them from having to wipe down their countertops, but you can make the task a little bit more pleasant with these cheery (and sustainable) Swedish dishcloths.
For the best friend who's over Animal Crossing
If they spent early quarantine on the Animal Crossing wave, chances are they're ready for something new or, perhaps, something a little more involved. Sims 4 is the ideal solution, offering many hours of gameplay and the option to create an endlessly customizable, bespoke world.
For the best friend who needs a scalp massage
Writer Alison Freer says using this little massage brush is "blissful" and "much like getting a scalp massage at the hair salon." Regular scrubbing also gets rid of dandruff.
For the best friend who has let their brows go
Though marketed as a lash-lift kit, this is actually ideal for laminating brows because it straightens the hairs and leaves them looking, well, laminated. The effect typically lasts up to a month and costs much less than what your friend would spend getting them professionally done.