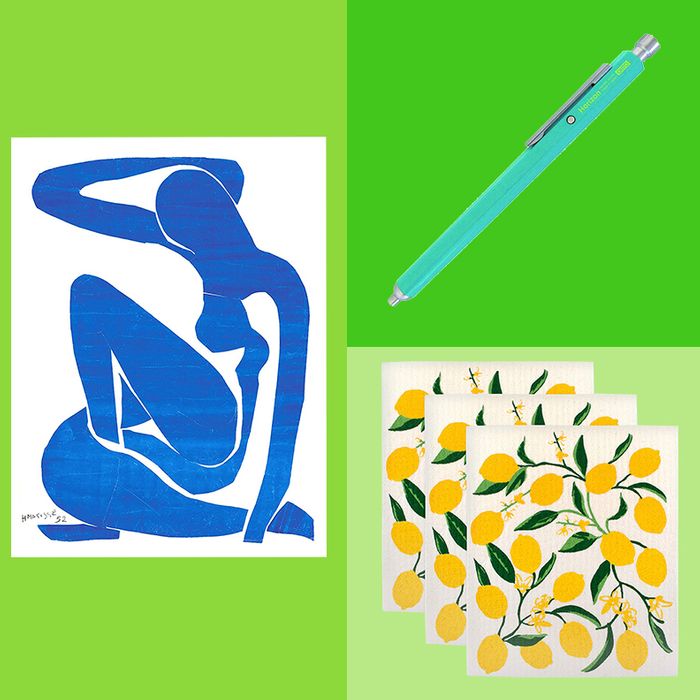 Photo: Courtesy of the retailer.
Whether your best friend is a book lover, a home cook, or a skin-care junkie, you're probably starting to stress out about finding them a unique holiday gift this year. Regardless of what they're into, we're here to do the heavy lifting for you, and have found the best gifts for every type of best friend, ones that you can buy on Amazon and will assuredly arrive on your doorstep before Christmas.
Editor's Note: Since we are now in the final surge of holiday shopping, we've checked this post to make sure everything is in-stock and should arrive before December 25. But prices and stock are subject to change, so check to make sure your gifts will ship in time.
For the best friend who needs a good night's sleep
Give them all the soothing benefits of a weighted blanket, but in a cooling bamboo cover that won't leave them waking up sweaty.
For the best friend who actually enjoys cleaning
Neat freaks will geek out over this motorized shower squeegee from Germany. Over on Strategist UK, writer Chris Mandle told us "it's a vacuum for windows, or any kind of glass or tile, actually."
For the best friend who dreads cleaning
You can't save them from having to wipe down their countertops, but you can make the task a little bit more pleasant with these cheery (and sustainable) Swedish dishcloths.
For the best friend with a country house
A grown-up jigsaw puzzle is a more creative host gift than a bottle of wine, and putting it together will be a fun post-dinner group activity.
For the best friend with a competitive edge
If collaborating on a puzzle feels too mellow for them, try this board game that's recommended for "advanced gamers." One expert tells us, "If you love meaty games with lots of math, this one's sure to light up your group."
For the best friend who needs a scalp massage
Writer Alison Freer says using this little massage brush is "blissful" and "much like getting a scalp massage at the hair salon." Regular scrubbing also gets rid of dandruff.
For the best friend who's a kid at heart
Playing with this (refreshingly non-neon) slime can help them de-stress — or just have a little fun.
For the best friend who's a little bit Instagram famous
Strategist writer Dominique Pariso noticed that this print adorns lots of stylish people's walls.
For the best friend who's still celebrating White-Claw Summer
Don't let the dreary days of winter force your friend to part with their favorite hard seltzer. Instead, help them keep their hands warm and their 'Claws cold with this perfectly sized koozie.
For the best friend who analyzes every moment of Real Housewives with you
Upgrade their wineglasses to better indulge in every Bravo personality's favorite activity with this set that's a favorite among sommeliers.
For the best friend who writes the most thoughtful birthday cards
This Japanese pen was the highest-ranked ballpoint in our list of the top 100 pens, and it'd be a good gift for a stationery fiend.
For the best friend-slash-work spouse
Make your mid-afternoon coffee runs together feel a little fancier.
For the best friend who remembers anniversaries better than Leslie Knope
Graphic designers love these brightly patterned note cards and, since there's no message written on them, your friend can personalize them for any occasion.
For the best friend you've known since kindergarten
Relive late-night gab sessions with a landline phone that looks just like the one you used in middle school.
For the best friend who's so trendy, you sometimes wonder why you're their best friend
Even if we've reached peak tie-dye, they'll still appreciate a pair of cozy, organic cotton socks.
For the best friend who always has a recommendation for a good book
This is also a good time to return the books you've borrowed from them this year.
For the long-distance best friend
The Kardashian-approved LuMee phone case has lights on the front so your best friend will always look good when you're chatting on FaceTime.
For the best friend who's the first person you call after a breakup