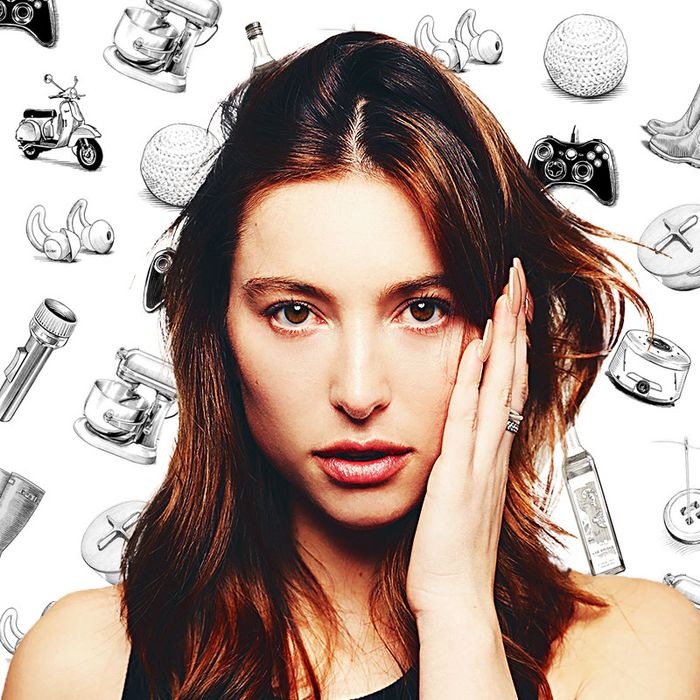 Photo-Illustration: The Strategist; Photo: Sophia Valentino
If you're like us, you've probably wondered what famous people add to their carts. Not the JAR brooch and Louis XV chair but the hair spray and the electric toothbrush. We asked model Eve Jobs about the better-than-Laneige lip treatment she recommends to everyone, the plant-based nuggets that taste like the real thing, and the thermals she can only find secondhand. 
So I only really started enjoying working out recently. My best friend who I moved in with when I moved to New York has always had exercise in her daily routine. She taught me a lot about working out and what to do and about the value it can add to your life. She had the Bala Bangles and she was like, "You need ankle weights." And I was like, "Do I though?" But they're great. They're really easy to use. They're super compact. They have their own little travel case and I can do everything that I need with them. I can do my legs, arms, abs. I don't really do cardio, and that is because I'm uncoordinated and I really don't like it. Like, I really don't like it. So I tend to gravitate toward things that I can do while laying down. I love doing leg lifts and or planks or side-to-side kind of oblique dips. I don't really do a lot of ass workouts. I don't know if I can say ass workouts, but I don't love doing that 'cause it really burns.
I love to write, whether it's journaling or just a thought or an idea that I want to put onto paper. On planes or in bed at night is kind of when I do that. If I don't, I will forget or lose it. Writing it out actually helps me look at it from all angles and kind of delve deeper into the reasonings behind the thoughts. These pens are so fun. I enjoy them because they're very fine-tipped pens and also the colors are really gorgeous. I pick a pen to write with depending on the mood that I'm in at the moment. I find it to be like an extension of how I'm feeling or what I'm writing about.
I don't try and push products on people because I think skin care especially is really dependent on the person, but if I did, this would be my first recommendation. When I moved to the city, my lips were getting dry. I tried Aquaphor and I used that for a while and the Laneige lip sleeping mask, which is a great product, but I went to Aida Bicaj and one of the estheticians there used this lip peptide treatment on me and it was absolutely fantastic. I've used solely that ever since. It's not sticky, which is a big thing, and it doesn't absorb too quickly into your lips. It's like a long lasting, just-glaze on your lips, and it's so moisturizing. It's probably something I use morning, night, and all throughout my day and I have for years now. It's in every bag I have, it's by my nightstand, in my skincare area in my bathroom. Sometimes in a pocket of a jacket you'll find one.
Last year I had curtain bangs for the first time since I was probably 4. And I, for the life of me, could not figure out how to deal with them during my skin-care and makeup routine. One of my friends was like, "Well, why don't you just put them in hair clips or like a headband or something." A headband didn't work so well because then the shape would be kind of — for lack of a better word — off after. I'd take my hair down and there'd be some little tiny fun curvature happening that I didn't intend on. But the clips are genius. They're no dent clips, so when you take your hair down it's just as you left it. They've saved my hair many times, and my overall sanity. Like the lip peptide, I have them in every bag, suitcases, bedside table, and just around. They're really handy.
My friend started this brand years ago, and he nailed it. It is an absolutely brilliant thermal. It's not too thick, it's not too thin. It's the softest thing you'll ever put on your body, seriously. It'll cocoon you into a warm hug. They're meant to be shirts, which you can totally wear as a shirt, but I wear them as dresses whenever I'm home. With cozy socks, it's a hug in a shirt dress. I have about seven, maybe eight. Trying to pick a favorite is like what I would assume picking a favorite child would be like. I can't, that's too hard. All of mine have been collected off Grailed, because they're really hard to find, especially in the size I like to have for a dress. It's very niche. So you gotta really look and check back in on Grailed every few weeks. It's a passion project.
I think a lot of people went through this phase of not wearing pants during the pandemic, but I certainly did for far too long. I would wear either shirt dresses out of the thermals or just like a massive shirt and socks every day. And then it got to a point where we were kind of coming out of it and people were going back to their daily life and I just never really let go and I just kept not wearing pants. It was not okay to the point where I was like, I need at least a boxer-type short to put underneath. I did a deep dive on the internet into sleep shorts and found these and they're just really soft. They're super easy to throw on and they're just a very simple, very great staple. Highly recommended for people that don't want to put on a whole pair of pants.
I was raised vegan for the first ten years of my life and then I heavily rebelled. I have tried all different kinds of diets to make my stomach feel the best and wake up with the most energy and whatnot. I was kind of falling back into a more plant-based diet and so these were recommended to me. It's the best plant-based alternative that I've found for nuggets. They crisp really nicely on the outside and have that kind of nugget feel. It's the closest I've ever gotten to an actual chicken nugget, and at this point in my life, I might even like it more, which is kind of a hot take. They're a great snack. They're a great lunch. I like the dino shapes because they're cute and it makes me happy. They're super quick and really easy to make — just toss them in an air fryer and shake it twice, which is great for me because I am not the greatest chef.
I'm a big caffeine person. To feel awake when I get out of bed, and honestly to get out of bed, I drink coffee every morning. I'm such a big Dunkin' Donuts girl. And then after I work out, I like to have a Celsius. We have the fridge stocked with Celsius. If you're having a day where you just gotta keep it moving, get stuff done, there's nothing like grabbing a Celsius and being like, "Ah, thank God." I have a specific one I really like: kiwi guava. Growing up, I remember my sister and I used to have like guava juice or something in Hawaii, and I always loved it. So when I saw it I was like, Oh, I have to try that. And it quickly has become my favorite.
I'm gonna keep it brief. It's a tool for creatives and an aesthetic-design masterpiece. It's changed the way we have all lived our lives and, very simply put, my feelings on the entire thing is just, it's genius.
The Strategist is designed to surface the most useful, expert recommendations for things to buy across the vast e-commerce landscape. Some of our latest conquests include the best acne treatments, rolling luggage, pillows for side sleepers, natural anxiety remedies, and bath towels. We update links when possible, but note that deals can expire and all prices are subject to change.