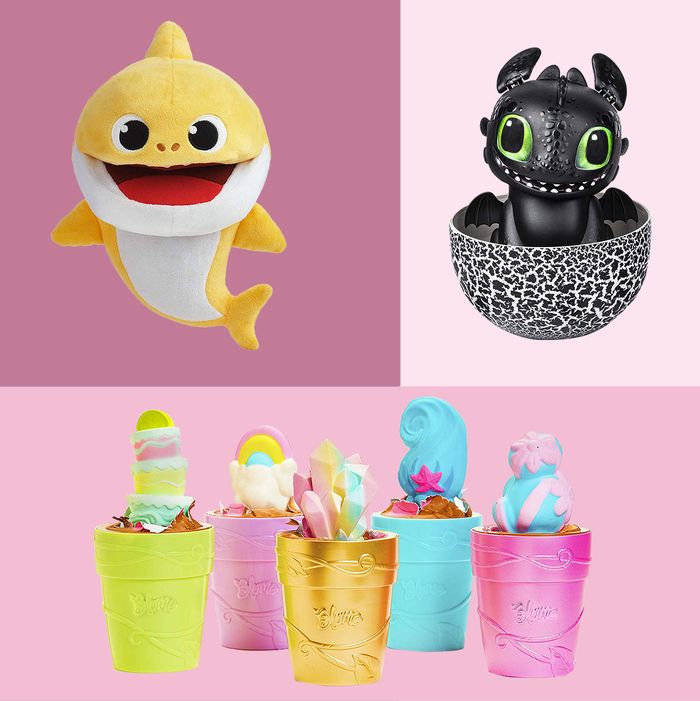 Photo: Courtesy of the retailers
For the last three years, we've walked the aisles of toy fairs and reached out to trend experts for their opinions on what toys would top the charts each holiday season, driving parents crazy and forcing them to hunt for sparkly eggs, tiny collectible pets, and rainbow unicorn poop made of slime.
Not to stress you out or anything, but with the release of Frozen 2 and the continued popularity of toys like Hatchimals, Ryan's World Giant Mystery Egg, and L.O.L. Surprise!, things are selling out fast. So you're going to need a little luck as you shop this year. Note: We've also got gift guides for kids of all ages, including 1-year-olds, 2-year-olds, 3-year-olds, 4-year-olds, 5-year-olds, 6-year-olds, 7-year-olds, 8-year-olds, and 9-year-olds. Below, we talked to toy experts to find all the toys you should know about this year — and what to stock up on before they're all gone.
Note: Since we are now in the final surge of holiday shopping, we've checked this post to make sure everything is in stock and should arrive before December 25. But prices and stock are subject to change, so check to make sure your gifts will ship in time.
This year's hottest overall toy
Unboxing and collectible toys were the biggest trends last year, and they have only gotten more popular. They include anything with some element of surprise, where you don't know what you're going to get until you open it. Adrienne Appell, senior director of communications at the Toy Association, told us these toys (sometimes referred to as blind-box toys) have "gotten a little bit more sophisticated," mixing interactive elements into the reveal. Appell and three other toy experts called these Blume dolls from Skyrocket Toys some of the most anticipated of the season. Blume dolls start out looking like a potted plant, and come with a little watering can you use to make the doll spring up out of the dirt. Appell explains "the hair of the doll is made of slow-rise foam, and when you water the "plant," it looks as if your doll is blooming from the pot."
Chris Byrne, also known as the Toy Guy, says, "It's like magic for kids." Marissa DiBartolo, editor-in-chief of the Toy Insider, says, "The dolls have a unique design, and the flowerpot doubles as a customizable play set," adding that each doll provides "so much play for less than $10." And Sara Skirboll, shopping and trends expert at RetailMeNot, likes this toy because it's such a fun example of the unboxing collectible trend. Skirboll tells us there are 22 different Blume dolls, so once you collect one or two or three, "you can take the foam hair off and change it out with your other Blume dolls." After the toy blooms, you can open up the pot and find a little mini-friend and some stickers to decorate with.
This year's hottest toy pet
Last year, we watched — a little perplexed — as Poopsie Slime Surprise Unicorns flew off toy shelves and reappeared on eBay at wildly inflated prices. This year, however, instead of a unicorn that poops rainbow slime, we have a booty-shakin' llama named Boppi. Appell, Byrne, and Skirboll told us that this dancing llama is going to be incredibly popular. "You have to Google it," says Skirboll. "It is so cute, and as I said, I bought most of these toys, so they're all sitting on my desk. It's even pretty funny to watch it just in the packaging."
The year's hottest ride-on toy pet
Both Byrne and Kat Druback, core toys buyer at experiential toy store Camp in NYC, recommend this status-y mechanical ride-on pony for kids ages 3 and up. It's a hit on social media and owned by Kim and Kourtney Kardashian's kids.
This year's hottest toy rescue pet
Scruff-a-Luvs, the plush rescue pets whose fur you have to wash and comb to find out if you've got a puppy, kitten, or bunny, were a huge hit last year. According to Byrne, they're part of the "nurturing toy" trend that includes any toy that requires being fed, nurtured, and trained by kids. Byrne predicts that the new line of Scruff-a-Luvs will sell just as well, if not better, than the originals.
This year's hottest kid-created toys
In 2018, Ryan's World Giant Mystery Egg sold out, was restocked, then sold out again at Target, Amazon, and Walmart. Ryan, a real kid with over 4 million YouTube subscribers and a new show on Nickelodeon, has played a huge role in the unboxing trend through his videos. For 2019, he (and his parents) came up with a different surprise-filled toy, this time in the shape of a safe with a lock. Appell told us the Ryan's World Super Surprise Safes and Treasure Chests are some of the toys she and the Toy Association "think is going to move really quickly."
If you missed out on the Ryan's World Giant Mystery Egg last year, this Target exclusive is still in stock — for now.
This year's hottest toy inspired by a song
If you have a child, you have probably heard the song "Baby Shark" an obscene amount of times. You can now buy this shark puppet from the makers of Fingerlings — yes, it comes in a Fingerlings version too. Three of our experts (Byrne, Appell, and Skirboll) are betting this plush family of singing sharks will sell like hotcakes. Byrne likes that it "takes a concept that kids love and interprets it into a dimensional way of playing." He explains that when you do the Baby Shark hand movements "like the jaws of a shark," it triggers the puppet to play the song. Move the puppet faster, and it plays the song faster; move more slowly, and it slows the tempo down.
This year's hottest fashion doll
Both Byrne and Appell think that Mattel's newest dolls will be something of a runaway hit with parents and kids. "They're not Barbie," says Appell. "They're customizable dolls, so you can create your own characters." Each of the six dolls comes with different clothing and hairstyles, so you can give them short hair or long hair, and style them however you want. "I've never seen anything like it before," Appell says.
This year's hottest collectible surprise dolls
While L.O.L. Surprise! isn't new to the scene, all four of the experts we talked to recommend stocking up on them early before they inevitably sell out. And as predicted, there's not a lot from L.O.L. Surprise! left that will get to you by Christmas at this point. Out of everything made by L.O.L. Surprise!, Skirboll, Byrne, Appell, and DiBartolo recommend the winter disco-themed L.O.L. Surprise! dolls and accompanying chalet-style dollhouse (which has unfortunately sold out everywhere). "That winter theme is going to do really well," says Byrne, who tells us that, though it's not a licensed Frozen 2 toy, it takes its wintry inspiration from the film. Byrne explains, "You take the doll kids already love, add a wintry fantasy inspired by Frozen (which is going to be a juggernaut), and you get a really engaging toy."
This year's hottest slime toy
All of our experts agree that slime is a big trend that's still growing. "Slime is really huge!" says Byrne, who told us that people are finding different ways to play with it, and even hide little toys inside of it. Byrne likes this hysterical slime-collecting hammer because it "combines the fun of popping bubble wrap, unboxing toys, and smashing stuff with slime."
This year's hottest STEM toy
Byrne says that STEM-style toys are a big trend he's been seeing, and though he likes anything from Playmobil, he specifically mentioned this Mars Mission Playmobil toy as one to look out for because it does a good job of "building narrative and fantasy, while including some science in there as well."
This year's hottest toy from a movie
All four experts we spoke to mentioned some sort of Frozen 2 merch, collectibles, dolls, and dress-up costumes. DiBartolo says, "You'll be seeing Elsa and Anna in every toy aisle." But according to Byrne, Appell, and Skirboll, the Elsa doll that sings "Into the Unknown" is the one to watch. While the singing Elsa doll is sold out, this one is still available and will ship in time for Christmas.
And for under $15 bucks, you can get a pair of life-size boots from the movie to match the doll.
This year's hottest preschool toy
Both Byrne and DiBartolo mentioned this collection of big-eyed bobblehead dolls as a way for children 3 and under to get in on the collectibles trend. Byrne says, "They are like Shopkins but for preschoolers," because they "have a ton of accessories just like Shopkins, but theirs are bigger, so small children won't swallow the pieces."
This year's hottest video-game system for kids
Three out of our four toy experts (Skirboll, Byrne, and Appell) say they expect the Nintendo Switch Lite to sell out quickly. "It's smaller, it's cheaper, and it comes in a few different colors," says Skirboll, explaining that parents of tweens and teens might like this lighter version of the megapopular gaming system. It should be said, though, that this version of Nintendo Switch does not connect to your TV.
This year's hottest toy inspired by a video game
Unicorns still occupy a big place in children's hearts, but according to our experts, we will be seeing more and more llamas very soon. Still, you might not have expected to see one as part of a Fortnite toy. "It's no secret that Fortnite is one of the hottest video games out there," says DiBartolo, who recommends this llama piñata from Jazwares, which she says "brings the game to life." It also fits right into the unboxing toy trend, since kids can smash it open to reveal more than 100 surprise goodies inside.
This year's hottest video-game inspired LEGO set
According to our experts, giving LEGOs is always a good idea. But Skirboll says that this specific LEGO set, inspired by the video game Overwatch, is the one to buy in advance of the holidays.
This year's hottest evolving toy
"Kids have to play and interact with Rizmo to watch him evolve," says DiBartolo, who, along with Appell, recommends buying this little furry monster sooner rather than later. "He loves to sing and dance, and even records what kids sing to him to play it back later," adds DiBartolo. According to Appell, Rizmo is a plush creature from outer space, but you nurture it to get it to evolve and come out of its little cocoon. The full evolution takes two weeks to complete, which means your child will be busy playing with Rizmo for eons in toy time.
This year's hottest wearable toy pet
Appell listed Pixie Belles, the little magical pets with removable tails you can wear, along with L.O.L. Surprise! and the Baby Shark plush dolls. Like Hatchimals, they're interactive and light up, make kissing sounds when you hold them up to your cheek, and spin around when excited.
This year's hottest surprise plush pet in a burrito
When Appell asked if we'd heard of Cutetitos, we said that sounds like a snack food. Lo and behold, Cutetitos are actually one of this year's hottest toys. "They're based on memes of people wrapping up their pets like little burritos in blankets," says Appell. And now they've come out with Babitos, a plush blind-box toy. Appell says "they'd make a great stocking stuffer, and they'll be in short supply this holiday season."
The Strategist is designed to surface the most useful, expert recommendations for things to buy across the vast e-commerce landscape. Some of our latest conquests include the best women's jeans, rolling luggage, bed sheets, coffee makers, and bath towels. We update links when possible, but note that deals can expire and all prices are subject to change.

Every editorial product is independently selected. If you buy something through our links, New York may earn an affiliate commission.