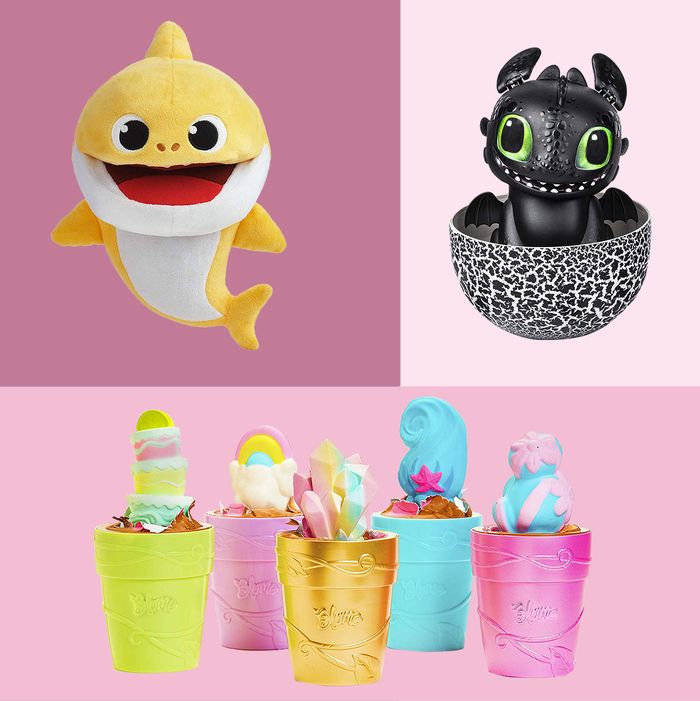 Photo: Courtesy of the retailers
For the last three years, we've walked the aisles of toy fairs and reached out to trend experts for their opinions on what toys would top the charts each holiday season, driving parents crazy and forcing them to hunt for sparkly eggs, tiny collectible pets, and rainbow unicorn poop made of slime.
Not to stress you out or anything, but with the release of Frozen 2 and the continued popularity of toys like Hatchimals, Ryan's World Giant Mystery Egg, and L.O.L. Surprise!, things are selling out fast. So you're going to need a little luck as you shop this year. Note: We've also got gift guides for kids of all ages, including 1-year-olds, 2-year-olds, 3-year-olds, 4-year-olds, 5-year-olds, 6-year-olds, 7-year-olds, 8-year-olds, and 9-year-olds. Below, we talked to toy experts to find all the toys you should know about this year — and what to stock up on before they're all gone.
Note: Since we are now in the final surge of holiday shopping, we've checked this post to make sure everything is in stock and should arrive before December 25. But prices and stock are subject to change, so check to make sure your gifts will ship in time.
This year's hottest overall toy
Unboxing and collectible toys were the biggest trends last year, and they have only gotten more popular. They include anything with some element of surprise, where you don't know what you're going to get until you open it. Adrienne Appell, senior director of communications at the Toy Association, told us these toys (sometimes referred to as blind-box toys) have "gotten a little bit more sophisticated," mixing interactive elements into the reveal. Appell and three other toy experts called these Blume dolls from Skyrocket Toys some of the most anticipated of the season. Blume dolls start out looking like a potted plant, and come with a little watering can you use to make the doll spring up out of the dirt. Appell explains "the hair of the doll is made of slow-rise foam, and when you water the "plant," it looks as if your doll is blooming from the pot."
Chris Byrne, also known as the Toy Guy, says, "It's like magic for kids." Marissa DiBartolo, editor-in-chief of the Toy Insider, says, "The dolls have a unique design, and the flowerpot doubles as a customizable play set," adding that each doll provides "so much play for less than $10." And Sara Skirboll, shopping and trends expert at RetailMeNot, likes this toy because it's such a fun example of the unboxing collectible trend. Skirboll tells us there are 22 different Blume dolls, so once you collect one or two or three, "you can take the foam hair off and change it out with your other Blume dolls." After the toy blooms, you can open up the pot and find a little mini-friend and some stickers to decorate with.
This year's hottest toy pet
Last year, we watched — a little perplexed — as Poopsie Slime Surprise Unicorns flew off toy shelves and reappeared on eBay at wildly inflated prices. This year, however, instead of a unicorn that poops rainbow slime, we have a booty-shakin' llama named Boppi. Appell, Byrne, and Skirboll told us that this dancing llama is going to be incredibly popular. "You have to Google it," says Skirboll. "It is so cute, and as I said, I bought most of these toys, so they're all sitting on my desk. It's even pretty funny to watch it just in the packaging."
The year's hottest ride-on toy pet
Both Byrne and Kat Druback, core toys buyer at experiential toy store Camp in NYC, recommend this status-y mechanical ride-on pony for kids ages 3 and up. It's a hit on social media and owned by Kim and Kourtney Kardashian's kids.
This year's hottest toy rescue pet