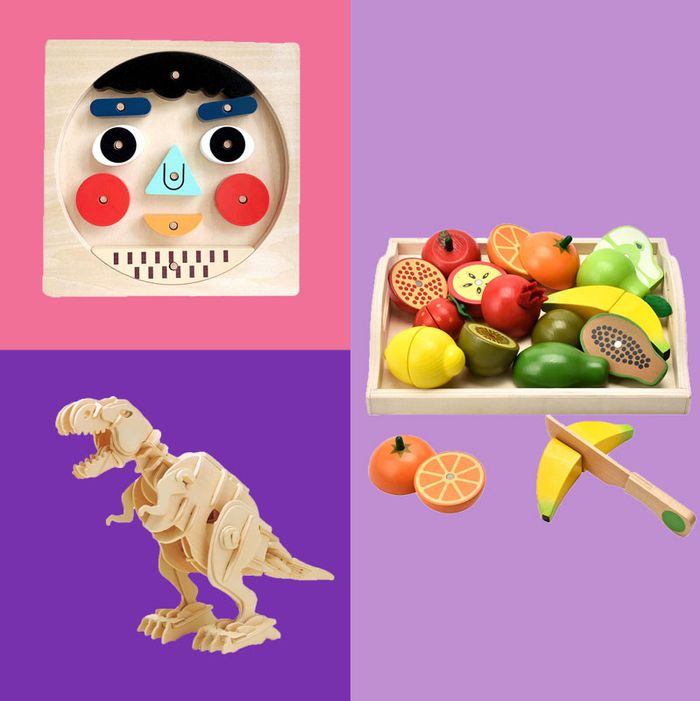 Photo: Courtesy of the retailers
Wooden toys, in contrast to their plastic counterparts, last longer and biodegrade faster. They're also generally less flashy, making them popular among parents with more minimalist taste who'd rather not have their home overrun with stuff that looks like this. In fact, a lot of wooden toys can pass for Danish design objects (and wouldn't look out of place next to a succulent atop a mantle) when not in the hands of a toddler. And because of their long history in the world (the first written reference to a wooden toy dates back to 500 BC) and their popularity in Montessori and Waldorf classrooms, they exude a comforting folksiness and proximity to the natural world. Take it from me, a former Waldorf-school teacher and current Strat reporter who's spent hours in conversation with child-development experts, toy-trend forecasters, and stylish parents: Wooden toys will not only make your home more stylish, they'll foster curiosity, creativity, hand-eye coordination, and so much more in your child.
To further guide you, we scoured the internet for the cream of the crop and curated a list of the best wooden toys we could find, including wooden toys for teething babies, ones for toddlers working on their fine motor skills, toys that encourage pretend play, and even some STEM toys made out of wood.
Wooden toys for babies
The Homi organic wooden rattle is made in the U.S. and painted with environmentally friendly, nontoxic milk paint before being sealed with organic virgin coconut oil. So it's safe for teething babies and even your pets.
Squishy rattles, like this one from Manhattan Toy, are great for developing a baby's gross motor skills. This rattle is made using sustainable wood and nontoxic finish.
Wooden toys for toddlers
Lacing toys like this wooden apple and worm challenge a toddler's fine motor skills and can keep children busy for long periods of time — a godsend on car rides, airplanes, or grocery-store lines.
Toys that make noise or play music are typically bigger hits with toddlers. This chubby wooden bee on wheels makes beeping sounds when kids press down on its back. It's made with wood from responsibly managed forests and nontoxic paint. It's also great for fine motor skills and encouraging memory through cause and effect.
Speaking of bees, toddlers will enjoy the challenge of using these wooden tongs to remove wooden bees and put them back in their hive. Matching the bees to their hives also helps toddlers work on color recognition.
Pull toys are extra fun for toddlers who can walk. And this baby and mama duck encourage talking about family and putting things inside other things — two favorite toddler pastimes.
Toddlers love musical toys and this wooden drum has a pleasant sound and allows toddlers to experiment and find different notes.
Wooden toys for pretend play
This little wooden food truck and doll encourages imaginative play and comes with a wooden refrigerator, stove, and four wooden pizza discs.
Each wooden apple, pomegranate, lime, banana, and avocado in this set is realistically painted with eco-friendly paint and can be cut in half for serving using a wooden knife and then put back together with magnets.
Melissa & Doug are known for making high quality toys that encourage child development. This garage and service station is no different and offers tons of scenarios to stretch children's imaginations.
If you're looking for more cars to park in the garage, here's a sweet set of utility vehicles to add to the party.
For the true minimalist, this black and white wooden spaceship would look nice on any bookshelf and can be assembled in several different configurations before being "shot" into space.
Like a flat, wooden Mr. Potato Head, this facial expression and mood puzzle helps children with social-emotional development and encourages healthy communication around moods and feelings.
Melissa & Doug's two-story wooden dollhouse has a handle and folds up for easy carrying. It was included in our article about the best dollhouses on Amazon.
Wooden toys for stacking and balancing
This set of Areaware-esque faceted natural wood blocks comes with idea cards for different stacking combinations.
Hape's all-wooden balance bike increases children's strength and motor skills.