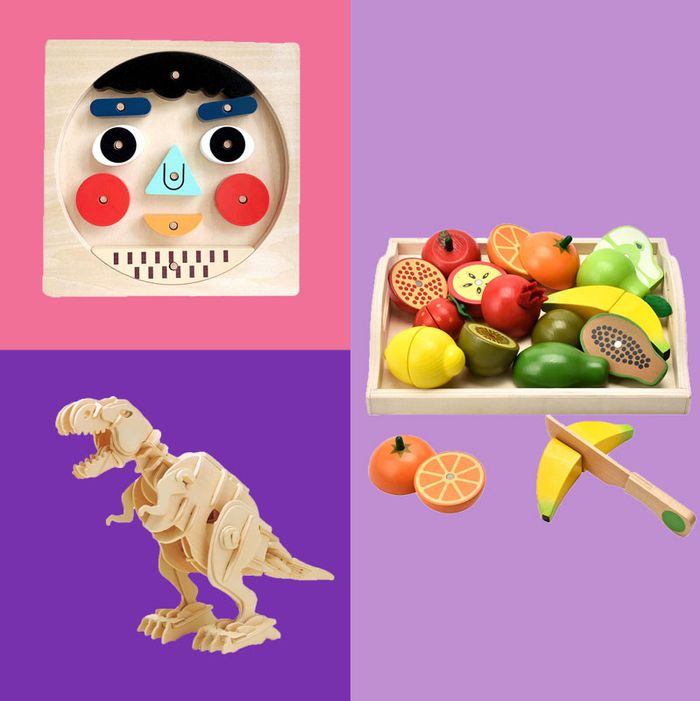 Photo: Courtesy of the retailers
Wooden toys, in contrast to their plastic counterparts, last longer and biodegrade faster. They're also generally less flashy, making them popular among parents with more minimalist taste who'd rather not have their home overrun with stuff that looks like this. In fact, a lot of wooden toys can pass for Danish design objects (and wouldn't look out of place next to a succulent atop a mantle) when not in the hands of a toddler. And because of their long history in the world (the first written reference to a wooden toy dates back to 500 BC) and their popularity in Montessori and Waldorf classrooms, they exude a comforting folksiness and proximity to the natural world. Take it from me, a former Waldorf-school teacher and current Strat reporter who's spent hours in conversation with child-development experts, toy-trend forecasters, and stylish parents: Wooden toys will not only make your home more stylish, they'll foster curiosity, creativity, hand-eye coordination, and so much more in your child.
To further guide you, we scoured the internet for the cream of the crop and curated a list of the best wooden toys we could find, including wooden toys for teething babies, ones for toddlers working on their fine motor skills, toys that encourage pretend play, and even some STEM toys made out of wood.
Wooden toys for babies
The Homi organic wooden rattle is made in the U.S. and painted with environmentally friendly, nontoxic milk paint before being sealed with organic virgin coconut oil. So it's safe for teething babies and even your pets.
Squishy rattles, like this one from Manhattan Toy, are great for developing a baby's gross motor skills. This rattle is made using sustainable wood and nontoxic finish.
Wooden toys for toddlers
Lacing toys like this wooden apple and worm challenge a toddler's fine motor skills and can keep children busy for long periods of time — a godsend on car rides, airplanes, or grocery-store lines.