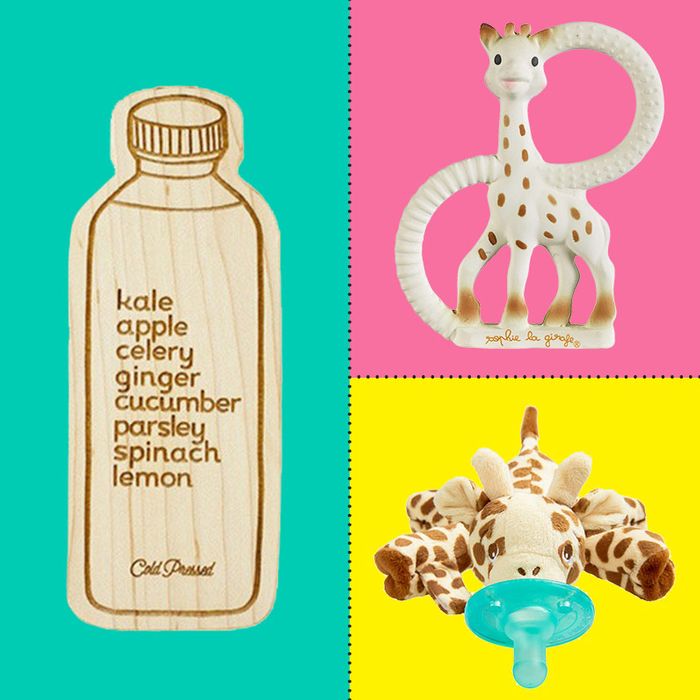 Photo: Courtesy of the retailers
If you spend any time with new parents, you'll probably glean that teething is the source of a lot of agony for both them and their babies. Baby's not sleeping well? Probably teething. Crying more than usual? Probably teething. Putting anything and everything in her mouth? Again, probably teething. The painful process in which teeth break through the gums can last, according to pediatrician Dr. Jen Trachtenberg, on and off from when little ones are 4 months old up until they turn 2 years old.
There are lots of products on the market designed to relieve the ache of teething, so we turned to pediatricians, pediatric dentists, and baby-gear experts to find ones that are both safe and effective. What you won't find among their recommendations below, though, is the trendy amber teething necklace that's become a bit of an Instagram fad based on claims that its beads release a natural pain-relieving substance. As Trachtenberg says, "There is no scientific evidence that they help teething pain, and they are a strangulation and choking hazard for baby."
Best overall thing for teething babies
Among the experts we spoke with, the most commonly recommended product is one that you probably already own: a washcloth. Dr. Mindy Gallagher of Tribeca Pediatrics says she tells parents to "wet and roll up a small washcloth and keep it in the fridge," and Phoebe de Croisset, director of editorial and special projects at Maisonette, says, "Your baby will love to gnaw on that, and it will provide some relief to achy gums." If you forget to refrigerate it, Trachtenberg says, a washcloth just dipped in cold water will do the trick. Dr. Danielle Lombardi, a pediatric dentist at Park Smiles NYC, adds that you can try wetting one with chilled chamomile for pain relief.
De Croisset likes these organic cotton washcloths because they're free of "any harmful chemicals that are in household product or toys [that] can leach into the body through saliva and cause harm."
Best silicone teething toys
Lombardi says she often recommends teething rings that can be refrigerated. "Placing the teething rings in the refrigerator instead of the freezer prevents them from getting too hard and too cold causing them to stick to the gums — often causing more discomfort," she says. Most experts, including Lombardi, recommend BPA-free rings (like these that are made from food-grade silicone), which are easy to clean and disinfect.
Also made from BPA-free silicone, this adorable llama-shaped teether is a favorite of Nasiba Adilova, co-founder of The Tot. "It's the perfect size for little fingers to hold with lots of interesting textures," she says. "Best of all, it's completely nontoxic."
Best rubber teething toys
With two rings of different textures for babies to choose from, Lombardi says this giraffe teether has been "very popular in recent years." It's made from all-natural rubber and food-grade paints so babies can safely chew away at it.
For a kitschy, trompe l'oeil teething toy, Adilova likes this natural rubber one that looks like a leaf of kale. She says babies love the textured surface and it's also "completely biodegradable and ecofriendly."
Best wood teething toys
Organic and untreated wood can feel good on baby's gums. De Croisset is currently dealing with her own teething baby and likes this set. "My daughter can really grip the [ring] and the different textures keep her interested," she says.