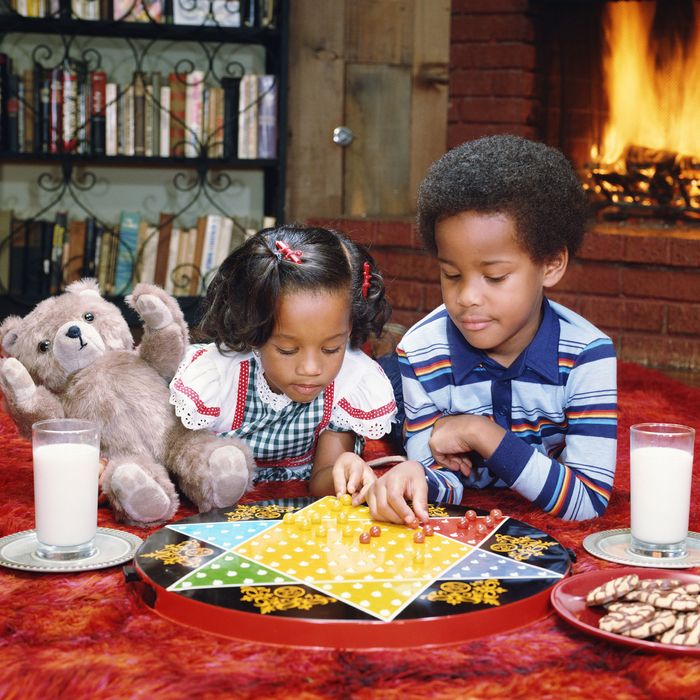 Whether you've got antsy kids at home or in the classroom, a good board game can keep the little ones entertained for hours — not to mention help strengthen their critical thinking skills. So while we've written before about all sorts of games and activities in the past — including the best four-player board games, two-player board games, and board games for adults — here, we've rounded up the best board games for kids, as praised by the most enthusiastic reviewers on Amazon.
Related Articles: The Best Family Board Games | The Best One-Player Games
Best-rated (and least expensive) board game for kids
Over 40,000 reviewers give five-stars to the classic board game Connect 4. Many purchasers highlight how easy it was for their kids to learn and understand how to play, and they also love that it doesn't take too long to finish a game. "As a busy mom to three kids, it's hard to juggle all I have to get done and still get in quality time with my children," one reviewer writes. "It's short enough that I can play a few rounds and then let the kids play each other while I finish up cleaning or whatever." Many parents found themselves getting a little nostalgic too. "This is the same classic game that I played when I was a kid, and now I can play it with my children," writes one. "We got the game at Christmas, and it's now eight months later and they still pull it out to play all the time. I think this one will be a keeper."
Best two-player board game for kids
"It's a great game for a variety of ages, easy to catch on, fun to play, and keeps kids occupied a while," writes one middle-school teacher of this classic board game. "This is a fun game for children and teenagers," another reviewer writes. "The two players become quite involved in the game as they try to figure out the position of their opponent's fleet based on the result of each successive 'salvo'." And while it can be a long game, it does hold their attention for at least a little while. "Bought this for my 7 and 9 year olds, they enjoy it for the first half hour," one parent says. "My 7-year-old gets annoyed /bored. I enjoy playing it with my 9-year-old, teaches her strategy and process of elimination." And while it is designed for two people, if you have a bigger group, reviewers have found their way around that. "It is great for family fun night even though it is only for two players," one writes, while another says, "My 4yo is a little young for it, so we play in pairs (adult with kid teams)."
Best cooperative board game for kids
The objective of Eye Found It is to move your piece to the end of the board, and no one wins unless everyone makes it to the end. Reviewers say that the "collaborative" nature of the game makes for an enjoyable and accessible way to introduce the value of teamwork, like one parent who bought this for their 4-year-old daughter and says, "She usually doesn't like board games because she doesn't like losing. But nobody loses in this game, so it is a hit." Another, who writes that the game was a big winner with their family at Christmas, also appreciates that "we all lose or all win together — no poor losers or insufferable winners." But the fun of the game is searching for city-themed hidden pictures as players navigate through the six-foot board game. One family used the game as an opportunity for "storytelling [and] sharing with each other the activities and events along our journey." And, since the game ends on "Picnic Island" they "placed a picnic blanket on the front lawn and enjoyed the game on the blanket, often followed by our own picnic."
Best educational board game for kids
Of this game's nearly 900 five-star reviewers, more than 50 say that this cooperative board game is "educational," since it teaches children about 25 edible and medicinal plants, as well as their uses in first-aid situations. One parent, who describes the game as "educational and well-designed" summarizes how players have to "gather helpful plants which they can use in case of trouble, like bee stings, hunger, or sunburn" to help each other during the game's fictional mountain climb." Another reviewer loves that it helps her kids both avoid "fighting and fussing, and when we hike the kids are finding these plants and they know how to use them." Dozens of customers also appreciate the board game's "beautiful" design — which is crafted from all recycled and recyclable materials and printed with vegetable-oil-based inks. One 50-year-old customer, who is a self-described "interactive" learner, says she bought this "beautiful" game to learn more about herbalism herself, but she also plays it with her 4-year-old niece: "She is very competitive, so it was great to have a game with a cooperative component … and it is very beautifully illustrated. I was enchanted by the colors."
Best interactive board game for kids
This board game has over 6,000 five-star reviews, and we featured it on our roundup of the best gifts for 3-year-olds. Parents love the simple concept of the game, where kids pick up plastic acorns with a tweezerlike "squirrel grabber" and place them in their corresponding color-coded spots in a plastic tree-trunk piece. (And over 200 reviewers mention the "squirrel grabber" tool as a great way to practice "fine motor skills.") One reviewer calls it, "Such a fun game to play with a toddler! I was nervous about playing a board game with him as sometimes I think it's hard for me to explain the rules, but this game is literally SO EASY (in a good way!)." Another says, "The game's concept is easy for my toddler to grasp and the gameplay is short; maybe ten minutes, short enough for little one's attention spans." As one purchaser puts it, "If you're on the fence, GET this game for your kiddos, you won't be sorry. It's perfect for teaching turn taking and matching colors."
Best electronic board game
"THIS version is what I remember from my childhood: difficult bone removal with an almost guaranteed buzzer, parts that slide so far out of reach that you can barely see them, and an actual challenge," writes one reviewer, who mistakenly bought the updated version before they found this "original" one. There are still "12 body parts to remove and one (ankle bone to the knee bone) to connect," one reviewer says, adding , "Yes, Sam's nose still buzzes and goes red if you touch the metal with your 'operating' too." And yes, the buzzer is still bringing kids joy. "My boys shrieked in laughter and excitement trying to perform each operation," one parent says. One thing that is new is "an ice cream cone in Sam's head for 'brain freeze.'" But it still does its job of teaching fine motor skills to kids. So much so that one reviewer says, "We may have some doctors in the family."
Best family board game for kids
This is a kids' game that reviewers say is actually fun for the whole family. "Grown folks reminisce and the kids excited to play a new game," one writes. Another nostalgic reviewer says, "Just put your colored pegs in the correct color coded slots and you are ready for the best part of the game- the popper. I used to love the satisfying click of pushing it and seeing the dice tumble. Getting that number you need is a tiny thrill or getting to send an opponent back is worth a laugh or two." Because the rules are so simple, it's a hit among kids, too. "Simple enough rules and counting that the 4-year-old can play but still a bit of strategy to keep it interesting," one writes, while another says, "We play it with out first grader and she loves it!" And while the main educational aspect here is counting, one reviewer says, "The game also incites cheerfulness and good sportsmanship," which is an added bonus.
Best counting board game for kids
Nearly 90 percent of reviewers give this classic board game five stars. It's great for toddlers, as many say the bought it for the 3-, 4-, or 5-year-old in their life. "I bought it for our 4-year-old granddaughter and she must have played the game with family members 15 times the first day which was her birthday," one writes, while another says, "My 5-year-old can easily play this version with out getting frustrated about which way to go." Many parents enjoy it because it teaches their kid how to count. "My 5-year-old loves playing this game and it's our favorite way to practice numbers," one says. It also teaches good morals because "The game advances you based off good deeds," one writes. Another says, "I like being able to talk about how doing good things can boost up our lives and self-esteem and others, but how misbehaving can drag us down."
Best spelling board game for kids
The difference between this version of Scrabble and the original is that this one allows kids to play even if they're still learning how to spell. "The one side is for kids who are reading but who need help to figure out words, and the other side is for kids who are a little older and can make words on their own," one reviewer explains. The "easy" side is ideal if "They're not at the point of putting together their own words, but are finding where they can substitute letters in words that exist," another reviewer explains. And having the two options means this game is fun for a range of age groups. "The 8-year-old can spell and has an advanced reading level; he enjoyed the challenge of the game; the 5-year-old knows her letters and can spell some words; she enjoyed spelling words," writes one parent. Another says, "It reinforces my 5-year-old's reading abilities and it's a good introduction to sight words for my 3-year-old." Having a board game you can grow with also makes this a smart economical buy, as one user points out: "We will get many years out of this game."
Best building board game for kids
Purchasers highlight the creative and fun nature of Mouse Trap's gameplay. "The kids enjoy building the game almost as much as they do running the ball through the 'Rube Goldberg' setup," one parent writes. One child therapist says it's especially great for kids who like something more hands on and interactive. "If your child is a builder, I would get them this game," they write. Others praise the quality of the many pieces that come with the game. "It's extremely well made and the board accommodates the plastic trap pieces very snugly. Treat this gently and it should last for years," a reviewer says. They go on to say it's a "family-night favorite" for them and their 10- and 5-year-old boys. "Who can resist setting up this trap and setting it off?"
Best not-too-competitive board game for kids
Nearly 90 percent of reviewers give this classic board game a five-star review, and many parents get it for younger kids. "Candy Land is the perfect game for little ones who can't really use logic or strategy yet, but still want to be able to play a board game. They only need to know their colors and they're set to go," says one reviewer. But the simple gameplay doesn't mean it's boring or mindless. "This familiar game sets up simply and teaches basic concepts of rules, turn taking, and paying attention," one reviewer writes, while another says it's "good for teaching turn-taking and good sportsmanship because one second a player can be winning and the next second they are back at the very beginning of the board." However, as one parent points out, they could still end up as boastful winners: "My daughter is really enjoying destroying the spirits of all of her quarantined housemates by becoming the ruling Goddess of Candy Land Victory! No one is safe from her winning streak and nothing seems to compare to her ego-filled chortle!"
Best card-based board game for kids
With over 24,000 five-star reviews, Sequence is described by many as pretty easy to learn — but reviewers do tend to have a hard time summing up gameplay. "It's a bit of bingo and poker combined," writes one. Another says, "It's like checkers and tic-tac-toe and rummy mixed." Regardless of how it's described, the common denominator tends to be how much fun it is to play, "really for the whole family. It's no secret why this is such a great-selling game. It's the perfect match between a card game and a board game, allowing fans of each to come together and enjoy hours and hours of quality time, face to face." And many note that it has something for players of all ages: "An 8-year-old child will have as much fun as an 80-year-old grandmother," writes one reviewer.
Best exploration board game for kids
"It's rare to find a game that everyone in the family loves. This is that game," says one of over 14,000 five-star reviewers. They add, "There's enough strategy in it that you can make or break your game on your own merits, but there's also enough element of chance (and the strategy isn't too deep) that younger kids will enjoy it too." One reviewer describes the concept as "relatively easy, but it's a lot of fun," explaining, "The board is set up like a map of the United States, and each person is given routes that they have to complete. You get points for completing your route, or you lose those points if you don't get them." It's rated for ages 8 and up, but some report younger kids picking it up quite easily. "Believe the hype on this one," says one gamer, who's since purchased a bunch of expansion packs. "I was skeptical at first, but I'm so glad I gave it a try. We are now huge fans of the Ticket to Ride series. We own Europe, Africa and the original, all of which are super fun to play, and they only take about an hour to complete, making it perfect for any evening." (It's also our pick for the best-rated board game for adults, so you can bust it out once the kids are asleep, too.)
Best guessing board game for kids
The updated version of Hasbro's guessing board game includes a more diverse array of characters, which reviewers greatly appreciated for a number of reasons. "The characters represent many different races, ethnicities, and genders. This actually really gave the game a lot more to go on in terms of the kinds of descriptive clues you could ask about," says one reviewer, who likes how the increased diversity helps "normalize talking about race and gender as well as teaches kids how to describe people's physical qualities with kindness and neutrality." Another reviewer says the game's format is also great learning tool for their son, as it helps him practice skills such as "taking turns, asking questions, asking questions, [improving] his speech, and using descriptive words."
Best physical board game for kids
Twister is great for getting kids moving and incorporating some physical activity into their day, unlike other board games in which players are "just sitting around," in the words of one reviewer. Since the rules are very simple and straightforward, it's suitable for kids of all ages to play. "I was excited to buy it for my niece, who is 6 years old," writes one reviewer who has fond memories of playing Twister as a child. "It requires lots of movement and stretching that burns off a ton of energy, which kids seem to have an unlimited amount of." The latest version includes a few "additional twists that add laughs to the game," according to another reviewer. "Rather than simple 'left foot red' movements only, some spots call for putting a foot or hand in the air, which sometimes adds imbalance." All in all, they conclude the game is "a great time, doesn't involve electronics, helps young ones learn left and right sides, and gives them physical activity. Great buy at a great price."
Best timed board game for kids
The simple rules of Perfection — try to fit all the shapes into their matching holes before time runs out — helps kids to practice shape recognition, hand-eye coordination, and performing under pressure. "I still crush hopes and dreams when I'm up to drop those shapes like it's hot. I slap that stop switch like it owes me money," writes one intense-sounding player. They say the game "teaches kids how to think quickly and act quickly. It's a take-no-prisoners family game night you don't want to miss." And a nostalgic reviewer who remembers first buying this for their kids three decades ago says that while "most of the games I buy now as gifts for young children are not made as durable or lasting as the same games were 29 years ago … this one did not disappoint! It's still as sturdy as ever." They purchased the game as a gift for a 4-year-old, "knowing that his 3-year-old sister and his young cousins would be playing it and be kind of rough in it," but report that it has "held strong."
Best dress-up board game for kids
More than 7,000 reviewers give this classic board game a five-star rating, and many were delighted to introduce it to their children and grandchildren. "This game is EXACTLY how I remember it from my childhood," writes one reviewer whose 7-year-old daughter and 4-year-old old son "figured it out in less than two minutes after I set it up. We love it so much we have already gifted it to other families!" Another reviewer who remembered that their daughter "used to play this game for hours when she was young" bought it to play with their grandkids and "had tons of fun. Especially my grandson. He didn't want to give up the crown … Simple game but collecting of jewels adds a layer of fun for all." And another "'90s baby" who played this game growing up and is now a nanny to a "board game loving 5-year-old girl" gave their charge this game for Christmas and "she still asks to play it all the time. The jewelry is bright and lightweight and a great size! Perfect for kiddos who are a little extra fabulous!"
Best creative board game for kids
The basic rules of this game require coming up with creative descriptors for fantastic, whimsical drawings, making it well-suited for children who have active imaginations. "Some people prefer games that are more linear: roll a dice, move spaces, do what the space says. But Dixit requires you to look at a card with a surreal illustration on it and then find a way to describe or what the image is without literally spelling it out," writes one reviewer, who found the game to be most fun with players "who are good at improvising and making things up." Another reviewer likes how the game "reveals how people think. You get a glimpse into other players' minds" and described the artwork as "beautiful, quirky, and thought-provoking." And a third reviewer who is usually "intimidated by those creative games where I have to make up a story/word/definition" played this game with their "very creative" daughter-in-law and found that it "wasn't as difficult as I'd thought … I'm now thinking I might need my own copy."
Best maze board game for kids
Of the 12,000 plus purchasers who left a review for this game, 87 percent gave it five stars. Many love that the board changes a bit with each game since the tiles move and are not fixed. "It has so much replayability since it's never really the same game each time you play," one parent explains. Another says, "The objective is to work your pawn around the game board to the assigned treasure. The trick is, each turn, players have the ability to change the board and the path of the maze." And according to one reviewer explains, it doesn't take long to get the hang of it. "There's no reading needed to play the game, no counting, no questions to answer. It's all about moving pieces on a constantly moving game board, so it works for all ages. It's a game that takes just a minute or two to learn, and just a few turns around the board to get the hang of how to play." Put simply: "If you enjoy board games that require strategy and include a fantasy aspect, this is for you."
Best chess set for kids
"If you're looking for a way to teach a kid chess without the pieces being thrown off the board, or them wandering away because they got frustrated, this is the game you need," one reviewer writes. That's because No Stress Chess contains a full chess set, intended to help teach the rules and strategies of the game with the use of an included deck of cards. One satisfied customer who bought this for their son writes, "Even on the first night that we played he was able to grasp the concepts of the game quite easily thanks to the card system that this set uses. Within a few games he was already confident enough to play without the cards. He still has a way to go, but this set has allowed him to enjoy chess, rather than be frustrated and quit learning the old-fashioned way."
Best checkers set for kids
Reviewers especially like this classic checkers set from Point Games, since it's small enough to be portable but is still sturdy and well made. One player who has carried it in their tote to multiple destinations says, "The box is strong, and the board is durable enough to hold up nicely." (In fact, they like using the set so much that they "purchased a second to keep at our vacation home.") Another reviewer who ordered this game for their grandkids to help with some "inside boredom" says they've had "very good" game nights since and were especially glad to see their grandkids experience a change of pace from their "typically electronic games." And while sometimes the quality of newly manufactured sets doesn't measure up to vintage ones, a third reviewer who owns a checkerboard set from the early '70s says this set "is as close to the quality of the board and pieces as you will get … very good value."
Best strategy board game for kids
Settlers of Catan is intended for older kids and adults, with a suggested age range of 10 and up. The game has many passionate fans, one of whom warns, "Don't try this unless you plan on getting addicted. Your life will forever be altered. You'll find yourself begging strangers to come over to play. Watching YouTube videos to improve your game, bribing your children." One parent writes that it's a big hit for family game nights: "Endless hours of fun for us and the kids. The game involves strategy, making trade deals, and there are several ways to win. Each of my kids has their own strategy, and it's fun to see them learning about honesty and shrewd bargaining." As one purchaser advises, "Buy this game, read the instructions (thoroughly) and then keep your eyes peeled, because your opponents will quickly realize there are no friendships across the board in Catan, and your success hinges on their destruction."
The Strategist is designed to surface the most useful, expert recommendations for things to buy across the vast e-commerce landscape. Some of our latest conquests include the best kids' items, baby shower gifts, gifts for a 1-year-old, 2-year-old, 3-year-old, 4-year-old, 10-year-old, and patriarchy-defeating books. We update links when possible, but note that deals can expire and all prices are subject to change.
Every editorial product is independently selected. If you buy something through our links, New York may earn an affiliate commission.