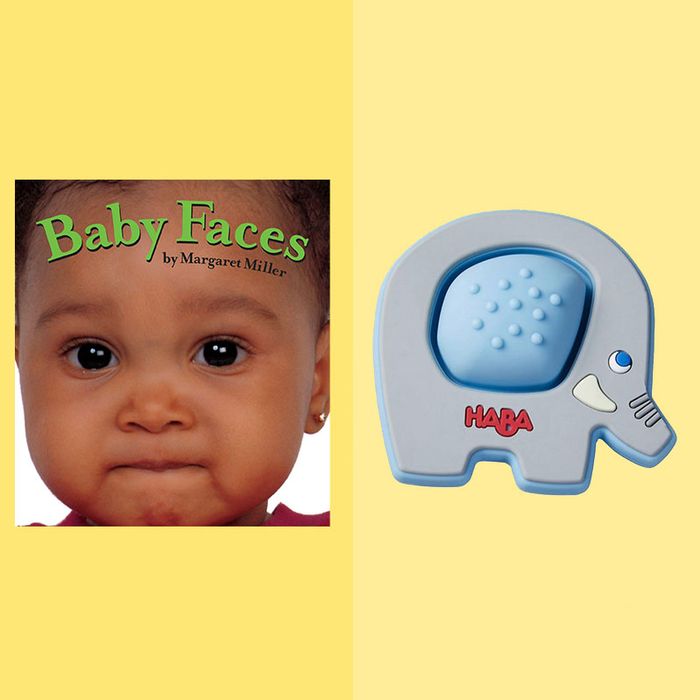 Photo-Illustration: Courtesy of retailers
At 6 months old, babies can't thank you for a well-considered gift, but they can make eye contact, grasp objects in their little hands, and smile back at you. Because they grow and learn through play, the best gifts for 6-month-olds will both nurture their development and keep them engaged. To narrow the market of baby toys, accessories, and books, and help guide you toward the very best baby gifts out there, we spoke to four child-development experts: Sarah MacLaughlin, a social worker and the author of What Not to Say: Tools for Talking With Young Children; Dr. Patricia Cantor, a professor of early childhood education at Plymouth State University and the co-author of Techwise Infant and Toddler Teachers; Dr. Tovah P. Klein, the director of the Barnard College Center for Toddler Development and author of How Toddlers Thrive; and Dr. Alexandra Figueras-Daniel, the associate director at Bank Street College of Education's Straus Center for Young Children and Families.
All four agreed that the best thing for babies is adult interaction — talking, singing, and sensory play. But when it comes to things you can buy, or that will make those adult interactions more fun, they all pointed to simple gifts that encourage sensory exploration, fine and gross motor skills, and cause and effect. Cantor gave us this easy rule of thumb: "You don't want to get them something you turn on and they watch, you want to give them a toy they can do something with." Read on for 22 gifts that our experts say will make a not-quite-newborn very happy.
The
best
book
gifts
for
6-month-olds
The No. 1 recommendation, which Kantor, Klein, and MacLaughlin cited by name, is a book called Baby Faces by Margaret Miller. "Babies at 6 months start to be more inclined to pay attention to a book and they're starting to notice other babies' faces. They really like to look at other babies," says MacLaughlin. Klein further explains, saying, "The words are not the most important part. Looking at a picture and the interaction with the parent around the book gives the message that looking at books is a positive thing."
Cantor is a big fan of board books because they are sturdy and can stand up to a lot of wear and tear. She also likes that you can put a baby on their stomach and easily prop the books up in front of them. "An author I really like for this age is Helen Oxenberry; she has a book that's called Clap Hands with very simple pictures and actions that adults can do with babies," says Cantor, who explains the educational value of the book like this: "Babies really learn language when you use a word while matching it to an action or an object. So if you're reading the book Clap Hands while actually clapping your hands, they're going to pick up that language much faster."
Figueras-Daniel recommends this book from a series called Indestructibles, which its publisher claims can withstand even more abuse (and chewing) from babies because the books are made with "ultra-durable material" that's rip- and water-proof. This book is also very flexible, according to Figueras-Daniel, which she says is great for 6-month-olds because they can actually flip through it and hold it in their hands. This helps them to "learn to turn the pages, and that eventually develops into literacy skills," which Figueras-Daniel also says are important to start encouraging at an early age. "Sometimes we take for granted that those are skills that we learn: That we read from left to right, where the words on the page start, or where on the page words are even placed," she adds.
MacLaughlin told us that, at 6 months, babies still don't see a full range of color, so high contrast toys and books are attractive to them. She suggests board books in black and white, like "this series of board books made specifically for babies by Tana Hoban."