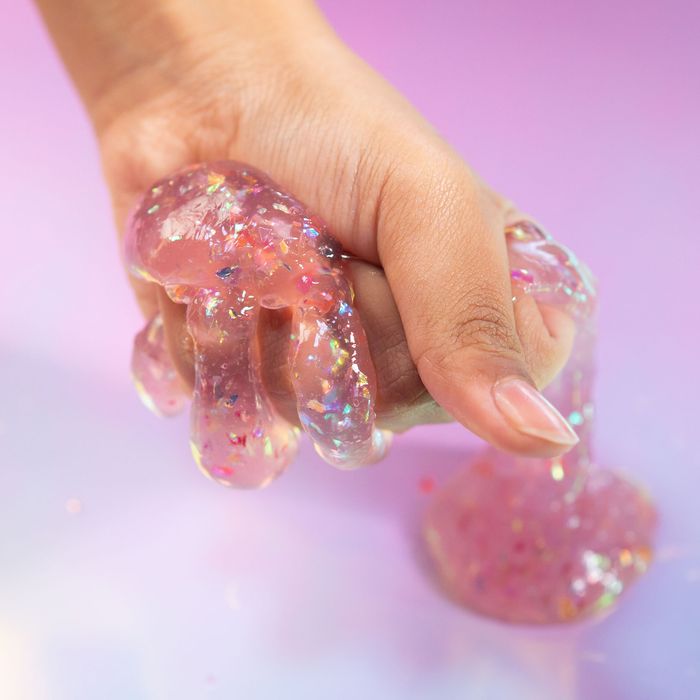 Photo: MamiGibbs/Getty Images
Back in 2017, when the slime phenomenon was still in its infancy, we talked to then-15-year-old slimefluencer Alyssa J. (a.k.a. @craftyslimecreator) to get the inside scoop on new slime trends and a tutorial on how to create slime at home. Two years later, slime is more popular than ever, with people around the world searching "how to make slime" on Google over 490,000 times a month. That's more than the number of people Googling Frank Ocean.
The slime community, which includes professional slime-makers, slime fans of all ages, and parents looking for slime that won't stick to their couch, is also bigger than ever — so big there is now a slime-focused experiential museum in downtown Manhattan called the Sloomoo Institute. To make sure we're up to date with what's new in slime, we talked to Amy Standen, partner and chief slimeologist at Sloomoo, whose Instagram account, @scentedslimebyamy, has over 550,000 followers. Standen gave us tips on everything you need to create your own award-winning slime as well as tips for storage, gifting, and cleanup.
Like most hard-core slimers, Standen and Alyssa J. agree that the best slimes are made from scratch rather than from a store-bought kit. That way, you have more say over how it feels, how it smells, and what colors or charms you add. Not that premade slimes are bad. In fact, both of our experts now sell limited-edition slimes on Etsy, Amazon, and directly through Instagram. Whether, like them, you're looking to start your own slime empire or are simply making some to share with friends, here's where to start.
Everything
you
need
to
make
slime
Glue
The base of any slime is glue, and Standen recommends Elmer's because it's affordable and readily available and the company makes a bunch of different slime-friendly products. The most basic slime is made by mixing Elmer's School Glue with an activator (more on that later), but there are tons of different kinds of slime, ranging from goopy and wet to fluffy and dry. One of the most popular types of slime is what's called a "thick and glossy," named for its high shine, thick texture, and tendency to squeak when poked. Thick and glossy is also the base for other ultrapopular slimes, like cloud slime and butter slime. To make her thick and glossy, Standen starts by mixing three different Elmer's glues together. Try a ratio of two parts Elmer's School Glue, one part Elmer's Glue-All, and a quarter part Elmer's Clear.
If you want to make crystal-clear slime or transparent colorful slime rather than white, you can make your base using just Elmer's Clear Glue instead and mix it with activator. Clear slimes showcase glitter or other add-ins like beads or charms better than opaque slimes do.
Elmer's also makes specialty glues, like this light-sensitive product that changes color when exposed to black light or strong sunlight. (For a color-changing slime, you can use just this and an activator.) Standen told us that a slime video she'd posted to Instagram, in which she drew a smiley face on her slime using this glue as a base, recently got 505,000 views. Elmer's offers glow-in-the-dark, metallic, and glitter glues that you can use as a slime base as well.
Activator
Once you've mixed your base materials, it's time to activate. Slime is formed when the glue's protein molecules cross-link with borate ions in the activator, creating a new polymer. "For a basic slime, you pretty much just add an activator to your glue base," says Alyssa J., who prefers using a solution of borax and water over activators like contact-lens solution and baking soda or liquid starch. Take a half-teaspoon of Borax and stir it into a cup of water until it's fully dissolved. Then add the solution, one tablespoon at a time, to the glue mixture until the slime starts to form and reaches your desired texture.
If you're looking to do less mixing, Elmer's makes a premade activator called Magical Liquid, which comes in a variety of colors and textures, including confetti, crunchy, and glow in the dark. You'll need a quarter-cup of the activator for every five to nine ounces of glue. This bottle should make around four batches of slime.
Texturizers
In addition to the basics — glue and activator — you can use a bunch of other ingredients to change the texture of your slime. Both Standen and Alyssa J. use lotion to make their slime stretchier, adding it to the base slime before mixing in the activator. Alyssa J. is a fan of scented lotions from Bath & Body Works, which add a pleasant fragrance to her slime. But if you'd rather keep it fragrance free or if you prefer getting your scent from essential oils, as Standen does, you can opt for an unscented lotion like this one from Curél that Alyssa J. recommends.
Glycerin makes slime stretchy and glossy, but it can also make it thinner. So it's a good thing to have on hand in case yours ends up too thick. Add it to your base mixture about a teaspoon at a time. Standen also recommends using it to loosen and remove any slime that accidentally gets stuck on your clothing or carpet.
Like glycerin, baby oil makes slime glossy. Alyssa J. says, "When you see people poking slime on Instagram and hear those popping sounds, that's because they've added some baby oil." Also like glycerin, it can make your slime runnier fast. So you'll want to add baby oil a little bit at a time because, according to Alyssa, "too much will make it oily and not fun to play with."
In contrast, "corn starch will make your slime thicker," says Alyssa J. "It'll turn your slime into something more matte and really sticky." She recommends adding this to your mixture one heaping tablespoon at a time.