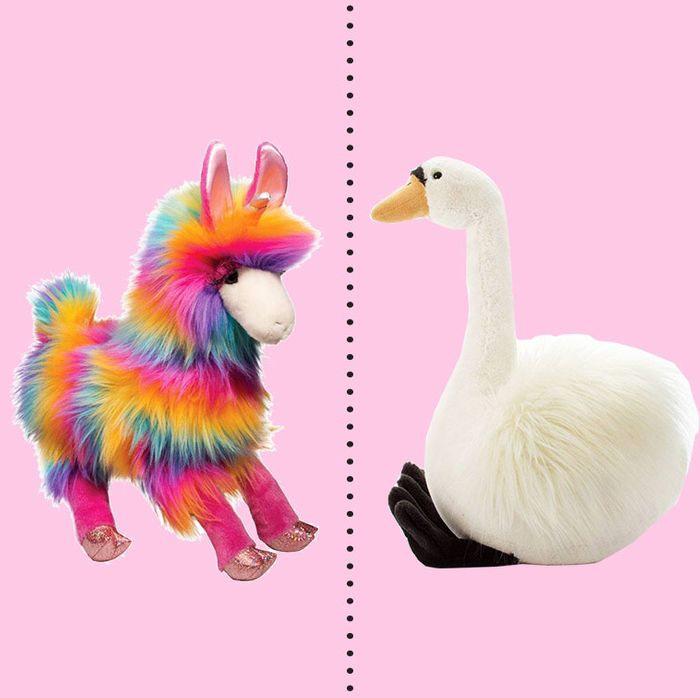 Photo: Courtesy of the retailers.
Somewhere around the summer of 2014, I noticed that my cousin's 6-year-old daughter was in possession of a plastic bin shimmering with My Little Pony unicorns, not unlike the ones I hoarded in the 1980s and 1990s. At the time, this didn't really surprise me: us nostalgic millennials have fueled the rebirths of all sorts of totems from our youth, particularly those that happen to be especially Instagrammable.
What did surprise me was what came next: all manner of unicorns started showing up wherever you might find a child: in the bathtub, at the breakfast table, on the underside of anything with a hood. We had reached peak unicorn mania when Fast Company published a piece that declared as much back in May 2017, a few weeks after my son was born. Well, he's 18 months old now, and — peak, schmeak — I'm here to tell you about a 2-year-old's unicorn-themed birthday we were invited to just last month (North West, incidentally, recently celebrated turning five in the same way). I also realized that going to the party would require zero advance planning: literally any kids' store on the way there would inevitably carry something on-theme, be it a baseball cap or a sweatshirt or a face mask. Or I could have just brought along the brush-away sequin unicorn my son already owns — I took it from the free table at work, after it was left there, surely, by a fellow editor suffering from understandable unicorn fatigue.
Unicorns are simply not going away. "It's been at least two years," says kid stylist Michel Onofrio of this never-ending carousel ride. Not since the meme-driven cat craze of the early 2010s has Onofrio seen such demand for a particular genre of creature. According to Google Frightgeist data, unicorns were the third-most trending Halloween costume this year, up from number four last year. And none of the experts I spoke to seem to think the unicorn craze will dwindle anytime soon. But many of them can still point to a few creatures (and here we're talking broad realms of animals, real and supernatural, rather than specific characters like Mickey and Harry Potter) that are gathering some fandom of their own. Even though they may well ultimately be left in the unicorn dust this season, at least these gifts have the added value of making you look slightly more original in the eyes of your youngster giftees. Here are the contenders. Don't miss all of the Strategist's holiday gift coverage right here, too.
Narwhals
"Quote me on this: 2019 will be the year of the narwhal," said a shop clerk named Tess at the Balloon Saloon in New York, in disagreement with her colleague behind the register who was in the midst of telling me that nothing could be as popular as their unicorn balloons. Jenn Cattaui, owner of New York baby boutique Babesta, also mentioned the narwhal as an obvious successor to the unicorn. It doesn't hurt that they're known as the "unicorns of the sea."
In the same way that unicorns and rainbows go together, so can narwhals and rainbows.
For the kid who's more realistic.