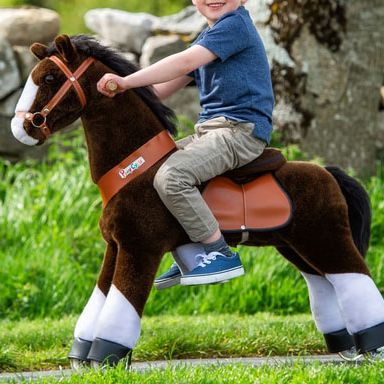 Photo: Courtesy of Pony Cycle
The first time we at the Strategist saw PonyCycle it was under a friend's 2-year-old. When asked about the interactive toy, the friend, a former horseback rider and Tribeca mom, showed almost the same level of enthusiasm as her toddler, who bopped gleefully across the hardwood floors behind her. Each time the toddler pushed down on PonyCycle's pedal stirrups or bounced in the saddle, the pony would flex up and down, hinging under the saddle on its back and springing forward in a smooth simulated trot. Its four fur-topped hooves hid wheels similar to those you'd find on roller blades. Despite the plastic eyes, visible seams, and lack of a mouth, when it's in action the plush pony looks pretty convincing. More importantly, it looks really fun.
The next time we saw PonyCycle was during a visit to an experiential toy store called Camp in Manhattan. There, kids wait in line for a chance to ride the toy horses around an indoor race track. While at Camp's Brooklyn location PonyCycles graze on Astroturf while mini-equestrians wait their turn. A subsequent deep dive into the #ponycycle on Instagram and Twitter took us to thousands of videos of children riding their beloved ponies (and unicorns — in all, there are five different styles of pony, four different unicorns, and a zebra). There were celebrities, too, including John Legend and his daughter, Luna, and Kim and Kourtney Kardashian riding their daughters' PonyCycle unicorns. We realized that we were witnessing the wave of a new status kids' toy. To learn more, we reached out to Camp's core toys buyer, Kat Druback, Chris Byrne (a.k.a. the Toy Guy), and a couple of PonyCycle-loving Instagram mom-fluencers.
Everyone we talked to gushed about PonyCycle: Kids love it! It's easy to assemble! It's so cute to watch! Although PonyCycle launched its first ride-on horse in 2003, it wasn't until last year, after a major marketing and social media push, that the mechanical pony truly turned into a craze. Camp has carried PonyCycle since the store's launch in 2018, and from the beginning, Druback says, PonyCycle has been one of the store's most popular toys. "Right when we opened, kids gravitated toward the ponies," says Druback. She credits PonyCycle's popularity to its simplicity and the fact that it's a really exciting present to open: "What kid wouldn't want their own pony?"
Milan Marie, a 3-year-old with more than 330,000 Instagram followers, has the PonyCycle unicorn. Milan's mom, Jovan, says that her 9- and 11-year-old sons love riding it, too — although she assumes they'd prefer the regular pony. Milan, Jovan says, "wants to take it everywhere. Whenever she has friends over they want to ride it. It's a hit for the kids." Her only complaint is that it doesn't have brakes. "We took it to the park one day, and Milan ran right into a crack in the pavement and almost literally flipped over," she says. "I had to catch her." (If kids are taller, however, like Milan's brothers, Jovan says that they can easily stop it with their feet.) One thing that close call proved was that the PonyCycle is durable. Both Jovan and Druback attest to that. "They tend to withstand quite a bit of craziness on the floor at Camp," Druback says.
We also spoke with Stephanie Boyd, mom to Megan and Morgan, 8-year-old twins who together have nearly 700,000 Instagram followers (and two PonyCycle unicorns). She says her girls fell in love with the unicorns as soon as they opened the boxes. "I think it's great for them because there's exercise involved in it. They have to move their legs to make it go, and the faster they move their legs, the faster the unicorn goes." She didn't even mind the price of buying two. "It's worth it because it's not made with cheap materials, and it feels like you're actually riding a horse," she says. Her only issue with the unicorns is that, because they're white, you have to be careful to keep them clean. But, she says, "honestly you could probably spray it down with a hose and leave it to air-dry because there aren't any batteries or anything."
Chris Byrne, an independent toy researcher and consultant, says the PonyCycle (and a similar, battery-powered animatronic animal called Rideamals) is just the newest iteration of a classic — a modern version of the rocking horses and spring horses that have been around forever. Byrne says the appeal of both toys is the same: "Kids are fascinated by horses. This is just a new way of playing with them." Between the two toys, Byrne says that the PonyCycle provides more active play than Rideamals. As for which is more popular, "it depends on what you want to do with it," he says. "Rideamals are enormous, so you really have to be outside or have a lot of space to play with them. The PonyCycle is a lot smaller, and while it's still a significant investment, it's less expensive than its electronic cousin."
According to some of the videos we found, PonyCycles can be ridden by adults, too. Arnold Schwarzenegger rode one back in 2013, David Letterman in 2015, and, more recently, Lil Nas X. While those larger ponies are not available for purchase, the brand does have a rental program, in case you want to take advantage on your next birthday. Otherwise, you'll have to ride vicariously through your children. Which, we can attest, is also pretty fun.
A few more PonyCycles
The Strategist is designed to surface the most useful, expert recommendations for things to buy across the vast e-commerce landscape. Some of our latest conquests include the best acne treatments, rolling luggage, pillows for side sleepers, natural anxiety remedies, and bath towels. We update links when possible, but note that deals can expire and all prices are subject to change.