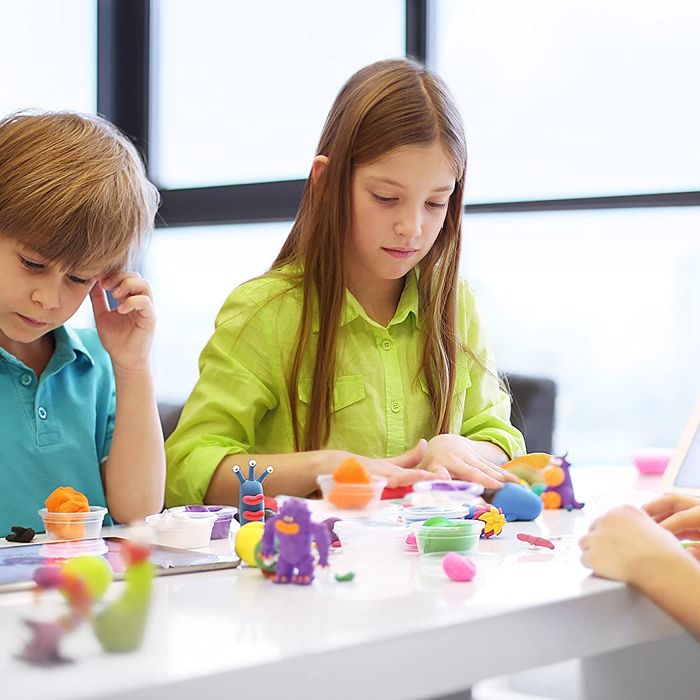 Photo: Courtesy of the retailer
Toys that encourage creativity do much more than prepare young learners to draw, sculpt, or star in the school play. They teach children to experiment and problem solve. "Kids are going to live in a world that's changing and has problems that we can't anticipate," explains Julie King, co-author of How to Talk so Little Kids Will Listen. "The way we're going to solve them is by being creative." The best toys show kids "hold information in their mind, think flexibly as things change, and to use self-control," says Ellen Galinsky, author of Mind in the Making.
Finger paints and pint-size musical instruments might be the first things that come to mind when you're thinking of creative toys (and they're certainly great options). But there is a much wider range of toys that inspire creative though in children, including building blocks, magnetic doodads, and other more whimsical playthings. "Being creative is not just about being artistic," King says. According to Laura Phillips, a clinical neuropsychologist at the Child Mind Institute, the best creative toys are "open-ended, with limited rules or guidelines and no correct answer or end goal." Below, our panel of child psychologists and development experts recommend the best multi-use, open-ended toys to spark kids' imaginations.
Best building toys
Nearly everyone we spoke to said classic Lego blocks are perfect for fostering creativity. Child psychologist Dr. George Sachs says playing with Legos "allows the child to develop their own creative ideas and fosters spatial awareness." Both he and Galinsky like that even though kids often begin with building models based on a kit's instructions, they'll soon want to build their own creations. Joanna Faber, the other co-author of How to Talk so Little Kids Will Listen, agrees: "Kids love Legos because you can endlessly make wild and crazy things with them."
For kids younger than four, Sachs likes Lego's Duplo line of blocks, which are easier for tiny hands to handle.
Sandra Gordon, founder of baby-gear review site Baby Products Mom, recommends these wooden blocks for toddlers. Like any good creative toy, they "inspire pretend play, building, [and] creating something," she says.
Magna-tiles are often found in classrooms because, according to Gordon, they help "spark a child's budding imagination and inspire endless creations." Clinical social worker Joseph Sacks, who is also a play therapist at Tribeca Play Therapy, is another fan of magnetic toys like Magna-tiles and uses them in his practice. "Figuring out how the magnets interconnect in different ways is very fun, stimulating, and creative," he explains.