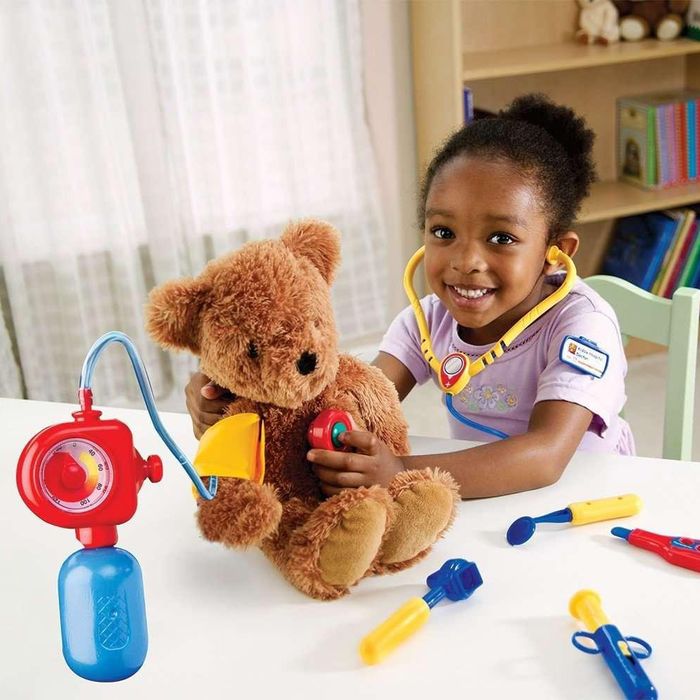 Photo: Courtesy of the retailer.
Here at the Strategist, we like to think of ourselves as crazy (in the good way) about the stuff we buy, but as much as we'd like to, we can't try everything. Which is why we have People's Choice, in which we find the best-reviewed products and single out the most convincing ones. (You can learn more about our rating system and how we pick each item here.)
And while we've written about gifts for children and babies — including the best gifts for 2-year-olds, 3-year-olds, 4-year-olds and even teens — here we've rounded up the best kids' doctor kits, as praised by the most enthusiastic reviewers on Amazon.
Best-rated kids' doctor kit
In their reviews, parents and grandparents alike write that they are thrilled with the quality of this set and note that their kids and grandkids love playing with it. One reviewer writes, "This kit exceeded my expectations. The parts are interactive, which I didn't even realize when I bought it. The Band-Aids are flexible enough to be put on an adult wrist, and the overall quality of the pieces is really nice." Another reviewer loved the interactive nature of the pieces, saying, "Delightful! The stethoscope has a heartbeat sound, the phone has a variety of phone sounds (even a busy signal!), the syringe plunger moves … All of this is great! My favorite piece, though, is the blood-pressure cuff. The gauge moves when you squeeze the bulb." "Sturdy" is a word that comes up repeatedly in regards to the pieces and the case. "The kit case is also sturdy and easy for little fingers to hold on to," noted one reviewer
Best-rated (less expensive) kids' doctor kit
On top of the responsive stethoscope, reviewers like that this kit comes with a gender-neutral and open-ended medical bag. "It took decades to move beyond doctors' bags for boys and nurse bags for girls. Now we finally have the perfect medical bag for any budding doctor, nurse, EMT, lab tech — anywhere a child's unfettered imagination wants to roam," writes one satisfied parent. Reviewers also like that the kit is easy to tote anywhere kids go. "I bought this medical kit for my daughter while I was in the hospital having my son. Every time she visited me she brought it and kept telling all the doctors she was a doctor too, checking everyone's ears for bugs." And thanks to its working stethoscope, one reviewer says her daughter can play with this set for long periods of time without getting bored. "My 2-year-old was using old earbuds … as a stethoscope after her 2-year checkup. So I decided to get this for her. The day it arrived we played for an hour. Unheard of for her. She's obsessed with this kit and asks to play doctor every day."
And now for some micro-picks for any other type of kids' doctor kit you might be looking for.
Best realistic-looking kids' doctor kit
Reviewers comment over and over again on the quality of this set and how well it stands up to constant play. One reviewer says, "I looked at several of these sets before I purchased this one and this was by far the highest-quality. My son has chewed on all of the instruments and has taken most of them into the bath and they are still good as new." Many reviewers also note that the size, shape, and sturdiness of this case make it easy for little kids to use. One writes, "I chose the kit partially because of its shape, which will sit firmly on a flat surface when he opens the two latches. Some of the kits that are a different shape can have one side fall open if not latched tightly or have equipment fall out when one side is raised up." Reviewers liked the bigger case for another reason: It allows for the addition of items like real bandages and empty pill jars. "Thinking of throwing in some bandages, a note pad, some empty bottles with candy in them, etc. … The case is big so the sky is the limit on what can fit in there. Maybe even a cute little doctor's costume."
Best deluxe kids' doctor kit
With a whopping 19 pieces, this kit is packed with tons of pretend play potential. "It comes with so much more than the other kits I saw in stores. We play for hours with this and it all seems like it will hold up over time. I am very pleased with what we received for the price," says one reviewer. Another parent mentions liking the kit for its educational benefits and durability: "This [is] probably one of my favorite toys that she's had because it's gotten so much use, and we are learning and teaching with it too." And other reviewers mention buying it several times over as a gift for kids of many ages: "Our granddaughters (4 and 8) use it all the time. They had several different sets before this one, and none even compared to it. Great case too, sturdy and roomy. Will buy for gifts for neighbor children, friends, and family."
Best doctor kit for toddlers
Reviewers like this kit because their kids like it so much. One reviewer notes that the kids at day care pick this toy over all the others. "This is a favorite of my day care group, they are always trying to get it first." Another reviewer likes that the pieces are bright as well as big, hence safe for very little kids. "Lots of different parts to pretend-play with, bright colors, and no tiny pieces to be worried about choking hazard." High quality and excellent durability are also often cited in the reviews, as in this one from a mom with a 14-month-old: "I was worried it would be flimsy since it was so inexpensive, but all of the pieces are made well. Couldn't be happier."
Best vet doctor kit
Lots of reviewers like that this kit comes with a cute stuffed cat and dog for their kids to practice on. "The dog and cat are attached to my son's side, even when he's not playing vet. It's a really nice set and has a lot of fun stuff for play, like the cast and cone." One reviewer who loves the quality of this kit mentions how engrossing it is for her daughter, saying, "Wow! Did this ever deliver. She absolutely adores it. Hours upon hours of imagination fun." Another reviewer liked the realistic nature of the little bottles and tubes. "It is awesome to have the little bottles of empty ointments and lotions so she has her own and doesn't get into actual lotions and ointments."
Best kids' doctor kit with coat
"I was very impressed with the quality of the jacket and the accompanying doctor's gear," says one reviewer who chose this doctor kit over a cheaper option. Another reviewer mentions liking the button-operated thermometer. "One major advantage of this over other doctor toy sets is that the thermometer 'works' without being put into mouths (or, heaven forbid, other orifices). The child can just click a button, and a new temperature shows up every time." And this reviewer among others also notes that the kit helps her daughter with anxiety when visiting the real doctor. "We picked up a couple of the purple 'doctor' gloves my daughter hates at our last visit and added them to one of the pockets. She mostly plays with the jacket, stethoscope, otoscope (ears), and those gloves, but I think it has helped her to be less worried about visiting the doctor. Still freaks out of course, but less so. Oh, and the syringe. All her babies and stuffed toys get loooooooooooots of shots."