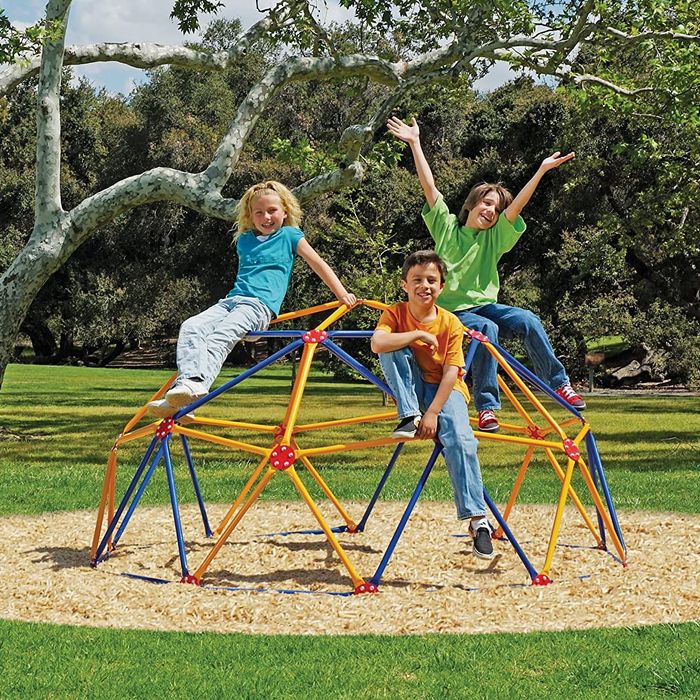 While we've written about kids' toys before — including dollhouses, kitchen sets, and gifts for babies and kids of all ages — here, we've rounded up the best indoor and outdoor climbers, according to hyperenthusiastic Amazon reviewers.
Since everyone is sheltering in place during the pandemic, the demand for kids' climbers has increased. Stock has been fluctuating at Amazon, so we'll keep updating this post as more best-rated kids' climbers come back in stock.
Related Article: Best Outdoor Toys for Kids, According to Experts
Best-rated (and least expensive) kids' climber
According to hundreds of five-star reviewers, this 3-foot-tall, 3-foot-long slide provides toddlers with hours of entertainment, even while indoors. "We live in a hot climate and going outside isn't tolerable for very long," explains one parent who says this slide keeps their "very active" toddler "busy and burns energy with his constant up and down movement. We roll balls and toy cars up and down it for added fun. I turn it into a fun hiding spot for him by draping a thin blanket over it too." Another parent says her daughter comfortably uses this slide inside their small, one-bedroom apartment: "She just climbs all over it, which is great since we don't have a yard or anything to play outdoors. She has even taken to eating her snacks or playing with her tablet while sitting at the top of the slide." Over 700 other five-star reviewers use the word "sturdy" to describe this slide, including one parent who says their toddler is "on the heavier side (101 percent for weight) but this slide is perfect … I don't worry one bit about him on it." Another parent, whose daughter is "pretty tall for her age" says the slide is "long and tall enough for her to have fun on" adding, "it really gives her something to do for hours while letting me watch the TV."
And now for some micro-picks for every type of kids' climber you might be looking for.
Best kids' climber with tunnel
"Our kids love the tunnel the best," says one parent whose toddler and older child both enjoy this caterpillar climber, which they've dubbed "Gus the imagination caterpillar. It's been a sinking ship, a cave with thesaurus, a fort, and all sorts of things." Another reviewer, who operates a home day care for children between the ages of 2 and 5, says that children "sit on top, stand on it, and it's been strong enough to withstand their weight. Their favorite thing to do is sit inside the tunnel and read, and they'll also play different pretend games in and around it." Over a dozen other five-star reviewers, including several who operate daycares for many children, describe this toy as "sturdy." One such pleased customer says, "We've moved Gus several times from different homes we've lived in and he's very easy to break down. Very strong, sturdy plastic."
Best kids' dome climber
Stable enough to support several kids (and adults, as reviewers note: "It is very rugged, as I have climbed on it with the grandkids;" "[It] has even held my husband's weight without a groan or flex"), this climber gets praise for being "very sturdy" and "solid as a rock." It also stands up to years of play, making it well worth the cost. "We live in the hot desert and it has held up for over two years now with no fading," writes one reviewer, and another adds, "Our climber is six years old and still going strong. Numerous kids and adults have climbed on it, jumped off it, and made forts out it."
[Editor's Note: This dome climber is currently sold out, but will be back in stock on June 20.]
Best kids' climber with swing set
For many pleased customers, this climber's four-in-one design —including a slide, swing, basketball hoop and ring toss — make it well worth the price. One grandparent describes the climber as "worth its money in gold," explaining that when their grandson outgrew the swing set, they "just took the swing side off and only used half of it." The basketball and ring toss games on the sides are really nice and adjust in height for different ages and sizes, and all of the different activities mean multiple kids can play on it at once. Some note that the climber might move when multiple children play on it at the same time, but they say that it's easy enough to stabilize. One grandparent says that their 1- and 3-year-old grandchildren "love it" and that the structure is "nicely made, but if they're using both at the same time, we steady it by holding it down." But one reviewer, who bought this play set for her toddler after parks were closed during the coronavirus pandemic, says, "For the time being this is really working as a fun slide and toy for him to climb on and around until we can get him back out again at the playground." They add that the climber is "super easy to assemble and sturdy enough for the little guy to be on but light enough for my husband to move from the deck to the grass as needed."
Best climber for babies
With five shapes that can be configured in different ways to mix up playtime, this climber offers babies and toddlers lots of options to explore. "My son plays with them every single day in some way," writes one parent. "He climbs on them, stacks them, builds things with them." Another writes, "My kids have done just about everything to these blocks, including kicking, punching, jumping. The only sign that they are not brand-new are the pen marks my daughter put on one of them." Parents like that they're "great for creative play and very sturdy." And they're worth the high price tag, one reviewer says, "once you see how many different ways the kids will play with them, and how many years they will play with them."
Best neutral-colored climber for babies
Like the climber set above, this one is a favorite among reviewers for how versatile it is. "My son loves to climb on these," writes one parent. "You can arrange them in all different ways for endless play possibilities." Plus, it's available in a more sophisticated color palette. "The colors of green, blue, and gray are pretty great in comparison to the typical baby bright colors," writes one reviewer. Another says, "I was looking for something a little more 'Montessori' without all the unnecessary bright colors," and was happy to find these.
Best 2-piece baby climber
"Our youngest is a climber, so my husband thought we should get her something she is actually supposed to climb on for her first birthday," says one parent whose 1- and 3.5-year-olds both "have had a blast climbing on this all day. It also seems really sturdy and good quality. The material looks like it will be easy to wipe down, but there are also zippers to remove the covers should they need to be washed."And it's a climber that can be used for years. For instance, one parent bought this for her 10-month-old daughter, and a year later, "She still loves it! She can now walk up the steps, has a lot of fun sliding on it and also having her dolls slide on it too. It's also stood up to a lot of climbing, both by a toddler and adults since she makes us 'slide' on it too which ends up being us adults stepping all over it." Another parent whose daughter has been using this toy for a year calls it "one of the best developmental toys we own," explaining that it has helped her daughter learn to balance, climb, and "now that she's fully running it provides hours of energy burning entertainment." She adds, "As a teacher I know the importance of risk taking within reason from a young age. This is a perfect way for my daughter to experience safe risk taking and figure out depth perception and personal limits. I highly recommend it."