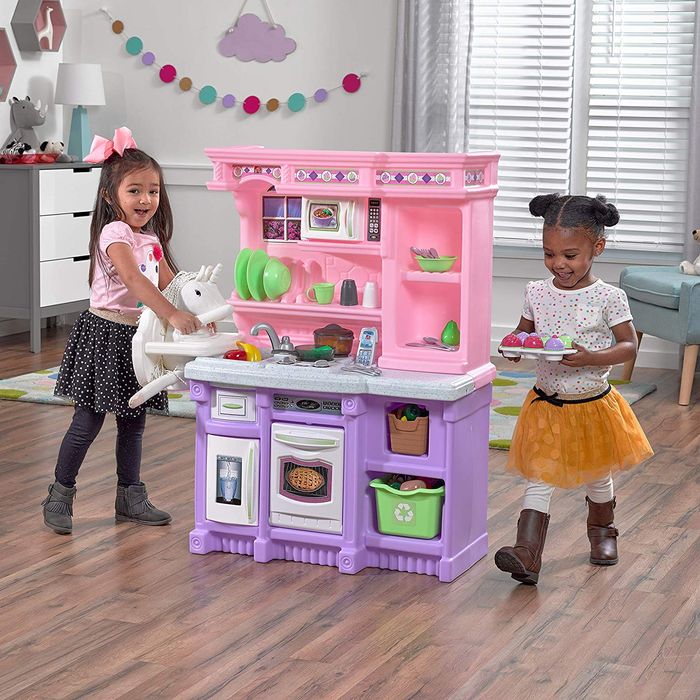 Photo: Courtesy of the retailer
Here at the Strategist, we like to think of ourselves as crazy (in the good way) about the stuff we buy, but as much as we'd like to, we can't try everything. Which is why we have People's Choice in which we find the best-reviewed products and single out the most convincing ones. (You can learn more about our rating system and how we pick each item here.)
And while we've written about the best toys for kids before — including the best scooters, the best board games, and even the next unicorn toy craze — here we've rounded up the best toy kitchen sets, as praised by the most enthusiastic reviewers on Amazon.
Best-rated toy kitchen set
The KidKraft Uptown Espresso Kitchen is the best-rated toy kitchen set on Amazon, with over 2,700 reviews, and reviewers are consistently impressed with the overall durability and longevity of this set because of the high-quality materials — specifically wood and particle board, rather than plastic. The taller-than-average counter height also means that it takes longer for kids to outgrow it. One reviewer's daughter received this kitchen when she was 2 years old: "She is now 4 and a half and still plays with it, and I don't see her outgrowing it anytime soon." Another adds, "My child is a VERY tall 6-year-old and I purchased this product because this kitchen is taller than any other I have seen."
Lots of reviewers also mention the modern design of the KidKraft Uptown Kitchen, as well, with its realistic details, like clicking knobs. One reviewer summed up the aesthetic appeal simply: "I chose this over a more kiddy, colorful option because it's going in the living room and I didn't want it sticking out too much since my cabinets are espresso. And, to be honest, it looks better than my own kitchen!"
Best-rated (less-expensive) toy kitchen set
"Little Tikes thought of everything," says one reviewer of this pastel toy kitchen. "There's a sink, stove, work surface and oven. I just love the clicking sounds the knob makes when pretending to turn on the stove." Another says, "No other toys keep my daughter's attention as much as this one does." They continue, "She enjoys opening and closing the oven door, using the spoon and sauce pan and placing the cupcakes on the plates."
Many reviewers flag that this is a small play set, but one writes, "It's the perfect size for a toddler/pre-schooler." Another says, "She is kind of a petite one-year-old, but the height is perfect for her, and she does not get bored of it." And there's lots of stories about kids getting pretty creative with this set. "My son already had a 'cookout' he made hotdogs and corn on the cob from fake food stuff we already own from another brand," one parent reports.
And now, some micro-picks for every type of play kitchen you might be looking for.
Best toy kitchen set for small spaces
This play kitchen is an excellent buy for small spaces, especially given its electronic sound effects and 30-piece accessory kit. "This kitchen is perfect for my 2-year-old son! He loves all the noises it makes! The frying pan sounds like frying, and the pot sounds like boiling water!" writes one reviewer. Several reviewers also noted that the Step2 Lifestyle Fresh Accents Kitchen has a much easier and faster assembly process than most play kitchens, with most reporting an assembly time of under 30 minutes. "So easy to put together! It honestly took me 20 minutes to assemble and another 10 to put the decals on," one reviewer wrote.
Best easy-to assemble toy kitchen set
About 15 percent of reviewers describe assembling this toy kitchen set as "easy," even though many note it takes a few hours. "The assembly took me about 3.5 hours, but was honestly very simple (just had lots of pieces) and was well-balanced throughout assembly so I didn't need anyone else to hold pieces for me," one explains. Another user who made a pro and con list only had notes about assembly on the positive side: "Every piece was clearly labeled with a number or letter, step by step picture instructions, Pieces fit together with minimal effort." And once it's together many agree with this reviewer who says "This was worth the almost $200 I paid for it," as it holds up well and is a hit among toddlers. "The children at my daughter's birthday descended on this thing like a band of wild hyenas," writes one parent. "Thanks to its design it was easy (if not chaotic) for all 6 children to play with this thing at once. They love going around the back to play through the windows and there are many doors to open and buttons to press. We also added some stick on LED lights, which added to the fun."
Best wooden toy kitchen sets
"Definitely a good kitchen for the price! My daughter loves it and so do I," writes one reviewer. Several reviewers also noted this set's longevity: "I actually bought this in 2014 for my oldest daughter and she was 5 at that time. This kitchen has surprised us with its durability and now is my 2-year-old's favorite!"
Although the assembly is a bit tricky — "I would like to take a small moment of silence for all the fathers who may not have made it through the assembly," writes one frustrated dad — most reviewers say the extra effort is well worth it. "It's a huge hit! It really seems like the most deluxe one with the most features," concludes another satisfied parent.
Reviewers praised this modern, wooden set from Melissa & Doug for its realistic look and well-designed details. "This set is so adorable. The entire time my husband was putting it together he kept marveling at its 'luxuriousness,' he was impressed with all the details and up-to-date styling." Reviewers especially loved the rotating microwave plate and ice dispenser.
And here is a hot tip from one reviewer to make the kitchen feel extra realistic: "I added a motion-sensor light under the shelf and inside the refrigerator and used a tension rod to hang a curtain over the open space below the sink to hide clutter."
Best vintage toy kitchen set
"This vintage kitchen is over the top!" writes one reviewer referencing all its little details. "The microwave can be turned by hand from the outside which makes it look like a real working microwave," another explains, adding, "The over knobs click just like a real ones when you turn them. The sink knobs can be turned as well. It is pretty realistic looking compared to other play kitchens." Nearly a quarter of reviewers are also impressed by the quality. "The frame/kitchen is entirely wood, aside from the handles/fixtures and smaller pieces, making this a very sturdy toy," one writes, but this all comes at the cost of assembly, which reviewers say is tricky. One even says " This is like putting together an Ikea shelf on steroids." But as another concludes "the time we spent putting it together was completely worth it."