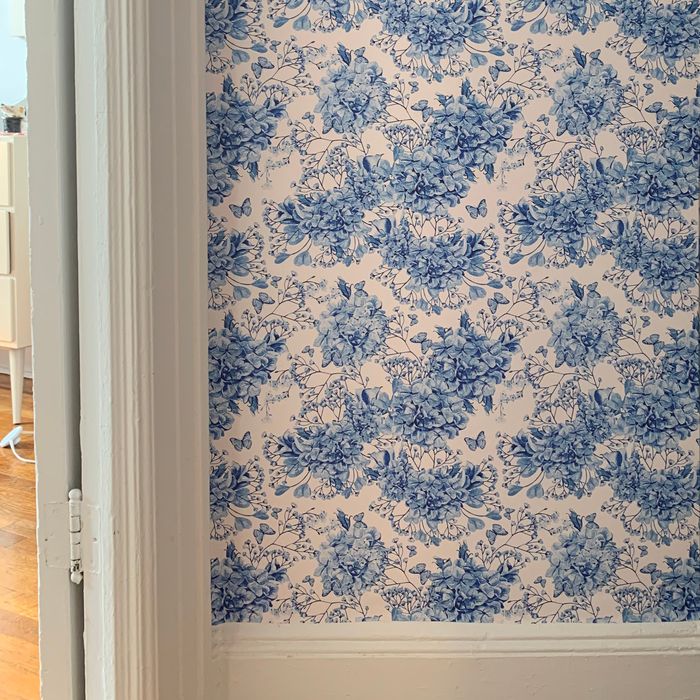 If you're looking to dramatically change a room but don't want to spend a lot of money, time, or labor, or even be committed to the results, consider removable wallpaper — specifically the "peel-and-stick" variety. Unlike traditional wallpaper, peel-and-stick wallpaper comes coated with an adhesive backing, so it can be stuck onto the wall and then peeled off like it was never there. "A few years ago, using wallpaper in a rental apartment wasn't even a choice," says Karen Richani, an interior designer at Havenly. "Luckily, those days are gone, and now there are a number of options that can instantly transform any space."
Removable wallpaper is vastly quicker and simpler to install than traditional wallpaper, which requires the extra step of applying adhesive paste. Still, Devin Shaffer, lead sales designer at interior-design service Decorilla, says that "a little advance preparation of the walls will ensure a smooth application and better end result." You'll need a couple of small, inexpensive tools: a flexible smoothing tool or squeegee to flatten any air bubbles as you go and an X-Acto or craft knife to trim excess paper. (You may be tempted to just use scissors, but a craft-knife cut will give you a cleaner, more professional result.)
Remove nails and outlets, and about 24 hours before you start, go over the surface with "a damp sponge or cloth and a mild, nonabrasive cleaner," Shaffer says, and let it dry completely. (When it's time for removal, Alessandra Wood, VP of style at Modsy, recommends a few passes with a hair dryer to loosen the adhesive.) Getting a smooth, air-bubble-free finish takes some skill, so consider doing a test area first to practice your technique.
It's also important to measure your walls to make sure you order the right amount for full coverage without too much leftover. Measuring can be daunting, particularly when you consider that wallpaper comes in a variety of sizes and configurations like rolls, sheets, and larger panels, but most online sellers offer easy-to-use online calculators. Take windows and doors into account when measuring and err on the side of too much versus too little — there's nothing worse than getting halfway through a project, then having to wait a week for the supplies you need to finish it.
We're including each product's price per square foot, and many brands have an online calculator to help estimate the cost for your room.
Most peel-and-stick is made from vinyl, paper, or fabric. "The heavier the paper, the higher the quality," says Anna Tatsioni, interior-design director at Decorilla. A thicker paper will be less prone to wrinkling or tearing as you apply it, which creates a smoother finish.
Technically, all wallpaper is removable if you're determined enough, but some "removable wallpaper" requires water to activate the adhesive; all the products in this article are peel-and-stick, which is ready to use.
Best overall
Photo: Courtesy of the Retailer
Price: $6 per square foot | Material: Paper
For a wide selection of designs and substantial, smooth paper, check out Walls Need Love. New York interior designer Fiona Byrne says its wallpaper is her favorite. "I've used it in a bunch of places," she says, "including my own bathroom." She and finds the wallpaper "beyond easy" to put up and take down. It has a canvaslike texture that "feels like regular wallpaper," Byrne says, "and it's impressively tearproof."
I tested out a roll of the brand's Springtime Classic paper on a small wall in my home, using a wallpaper-flattening tool to smooth out bubbles. The paper stuck to the wall without peeling, and when I had to unstick it to adjust, it came off the wall fairly easily — the six-foot-tall panel was around the upper limit of what I could maneuver on my own, but it took less than half an hour to apply it with the help of a ladder. I didn't have a craft knife handy, so I trimmed the bottom edge around the baseboard with a sharp pocketknife, which made a big difference in creating a finished look.
Best less-expensive removable wallpaper
Price: From $2 per square foot | Material: Vinyl
Both Griffin and Wood are fans of the removable-wallpaper options from Tempaper, a company Griffin calls a pioneer in the industry that still sets the standard for design pros. Wood loves this tropical-palm-leaf pattern — she recently used it in Blanche's bedroom when she re-created the Golden Girls house for Modsy. Griffin likes its faux-grasscloth paper ("grasscloth" is an umbrella term for all handwoven natural-grass fibers, which tend to be a bit more expensive and delicate) decorated with a geometric pattern, which she says "looks flat-out hand-stenciled."
I tried out the brand's grasscloth paper in sand and found it both impressively sticky and easy to remove. It was the first roll I tried, so I made some errors, including getting the paper stuck to itself at one point — I was able to unstick it without the material tearing or wrinkling. The paper had less heft than the roll from Walls Need Love, which led to a few more wrinkles, evidence of mistakes I made smoothing it. Still, it was relatively quick to apply and came off easily, without any gummy residue.
Best designer removable wallpaper
Price: From $10 per square foot | Material: Vinyl
Like a lot of people, Strategist Senior Writer Liza Corsillo was intrigued when peel-and-stick wallpaper first came around, but, she says, none of them "hit [her] in the gut" the way the ones from 70-year-old Finnish design giant, Marimekko, do. "They are contemporary and timeless," she says, "iconic and fresh, as if they could exist in multiple decades simultaneously, or like I might have seen them in my grandmother's bathroom before I even knew what Finland was." Her favorite, and probably Marimekko's most famous print, Unikko, comes in five different color combinations, including red with magenta and white with olive green. "The crowded flower pattern still feels new," she says. "Plus, it always puts me in a good mood."
Best easy-to-apply removable wallpaper
Price: From $9 per square foot | Material: Vinyl
Home decorator Carrie Carrollo loves and uses wallpaper from Etsy seller Cuckoo Walls. "The paper is exactly right," she says, "thick enough that it feels sturdy and won't tear and insanely easy to reposition during installation." One of her favorites is this "slightly lower-key polka-dot" matte print that comes in strips. "Getting a design to line up is crucial when it comes to making the paper look consistent and elevated," she says. "The strips make it particularly easy."
Best retro removable wallpaper
Price: From $3 per square foot | Material: Paper
This designer favorite with an impressive collection has some truly delightful retro-inspired wallpaper. Co-creative director Nathan Turner thinks that wallpaper can be used to create a "moment" in a room. "Something that dazzles, sparkles, is charming, is old-fashioned, is high fashion. Something that isn't just a boring old wall!" Its rolls start around $58, and its online calculator is your friend.
Best vintage-y removable wallpaper
Best floral removable wallpaper
Photo: courtesy of the Retailer
Price: From $7 per square foot | Material: Paper
Of course, it's not possible to pick the absolute best floral wallpaper out there, even in peel-and-stick, but for maximalist vibes and "undeniable impact," Richani likes the floral prints from Urban Outfitters.
Best geometric removable wallpaper
Price: From $6 per square foot | Material: Fabric
Richani loves Chasing Paper removable wallpaper, especially when you're in the market for something "geometric, modern, and minimal," like this starburst pattern, which mimics a tiled wall. Lining up a print is even more important with a geometric style; draw a vertical "plumb line" in the center of your wall to align your paper, and Richani advises that you "always use a level to guarantee it is going to be installed perpendicular to the floor."
Best textured removable wallpaper
Price: From about $1 per square foot | Material: Vinyl
Wood loves the illusion of texture that a wallpaper like this can provide. Its trompe l'oeil pattern provides the same effect as actual exposed brick with zero masonry required.
Some tools you'll need to apply removable wallpaper
• Karen Richani, an interior designer at Havenly
• Anna Tatsioni, interior-design director at Decorilla
• Devin Shaffer, the lead sales designer at interior-design service Decorilla
• Alessandra Wood, VP of style at Modsy
• Fiona Byrne, interior designer
• Liza Corsillo, Strategist senior writer
• Carrie Carrollo, home decorator
• Elaine Griffin, interior designer
The Strategist is designed to surface the most useful, expert recommendations for things to buy across the vast e-commerce landscape. Some of our latest conquests include the best acne treatments, rolling luggage, pillows for side sleepers, natural anxiety remedies, and bath towels. We update links when possible, but note that deals can expire and all prices are subject to change.
Every editorial product is independently selected. If you buy something through our links, New York may earn an affiliate commission.