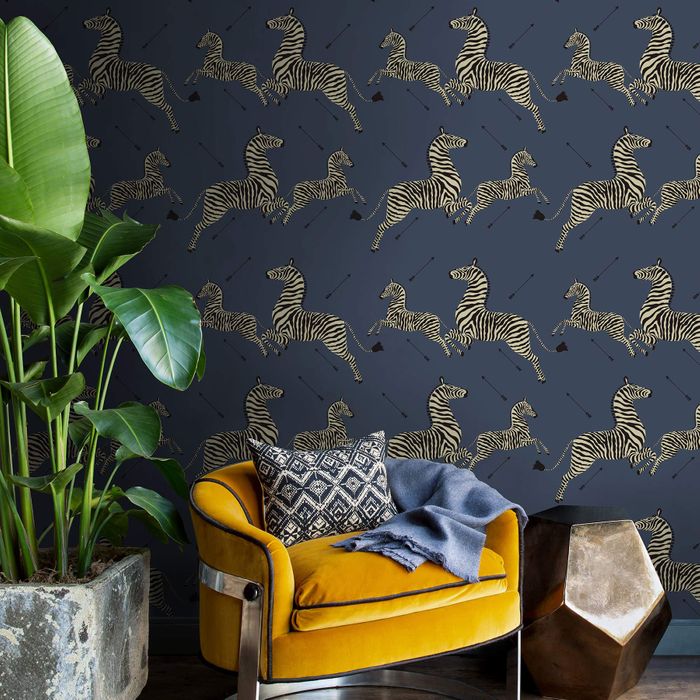 Whether you're a renter, a college student, or just a commitment-phobe, temporary wallpaper adds personality to your space while coming down easily when it's time to move. "A few years ago, thinking of using wallpaper in a rented apartment wasn't even a choice," says Karen Richani, an interior designer at Havenly. "Luckily, those years are gone, and now we see many options available that can instantly transform any space." Devin Shaffer, the lead sales designer at interior-design service Decorilla, agrees. "A big reason wallpaper has made a comeback is because of its instant way of volumizing a space," he says of the way certain wallpapers' "exaggerated texture and dimension in their patterns" can make a room feel cozier or larger, depending on what you're going for.
As far as application goes, Shaffer has a couple of pointers. First, as with any visual treatment, "consider the length of time you plan to have it in your home." While peel-and-stick wallpaper can be a quick fix, he says to apply it slowly and carefully, noting that a little advance preparation of the walls in question can go a long way toward a smooth application (and better end result). "Twenty-four hours before taking on the project, be sure to go over the walls with a damp sponge or cloth and a mild, nonabrasive cleaner," says Shaffer. "Once dry, let the DIY fun begin." After measuring your space to find out how much wallpaper you may need, it's also never a bad idea to get some extra to account for mistakes and redos. And when it comes time to remove any wallpaper, Alessandra Wood, VP of style at Modsy, has a tip: A few passes with a hair dryer can loosen up any that isn't coming off easily. To find the best removable wallpaper, we asked Shaffer, Richani, and five other interior designers about the styles they'd recommend for a variety of spaces. Their favorite wallpapers run the gamut from bold styles with graphic patterns, equally eye-catching options with geometric prints, wallpapers that lend more of a textural feel, and even a couple stick-on murals that provide the effect of wallpaper. If you know what you're looking for, you can click any of the links in the last sentence to jump straight to that category.
Best removable wallpaper with graphic patterns
Scalamandré's zebra wallpaper pattern is more or less the definition of an iconic wall covering, one whose origins start at Manhattan's now-shuttered Gino's restaurant and extend to Wes Anderson's The Royal Tenenbaums (and lots of other things in between). Part of the wallpaper's rise to cultural relevance is because the print is available far and wide, as both traditional and peel-and-stick wallpaper (and even paper napkins). Two experts recommend it: interior designer Elaine Griffin and home decorator Carrie Carrollo, who calls the red version, available on Etsy in a range of sizes (starting at 23.5 inches wide by 48 inches long), "a quirky statement." (Carrollo has used this style to cover the back of a bookshelf in her home.) Griffin prefers the denim color from WallPops, a company she told us was an early adopter of peel-and-stick wallpaper industry. WallPops sells it by rolls that measure 20.5 inches wide by 18 feet long, so you get a bit more square footage of wallpaper for a bit less money.
Carrollo also likes the offerings from Chasing Paper, which she says "has something for everyone" and an "easy to navigate" website. Her favorite from the brand is this more subdued bubble pattern, which she says is "fun and quirky without being over-the-top. It's the kind of print you can use everywhere, in any type of room." It's sold in tiles that range in size, starting from 2 feet by 4 feet and going up to 2 feet by 12 feet.
Following the aquatic theme, here's a print that Griffin is wild about for "its Japanese-inspired ocean wave pattern" that she says is "so densely packed, it almost reads as a solid." The dense pattern, she adds, acts as "the perfect foil" against other boldly patterned furniture, flooring, or rugs. It's available in various sizes, starting with a roll that measures 19 by 59 inches.
Carrollo has also used wallpaper from Etsy seller Cuckoo Walls in her home. "The paper is exactly right," she says, "thick enough that it feels sturdy and won't tear and insanely easy to reposition during installation." One of her favorites is this matte polka-dotted print, which she used to create an accent wall in her studio. Rolls come in a range of sizes, starting with one that's 23.5 inches wide by 48 inches long.
Photo: courtesy of the Retailer
"It is undeniable the impact that using wallpaper creates in a room," says Richani. When she's decorating for clients with maximalist vibes, she turns to the floral prints at Urban Outfitters, like this colorful pattern. Each roll is 24 inches wide by 48 inches long.
For a floral print that's a little more subdued, Griffin recommends this one of cherry sprigs from Spoonflower. She calls it "modern, stylish, and fun," telling us she sees it "shining brightly in a white kitchen or bath." It's available in various sizes, starting with a 24-by-36-inch roll.
If you like the idea of a botanic theme but prefer foliage to flowers, Wood recommends this palm-leaf pattern from Tempaper, which she recently used in a project re-creating the Golden Girls house. If Golden Girls is not your vibe, we think this also looks a lot like the palm-leaf wallpaper that famously covers the walls at the Beverly Hills Hotel. Each roll is 11 yards long by 20.5 inches wide for a total square footage of about 56 square feet.
To make an even more memorable impression with your wallpaper, consider an illustrated pattern like the cheeky swimmers that dot this style recommended by Shaffer. Its retailer, Spoonflower, offers "hundreds of pages of kitschy wallpaper options," according to him, but Shaffer says that the figures' "paper-doll-like styling" will you to get even more creative with the application of this specific pattern. "I will be using this on a ceiling," he says of one unexpected place that he plans to put it. But the swimmers, he assures, "can basically go anywhere." This pattern is available in tiles of various sizes, including 2 feet by 3 feet, 2 feet by 9 feet, and 2 feet by 12 feet.
Temporary wallpaper is also an ideal way to decorate spaces for little ones, whose tastes are known to evolve as quickly as their shoe size. This beach-themed print would be particularly adorable in a kid's room or nursery; it comes recommended by Anna Tatsioni, an interior-design director at Decorilla, who says Wallshoppe is "a great choice if you are looking for variety in colors and patterns, and it offers more uncommon options." This wallpaper is sold by the panel; each measures 27 inches by 54 inches.
Wood turns to Drop It Modern for its unique, abstract shapes, which she says are "really forward-thinking on trends." This paper, with its nod to Picasso line drawings, is a great background for Instagram shots. As for installing it, Wood explains that with careful application, you can mimic a much more expensive professional installation. "You want to line up your pattern even if you might have to waste a foot or two to make it look more seamless and professional," she says, noting that using a squeegee to smooth out bubbles under the paper is never a bad idea. Each roll measures 25 inches wide by 120 inches long.
Best removable wallpaper with geometric prints
Like Carrollo, Richani considers Chasing Paper an excellent choice for removable wallpaper — especially "if the style I'm looking for is more geometric, modern, and minimal," like this starburst pattern that she says mimics a tiled wall. Lining up a print is even more important with a geometric style, and Richani advises that you "always use a level to guarantee it is going to be installed perpendicular to the floor." This pattern is sold in tiles that range in size, starting from 2 feet by 4 feet and going up to 2 feet by 12 feet.