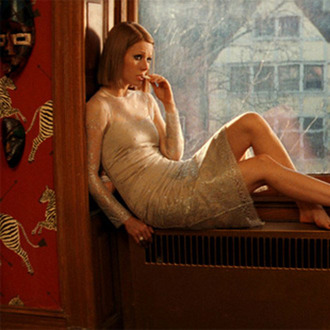 Whether you're a renter, a college student, or just a commitment-phobe, temporary wallpaper adds personality to your space while coming down easily when it's time to move. "A few years ago, thinking of using wallpaper in a rented apartment wasn't even a choice," says Karen Richani, an interior designer at Havenly. "Luckily, those years are gone, and now we see many options available that can instantly transform any space."
Cheaper than hiring a pro, peel-and-stick wallpaper is easy enough to apply on your own and won't put you at risk of losing your security deposit. We asked four interior designers to recommend their favorite removable wallpapers, along with their tips for a smooth installation.
Best botanical wallpaper
This take on leaves, which Alessandra Wood, VP of style at Modsy, recently used in a project re-creating the Golden Girls house, comes from Tempaper, a company founded by two professional set designers.
Photo: courtesy of the Retailer
"It is undeniable the impact that using wallpaper creates in a room," says Richani. When she's decorating for clients with maximalist vibes, she turns to the floral prints at Urban Outfitters, like this colorful floral pattern. Wood explains that with careful application, you can mimic a much more expensive professional installation. "You want to line up your pattern [even if] you might have to waste a foot or two to make it look more seamless and professional," she says, and she recommends using a squeegee to smooth out bubbles under the paper.
Flora and fauna meets folk art in this print, one of Richani's picks.
Best graphic wallpaper
"If the style I'm looking for is more geometric, modern, and minimal, Chasing Paper is an excellent choice," says Richani. She likes this starburst pattern that mimics a tiled wall. Lining up a print is even more important with a geometric style, and Richani advises that you "always use a level to guarantee it is going to be installed perpendicular to the floor."
Home decorator Carrie Carrollo also likes Chasing Paper, which she says "has something for everyone" and has an "easy to navigate" website. Her favorite is the bubble pattern, which she says is "fun and quirky without being over the top. It's the kind of print you can use everywhere, in any type of room."
For her own space, Carrollo uses wallpaper from Etsy seller Cuckoo Walls. "The paper is exactly right," she says, "thick enough that it feels sturdy and won't tear, matte, and insanely easy to reposition during installation." One of her favorites is this polka-dotted print, which she currently uses for an accent wall in her studio, pictured here.
She's also a fan of this watercolor dot design from the same brand, which she says feels like a slightly lower-key polka-dotted pattern. "Blue is an easy way to put a fairly neutral color in your space," she says. She also likes that this, and all of Cuckoo Walls' wallpapers, come in strips rather than squares: "The less separate pieces you have, the better," she says. "Getting a design to line up is crucial when it comes to making the paper to look consistent and elevated. The strips make it particularly easy."
Anna Tatsioni, design expert at Decorilla, calls this gold paper "a great option for creating visual interest and covering your wall's imperfections." Tatsioni also says to stick with vinyl wallpaper, as it's the most sturdy. "The heavier the paper, the higher the quality. Quality goes beyond the print to what's happening on the back of the paper," she says. "For the best results, the paper should be tacky and not sticky, with a water-solvent backing."
Wood likes Drop It Modern for its unique, abstract shapes, which she says are "really forward-thinking on trends." This paper, with its nod to Picasso line drawings, is a great background for Instagram shots.
A pastel take on terrazzo, this paper from patternsColoray is a favorite of Carrollo. "This is a nice way to incorporate terrazzo into your space without committing to something permanent, like a countertop," she says.
Whether you're a Wes Anderson fan, or just looking to embody that aesthetic in your space, Carrollo recommends this peel and stick version of the red zebra print in The Royal Tenenbaum's (the original is traditional wallpaper and from textile brand Scalamandré). "It's sort of quirky and the red makes a statement," says Carrollo, who currently uses the print to cover the back of a bookshelf in her space.
Best textured wallpaper
If your rental lacks the exposed brick walls of your dreams, Wood says you can fake it with a textured wallpaper, like this affordable one from Target.
Best kids wallpaper