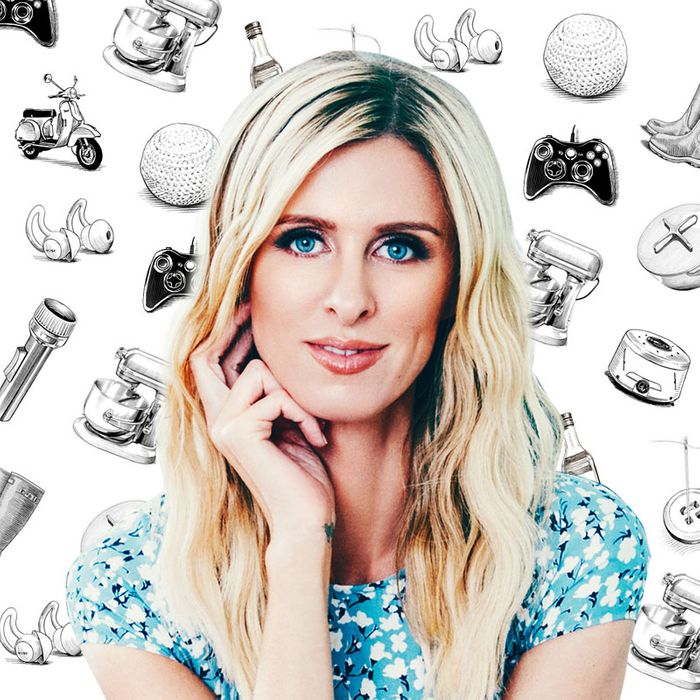 If you're like us, you've probably wondered what famous people add to their carts. Not the JAR brooch and Louis XV chair but the hairspray and the electric toothbrush. We asked Nicky Hilton — who recently launched a shoe line with French Sole — about the lip balm, fuzzy socks, and sleep-inducing "candy" she can't live without.
I'm addicted to lip balm and I've been using this one for at least 20 years. It's one of those items that's at the checkout at every pharmacy and Sephora. I lose them a lot, so I have backups all over the place — in purses, diaper bags, drawers. I like the smell, and it's not sticky. It's smooth, whereas Carmex is sticky.
I'm wearing them right now. They're so warm and so cozy. I'm the weirdo who sleeps in socks every single night. I can't go to bed without them; it's like a security thing. Kashwere also makes fuzzy robes and blankets, and I love all of it. I've been wearing the socks, I think, since high school. Every time I see them I just pick them up, or I'll order them on Amazon.
I have the biggest sweet tooth on the planet, and I love rainbow sprinkles, so the confetti cookie is definitely my favorite. But I also love Milk Bar's birthday-cake truffles and cereal-milk ice cream — it's all delicious.
I love anything custom, personalized, or monogrammed. Stoney Clover Lane had a pop-up a block away from my apartment, so I went in and went to town, but you can also customize on its website. I got a cosmetic case, a backpack, duffles, and I got Paris a camo duffle with a hot pink "Paris" symbol. She loved the duffel. Anything custom makes such a great gift, and you can leave the cosmetic pouch out on the counter.
I use this every night after I wash my face, and within a week, it tightens, brightens, and just helps my skin. It's kind of like a serum — I replaced my serum with it. My friend Tina Craig started U Beauty — she's so knowledgeable about skin and she looks like a teenager. My mom has amazing skin, too: She was like one of those children who always had the big crazy hat and sunblock on, and she taught me the importance of taking care of your skin at a young age, so I've literally been using anti-aging creams since I was 18. You're never too young to start.
I could wear them everyday: I like the high rise, they hit at a nice place on the ankle, and I can pair them with a pretty ballet flat or a heel.
I've been wearing this for maybe two years. It smells like roses and it's very feminine, very girly. It reminds me of summertime and the beach and the Hamptons — which is where I first smelled it, fell in love, and bought it.
I was in L.A. and couldn't sleep when I saw these in my mother's bathroom. I took two of them and was knocked out for like eight, nine hours. They have a mint-chocolate flavor, so they taste like candy; like a little treat before bed.