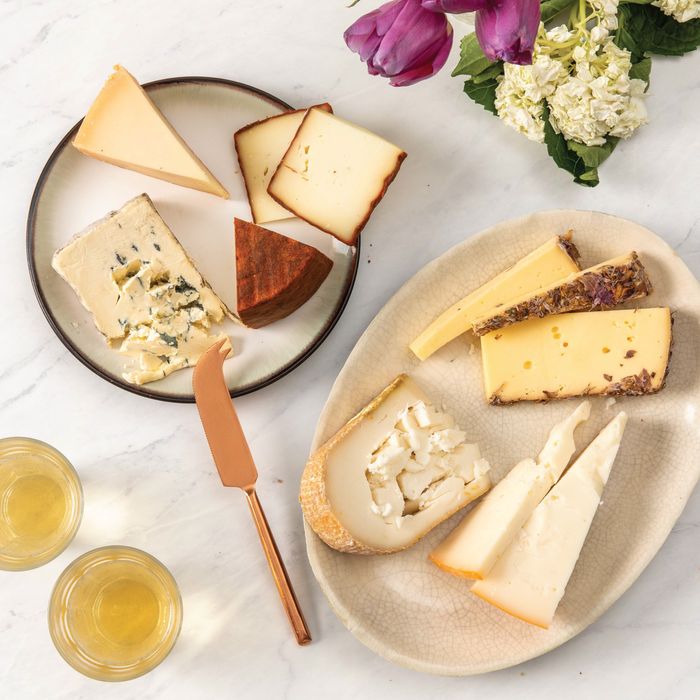 Pandemic or not, it's not always possible to join your mom for an in-person Mother's Day meal. The next best thing? Sending mom her favorite food and calling her to enjoy a virtual meal together. Thanks to some nifty services, shipping mom a treat that will warm her heart and fill her stomach is easier than ever, even if that treat is a lobster roll from Maine and she lives in California. Below, we've rounded up the best food gifts from a variety of retailers — from full dinners to simple snacks to a liquid meal (or two) — for every type of mom, whether she's got a sweet tooth, craves everything spicy, or simply loves a good cuppa.
A note that most everything below should arrive in time for Mother's Day, but some things may require expedited shipping with a fee due to pandemic-related delays on companies' shipping and delivery operations. We've noted shipping costs and estimated delivery times where applicable, but know that delivery estimates are constantly changing, and Mother's Day is May 10, so the sooner you order, the better.
For the mom who loves her bread chocolatey
This swirly, braided loaf is considered one of the best in New York City. Shipping starts at $25, whether you want it delivered before Mother's Day or closer to the actual date.
For the mom who's already planning a post-quarantine trip to wine country
Photo: retailer
Give mom a head start on her tours with this sommelier-approved subscription to Primal Wine Club, which ships a selection of natural wines that she most likely won't have had before every month. Subscriptions start at $85 for monthly three-bottle deliveries, and mom can always take over paying for it if you don't want to foot the bill for an entire year.
For the mom who can't have wine without cheese
This sampler includes six seasonal favorites from New York City's Murray's Cheese, which together add up to a whopping three pounds of fromage. It should go without saying that any of them will likely pair quite nicely with a glass or two of wine.
For the mom who scrapes every bit of peanut butter from the jar
If she loves peanut butter, she'll probably also like Soom, a silky, ultracreamy, chef-approved tahini that a Strategist editor says "you can just hit straight out of the jar." To really wow her, throw in this tiny spatula that one contributor uses to scoop up every last drop of peanut butter (and Nutella and tomato paste) from the jar.
For the mom who gave up her daily Juice Press fix
Splendid Spoon can ship ready-to-drink smoothies, along with healthy soups and grain bowls, right to her. Plans start at $65 for five bowls delivered weekly, but you can upgrade it to include five smoothies and five light soups (plus the five bowls) for $135. Again, if she likes the stuff, mom can take over the subscription, but will always have you to thank for it.
For the mom who gave up her daily Starbucks fix
She'll appreciate this subscription from Atlas Coffee, which sends one bag of coffee from around the world to her door for three months. It will help mom develop a palette that can tell the slight differences in taste based on region — something that will surely impress her favorite barista, whenever she sees her again.
For the mom who visits New York for the bagels
Because she's convinced New York City tap water yields superior bagels, and therefore won't eat them from anywhere else. Shipping is free, whether you want it delivered in a couple of days or closer to the actual holiday.
For the mom who visits Brooklyn for the pizza
Roberta's ships its famous pies (frozen) all over the country. The earliest day to receive the order is May 8, for a shipping fee of $20. Or she can get it the next week, with free shipping.
For the mom who visits Chicago for the pizza
If she prefers Chicago's deep-dish style, then you can't go wrong with Lou Malnati's thick pizzas. Shipping is free, whether you want them delivered in a couple of days or closer to the actual holiday.
For the mom who loves to snack
Even if she can't travel to far-flung places, her taste buds can go on a culinary adventure courtesy of Universal Yums. Subscriptions, which start at $14 a month, will get her a box filled with between six and 20 snacks (depending on the plan) from a different country each month.
For the mom who never turns down a seafood tower
While we haven't found one of those to send her (yet), these made-in-Maine lobster rolls would surely have her salivating. Shipping starts at $45, whether you want them to arrive ahead of time or closer to Mother's Day.
For the mom with an unrelenting sweet tooth