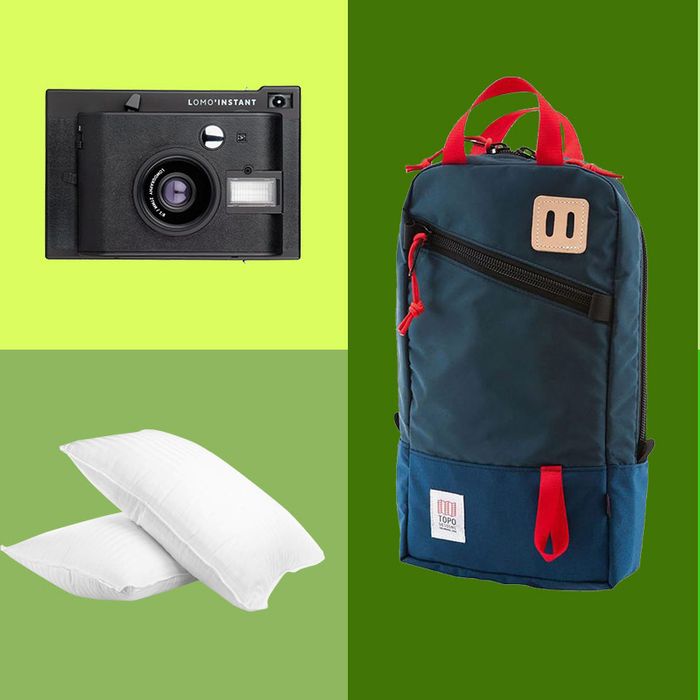 As much as new moms deserve gifts of gratitude on Mother's Day, so, too, do new dads who (we hope and expect) are splitting diaper and baby duty this Father's Day. Seeing as every new dad is different — yet likely facing common struggles — we've rounded up a range of first Father's Day gifts that we think will help a time- and sleep-starved new parent rediscover some of his sanity, whether he's a golf dad, wine dad, fitness dad, or more. While almost all of the things on this list are available on Amazon, we've found many of them elsewhere, too, for those who like to shop around.
For the new dad who relies on coffee even more now
Even if his favorite café has reopened, he might just not have the minutes required to run out and grab his morning coffee. This machine can save a new dad precious time in the morning while also giving him a bean-to-cup brew because it has a built-in grinder. And not just any grinder but a burr grinder (the style preferred by every barista we consulted for our roundup on the best coffee grinders). According to Kat Odell, the author of Day Drinking, "the Capresso drip machine yields the cleanest-tasting cup."
For the new dad who's sleep deprived
His old pillows might have worked fine before the baby's cries started to wake him nightly, but now your new dad might need something even more comfortable to ensure he catches whatever zzz's he can. These cheaper-than-Casper gel pillows are the best-rated on Amazon: According to one reviewer, who says they tried dozens of pillows to find one that didn't "jack my neck up at a funny angle," the Beckham Hotel Collection pillows are "soft, but have volume" and "give but don't feel flat at all."
For the new dad who wants to hide his under-eye bags on Zoom calls
Dermatologists we spoke to about the best products for under-eye bags all told us that caffeine is the "No. 1 ingredient" for making skin look more awake. This eye cream that those same doctors recommend is "chock-full of caffeine and ginseng," two ingredients that "will reduce puffiness and make eyes look less tired." It's also simply packaged, so it doesn't necessarily look like an under-eye treatment.
For the new dad whose shirts are stained
If his clean T-shirt supply has become nonexistent since the baby came home, many of the cool men we've spoken to about the best T-shirts say Gildan's affordable version is the only one you need. According to New York Times music critic Jon Caramanica, they are "durable, cut wide, but not in any way boxy" and boast "an unflappable crew neck." Caramanica is specifically a fan of Gildan's black tees, and we imagine any stain-wary new dad would be, too.
For the new dad who doesn't have time to freshen up
Showers are a real luxury to a person who needs to be within earshot of their child at all times. These Bliss wipes are nice for Dad to have on hand when he can't step away but wants to feel clean.
For the new dad who needs to stash wipes on walks
Between sun hats, tissues, burping cloths, and wipes, going for a walk with a newborn means adding a whole list of items to dad's previous wallet-phone-keys pocket check. This backpack from hard-wearing-gear brand Topo Designs, which can also be carried by a top handle, has a quick-access external zipper pocket and a spacious interior compartment with a separate sleeve, so there's basically a place for most everything. Not only should it help dad get out the door sooner, but it'll surely get him envious looks from other parents carrying overstuffed totes.
For the new dad who wants to get back in shape
If the demands of a new child mean dad has let his fitness regime fade away, a subscription to user-friendly digital-workout platform Obé Fitness will allow him to choose from 4,000 on-demand and 100 live weekly classes in all kinds of categories, from yoga to Pilates, HIIT, and more. All of those classes are just 28 minutes long, and none require more equipment than a gym mat. Subscriptions start at $27 a month.
For the new dad who misses the movies
Baby or not, no one's really going to the movies right now. But if Dad misses date nights in front of a big screen, a projector can help replicate that experience at home. Amazon reviewers love this relatively affordable model, which they say strikes the perfect balance between quality and price. "Overall, it's a complete upgrade for less than $500," writes one satisfied customer. "I am blown away by the picture quality and the color depth it puts out."
For the new dad who wants to stay on-trend
If the new dad in your life is determined to stay fashionable, gift him the Chris Black–approved "slipper" of the summer from running brand Hoka One One. It's the perfect twofer: Cool enough to strike up conversation on the street, yet supportive enough in the sole to make the actual reality of his day-to-day commitments that much more comfortable.
For the new dad who misses the outdoors