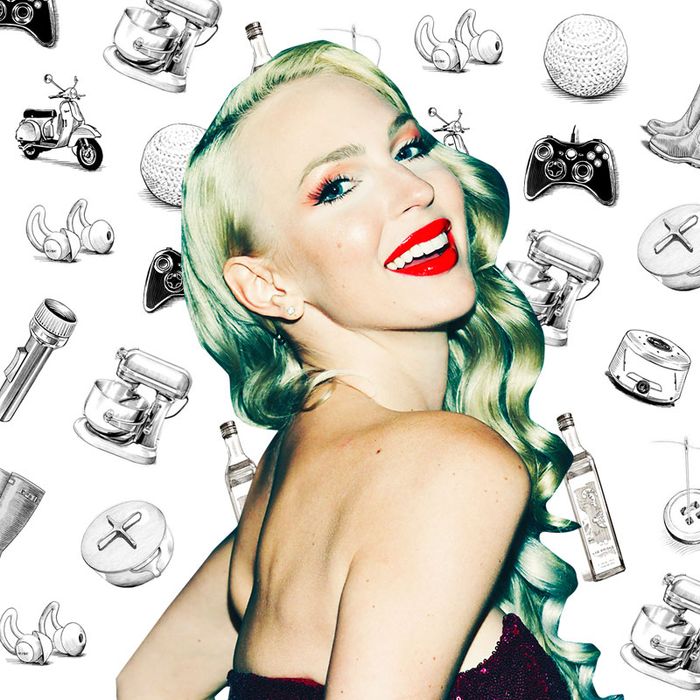 Photo-Illustration: The Strategist; Photo: Getty
If you're like us, you've probably wondered what famous people add to their carts. Not the JAR brooch and Louis XV chair but the hair spray and the electric toothbrush. Ahead of tonight's premiere of the fourth season of Selling Sunset on Netflix, we spoke with star of the show Christine Quinn, who recently partnered with Samsung for the launch of the Galaxy Z Flip3 phone. She told us all about her favorite self-tanner (that's become something of an international mystery), the toothbrush she owns in every color, and the daily planner that helps her manifest.
I'm a creature of habit. I have probably 500 million different types of panties, but even so, I always just want to wear these. I have them in every color. I prefer the thong style with the Calvin Klein logo on top. They are so cute and comfortable and have been my everyday underwear for years. And I don't wear actual bras very often, but I love the matching Calvin Klein bralettes. The whole set is a must. They're not tight but provide support. They're also so breathable, which, believe it or not, is a hard thing to find.
I am a beauty guru. I'm always trying new things, and I love so many products, but there are a few things I've been using for years and years. I've used Sisley Paris products for probably the longest out of any brand out there. I used La Mer and La Prairie for a while before, but about five years ago, I switched over because this random makeup lady really pushed it on me. I tried a few things, and within a week, my skin cleared up and never looked better. All the products are amazing, but no one knows about their self-tanner. I swear, they hide it from everyone. I was in France talking to the counter person, who mentioned they had this self-tanner. I was like, "Wait, is this new?" And they were like, "No, we've always had it, but it's not really a popular product in France." Well, I live in L.A., so it's a huge thing for me. It smells like their lotion, not self-tanner, and it gives you a really gradual tan. In addition to that, it's really hydrating. I use it probably three times a week, depending on how dark I want to be.
I have this in my lap right now. They have a few different ones, but I use the classic. I'm a big manifester, so in addition to writing down my schedule and reminders, I write what I'm grateful for and excited about, and a goal for the day. Then at night, I write down today's win. For example, I had a meeting, and it went really well, so that was a win, and tomorrow, I'm excited to implement my ideas for a project or whatever. It holds me accountable because it's meant for daily use but doesn't come predated — I wrote in the dates, so I can't be lazy and miss one.
A lot of makeup artists told me to use these eye drops called ​​Collyre Bleu, which is actually blue to counteract the red. But here's the problem: If you miss your eye at all, it will leak down your face in blue streaks, and after I used them for a while, I was blowing blue out of my nose. I guess it's connected to your sinuses, but it was horrifying. They're not even legal in the States, which honestly should have been a red flag. After all that, a makeup artist pulled out these eye drops on a shoot, and I was like, "Wait, what are these?" He was like, "Every actress and movie star uses these. They give you really beautiful, white, white, white eyes that are camera-ready." That night, I went on Amazon and bought 30 of them. Now, I keep them everywhere because I use them every single day even if I'm doing things or not. After I took the red-eye from New York to L.A. not long ago, I put these in, and immediately, my eyes brightened. These drops took me from a zombie to human in no time.