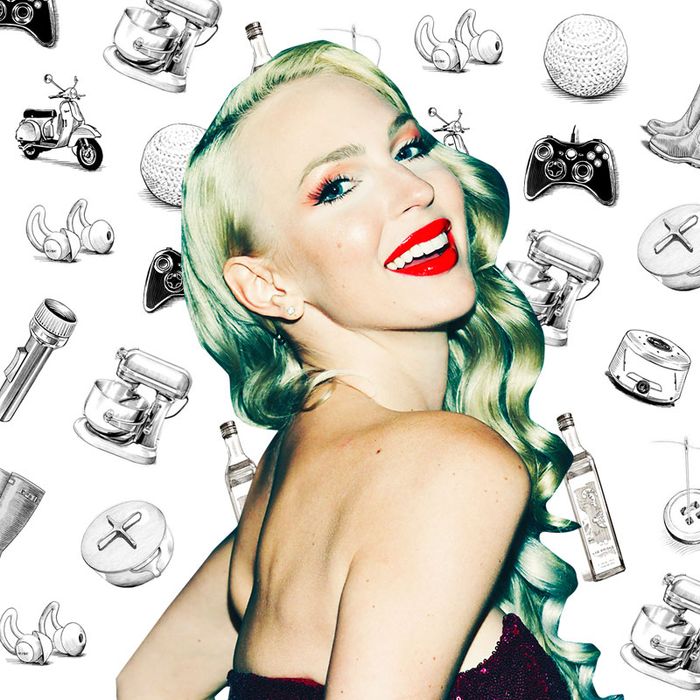 Photo-Illustration: The Strategist; Photo: Getty
If you're like us, you've probably wondered what famous people add to their carts. Not the JAR brooch and Louis XV chair but the hair spray and the electric toothbrush. Ahead of tonight's premiere of the fourth season of Selling Sunset on Netflix, we spoke with star of the show Christine Quinn, who recently partnered with Samsung for the launch of the Galaxy Z Flip3 phone. She told us all about her favorite self-tanner (that's become something of an international mystery), the toothbrush she owns in every color, and the daily planner that helps her manifest.
I'm a creature of habit. I have probably 500 million different types of panties, but even so, I always just want to wear these. I have them in every color. I prefer the thong style with the Calvin Klein logo on top. They are so cute and comfortable and have been my everyday underwear for years. And I don't wear actual bras very often, but I love the matching Calvin Klein bralettes. The whole set is a must. They're not tight but provide support. They're also so breathable, which, believe it or not, is a hard thing to find.
I am a beauty guru. I'm always trying new things, and I love so many products, but there are a few things I've been using for years and years. I've used Sisley Paris products for probably the longest out of any brand out there. I used La Mer and La Prairie for a while before, but about five years ago, I switched over because this random makeup lady really pushed it on me. I tried a few things, and within a week, my skin cleared up and never looked better. All the products are amazing, but no one knows about their self-tanner. I swear, they hide it from everyone. I was in France talking to the counter person, who mentioned they had this self-tanner. I was like, "Wait, is this new?" And they were like, "No, we've always had it, but it's not really a popular product in France." Well, I live in L.A., so it's a huge thing for me. It smells like their lotion, not self-tanner, and it gives you a really gradual tan. In addition to that, it's really hydrating. I use it probably three times a week, depending on how dark I want to be.
I have this in my lap right now. They have a few different ones, but I use the classic. I'm a big manifester, so in addition to writing down my schedule and reminders, I write what I'm grateful for and excited about, and a goal for the day. Then at night, I write down today's win. For example, I had a meeting, and it went really well, so that was a win, and tomorrow, I'm excited to implement my ideas for a project or whatever. It holds me accountable because it's meant for daily use but doesn't come predated — I wrote in the dates, so I can't be lazy and miss one.
A lot of makeup artists told me to use these eye drops called ​​Collyre Bleu, which is actually blue to counteract the red. But here's the problem: If you miss your eye at all, it will leak down your face in blue streaks, and after I used them for a while, I was blowing blue out of my nose. I guess it's connected to your sinuses, but it was horrifying. They're not even legal in the States, which honestly should have been a red flag. After all that, a makeup artist pulled out these eye drops on a shoot, and I was like, "Wait, what are these?" He was like, "Every actress and movie star uses these. They give you really beautiful, white, white, white eyes that are camera-ready." That night, I went on Amazon and bought 30 of them. Now, I keep them everywhere because I use them every single day even if I'm doing things or not. After I took the red-eye from New York to L.A. not long ago, I put these in, and immediately, my eyes brightened. These drops took me from a zombie to human in no time.
My thing with eye masks is that they're rarely the perfect balance of hydrating but not too hydrating that they just slide down your face. These are super, super juicy, but because they're made from really thick silicone, they do not budge. I can literally sleep in them, and they won't move. Sometimes I'll sit in my office when I'm not working, and I'll just put them on. I take them on airplanes, too. I've tried literally every eye patch out there, and nothing has topped these. Girl, I'm telling you, the de-puffing ones really, really work.
I'm going to sound like such an old lady, but I'm a huge toothbrush person. I used the regular Philips Diamond toothbrush forever, but I really hated how big and bulky it was. I couldn't fit it in my purse, and it just wasn't practical for my lifestyle. I wanted one I could grab and go. I now have so many of these toothbrushes in every color — one for my purse, my home, my travel bag. It's exactly like the other toothbrushes I love but compact enough for travel. It's so cute, and honestly, it's really good.
I have a few different coffee machines — I went a little crazy in quarantine with the appliances — but if I just want a cup of coffee, nothing fancy, I'll go with my Keurig. I use it probably once a day. It's quick and easy. I love the Dunkin' Donuts house blend. People have strong opinions on Dunkin', whether they love it or hate it — I've always thought it was very good.
I'm embarrassed to say how much I paid for this toaster, but it's no joke. I use it every day. I love garlic bread at night and bagels during the day. This toaster makes everything perfectly because it's a smart toaster. It knows if something is about to burn, and it'll pop it up. It's so disappointing when your bread comes out too toasted or too light, but I have yet to be disappointed by this toaster. I would say it's revolutionary.
I use this entire line from Oribe and then some — shampoo, conditioner, detanglers. I have probably four different types of each product. But this oil is something special. I love the smell, and because I dye my hair blonde constantly, I need to really take care of it. I have naturally straight hair, too, so I style it often. When I get out of the shower, I'll apply this to my hands, then run it through my hair as heat protection before styling. It gives me a little extra gloss and hydration.
The iPhone seems to be getting larger and larger and larger. It became too much for me. I wanted one that was much more compact. When Samsung came out with the flip, I was so excited to partner with them because, to me, it is the perfect phone. I'm always running around, and oftentimes, instead of bringing a purse, I'll put my phone in my bra. I can do that with this phone. But I also use my phone for creative purposes, so having an amazing camera is a huge priority for me. I really think this phone has upped my Instagram game like you wouldn't believe. I used to constantly ask my husband, "Can you take photos of me?" But with the flip, I can fold the phone in half, so it can sit on any surface to take a picture of myself. The camera takes a picture if you say words like "cheese" or "smile" instead of having to press the self-timer and run to get into position. It also has a preview on the cover, so I can see what I look like before I take the photo. I know a lot of iPhone users are afraid to make the switch, but this phone has upgraded every part of my life. And my husband loves it, too, because I never have to ask him to take photos anymore.
The Strategist is designed to surface the most useful, expert recommendations for things to buy across the vast e-commerce landscape. Some of our latest conquests include the best acne treatments, rolling luggage, pillows for side sleepers, natural anxiety remedies, and bath towels. We update links when possible, but note that deals can expire and all prices are subject to change.