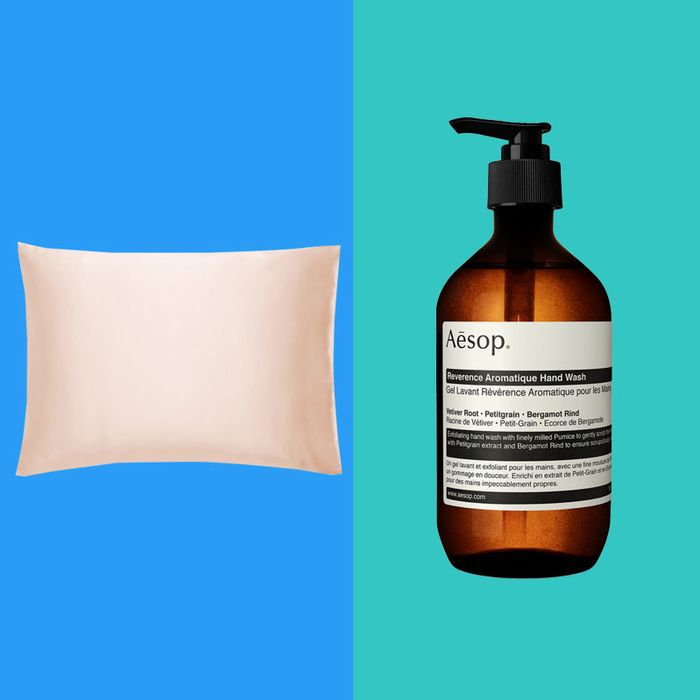 Photo-Illustration: retailers
We've written a lot about gifts for new moms and dads, but a lot of those gift guides are typically all about the baby. And it makes sense. Babies come into this world with nothing and need, well, everything. But a set of onesies or a bottle warmer is hardly a gift new parents can actually enjoy themselves. So we talked to parents to find out what they'd really appreciate, from the condiment that would make whatever quick meal they can squeeze in a little tastier to the fancy hand soap they want to use after changing yet another diaper and even the gaming equipment they want to use after they put the kids to sleep. From the super-practical to the slightly indulgent, ahead are 25 gifts just for the new parents in your life.
Food Gifts
The gift of food was an overarching theme among the parents we spoke to. "The things that I needed when I was a new parent were meals that friends brought," says Nina Pearlman, a member of the Park Slope Parents group. "It all came down to people helping with cooking, cleaning, or babysitting so I could sleep or just deal with a newborn." She likes the flexibility of Fresh Direct. Not only can you help them order groceries but they also offer meal kits and prepared foods. "For one friend, myself and a couple of other friends ordered a day's worth of meals for our new-mom friend, and they were all prepared meals that she and her partner could just heat up," she says. "Another friend put together a sort of registry/wish list on the Fresh Direct site of food and meals she wanted others to order for her." If you don't know exactly what they'll want, they also offer gift cards.
"It's just a no-brainer to give bleary, sleep-deprived parents the gift of ready-to-drink coffee — and from a fancy roaster, to boot," says Strategist writer Lauren Ro. She says one of the most thoughtful gifts she and her husband received as new parents was a grocery order that included their favorite canned La Colombe coffee, which she says "are a bit too pricey to buy on a regular basis, but they do make the perfect gift."
If you're local to New York, new mom Gena Kaufman recommends a delivery of fresh produce from Farm to People. "In my experience, friends and family are so generous and amazing at sending prepared meals for new parents, which is so wonderful and insanely helpful, but it can also be so nice for a tired mom or dad to just get some fresh, local fruits and vegetables to have on hand, without the pain of having to go to the grocery store with a baby in tow," she says. "I love having this weekly subscription, because it's easy to skip any week (they remind you, so you never accidentally get a box you don't want) and each delivery is customizable: You can also add in other essentials weekly like eggs and bread, or even add a few treats, like cookies or brownies, from local bakeries."
Consider a fancy condiment to perk up whatever quick meal they have time for. "Truffle oil is a condiment you can pour over anything, and call it a meal," says Leigh Plessner, mom and the creative director at Catbird. "The summer my daughter was born I stood at the kitchen counter and one-handed ate bowls of avocado and peaches with truffle oil, hot peppers, and toast while rocking and nursing her. I would have loved a really primo bottle." If they're interested in other fancy food gifts, check out our gift guide for gourmands.
Self-Care Gifts
For new parents looking to find a little zen, Kim Ross, the founder of acupuncture studio Ora, recommends the Calm app. "For new parents, the gift of a meditation subscription like Calm can help center you and give you more out of the few moments of self-care you have time for," she says. " I haven't tried Calm myself yet, although I have incorporated short meditation practices into my daily new parent routine (which usually looks like only a few minutes per day) and it definitely helps me." Calm not only provides guidance on mediation, but sleep and movement as well.
For the new parent who really needs to take the edge off there is always CBD. Strategist contributor and dad Andy Selsberg specifically recommends a Delta-8 CBD product, which he describes as CBD on steroids or very mellow cannabis. He likes these cigarettes for "the sensual pleasure of smoking without tobacco or nicotine."
If smoking isn't your thing there's these gummies. Just remember it takes about an hour to feel the effects.
Freelance writer and Strategist contributor Natalie Toren suggests arming the new parents in your life with this less-expensive Theragun-type massage tool. "Most new parents develop some nagging muscular pain. Whether it's related to new, repeated movements resulting from nursing, interrupted sleep, or holding an infant on a dominant side," she says. She experienced some shoulder issues after she had her first kid, and wishes she had this gun. "It's light, easy to use on yourself, very powerful, cordless with good battery life," she adds. "It's a great gift for a couple that they might not spring for themselves — undoubtedly both will use it."
Gifts for the Home
We've written about digital picture frames before and how they make great gifts for new parents (and grandparents), and as a new mom herself, this one is on Ross's list. "I love that it allows collaborators to upload your favorite photos and memories together in real time," she says. "New parents are usually the ones behind the camera, so it's a nice gift to give them because you can directly upload photos of them and memories you have with them. It can even momentarily transport them to memories that predate their roles as mom or dad."
Photo: retailer
Fresh flowers were also popular among the parents we spoke with. "When one of my very dearest friends had her son, I went over to visit and she had an enormous swarm of white orchids in a low mossy pot on her dresser, a gift from her boss," Plessner says. "To me, they were glamorous fashion flowers and they conferred some extra magic on an already magical scene."
And the no-maintenance version: Kaufman called these dried and preserved flowers "the best gift I bought myself in my early parenting days." She adds, "When you are spending so much time indoors, it's really nice to have something pretty and cheerful to brighten up your space, and I cannot stress this enough: these take literally no maintenance."
Photo: retailer
Who doesn't like a candle? They're a little basic at this point, but a solid universal gift, and as Kaufman points out "indulgences in your home are particularly nice for new parents because they're trapped there so much in those early days." She likes this candle's calming eucalyptus spa vibes.
If an open flame sounds like just one more thing for them to worry about, try incense. "I burned a lot of incense after my daughter was born; it was atmospheric and transportive, but I didn't have to worry about my fragile brain forgetting to blow it out like a candle," says Plessner. She recommends one of Santa Maria Novella's seasonal incense packs that correspond with the baby's birthday as a nice personal touch.
Photo: retailer
If they want to create a home scent in a completely different way, there is always hand soap. Toren, who is also a scent consultant, was too afraid to light candles until her oldest kid turned 4, but in that time found that fragrance of an intensely scented liquid hand soap will diffuse throughout the room. One of her favorite scents is Aesop's Reverence Aromatique Hand Wash, which she uses in her kitchen. She says, "The earthy, herbal vetiver doesn't clash with food scents."
Author and mom of two Kelsey Osgood's No. 1 recommendation for new parents, particularly the birth parent, is to stay in bed. "I'm always trying to evangelize to new parents, 'Please, take it from me, just sit in bed and eat all day! Get away with it while you can!'" she says, and thinks a tray table like this helps. "My friend gifted me a bed tray table like this one after my second's birth so I could respond to emails, watch TV, and eat lunch all while sitting in bed feeding the newborn," she says. "It was doubly helpful because I had a C-section and needed a bit more time to recuperate." Even though her kids are older now, it still comes in handy while WFH or dining in bed.