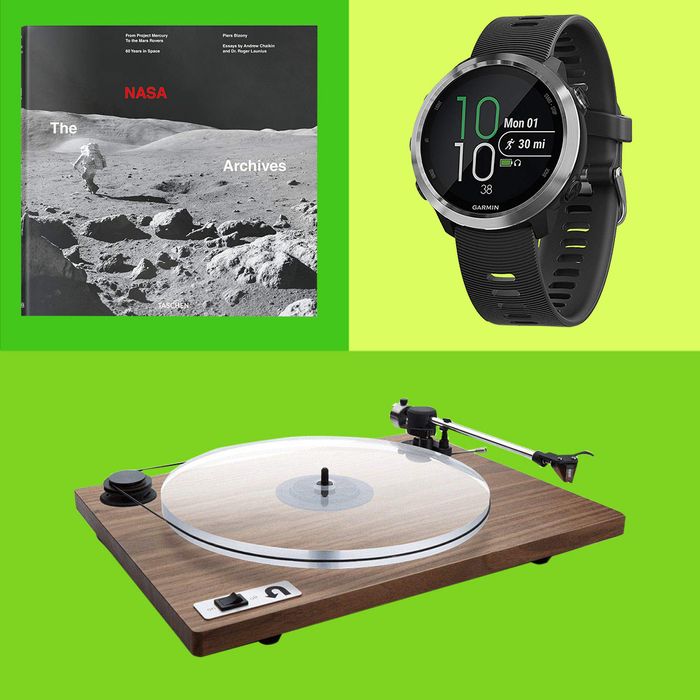 Before you even get a chance to pat yourself on the back for finding the perfect Mother's Day gift, it's time to start thinking about your dad. With Father's Day right around the corner, we've rounded up the best gifts for all types of dads. Whether yours is a beer enthusiast or an avid golfer, the outdoorsy type or a designer dad, we're sure you'll find something here that's perfect for him. And we've made things even easier for you: They're all available on Amazon.
For the road-tripping dad
A travel mug beloved for fitting in a car's cup-holder, this tumbler will keep your dad's coffee hot (or cold) for the long haul.
For the dad looking to upgrade his sweats
Give his baggy sweatpants an upgrade with these slim-fit joggers that are just tailored enough for the occasional coffee run.
For the dad who works all the time
If he's always looking at a screen, these glasses filter out harmful blue light that can cause headaches and sleep trouble — and they look stylish, too.
For the retired dad
Dads looking for a new hobby can go deep on Instant Pot-cooking and learn how to whip up everything from steamed vegetables to homemade Greek yogurt.
For the dad who loves showing off his knife skills
This electric knife sharpener is a favorite of Amazon reviewers and will keep both straight and serrated knives in frighteningly good shape.
For the dad who's particular about his coffee
If your dad wants his at-home coffee to taste as good as a cup made by a barista, he'll appreciate this Chemex pour-over, which comes recommended by Erika Vonie, a certified Q grader (a.k.a. a coffee sommelier).
For the dad who prefers tea
A favorite of tea sommelier Linda Gaylard, this kettle will warm water to the just-right temperature for different kinds of tea. "A variable-temperature kettle takes the guesswork out of determining if the water is hot enough for oolongs or a little cooler for green teas," she says.
For the dad who loves to grill
Writer Steven John calls this "the Swiss Army knife of grilling equipment," because it combines a spatula, grill fork, tongs, and more. There's also a built-in bottle opener for dads who like to enjoy a beer while they grill.
For the dad who wants to make ravioli from scratch
This pasta-maker comes recommended by Linda Miller Nicholson, author of Pasta, Pretty Please and the "pasta artist" behind the Instagram account Salty Seattle. The machine — which is made by Italian manufacturer Marcato Atlas, which has been making pasta machines since 1930 — ensures that the dough cranked through will emerge at an even width, making it less likely to tear.
For the dad who reads the newspaper on the patio
This folding Adirondack will be comfy for long afternoons of reading and has ample armrest space for a cup of coffee.