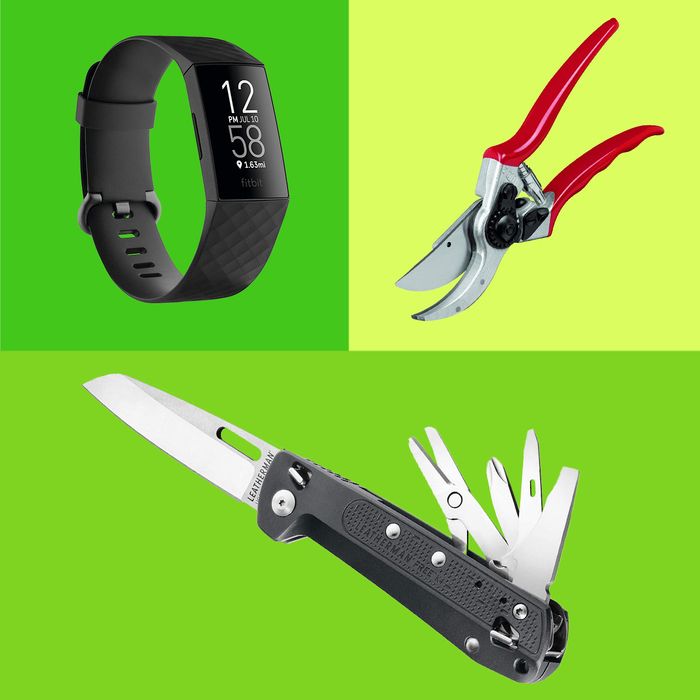 Photo-Illustration: Retailers
Before you even get a chance to pat yourself on the back for finding the perfect Mother's Day gift, it's time to start thinking about your dad. With Father's Day right around the corner — it's on June 20 this year — we've rounded up the best gifts for all types of dads. Whether yours is a beer enthusiast or an avid golfer, the outdoorsy type or a designer dad, we're sure you'll find something here that's perfect for him. To make things even easier, most everything below is available on Amazon — but we've found some stuff elsewhere, too, for those who like to shop around. With the big day less than a week away, we've made sure (to the best of our ability) that, at the time of publication, all the stuff here will ship in time for Father's Day. (But, as the saying goes, sometimes the right gift is worth waiting for.)
For the dad who's always prepared
In the case of a blackout (or worse), survivalists and other experts told us that a hand-crank radio is an essential element of any emergency-preparedness kit. Kaito's shortwave radios are a favorite among preppers, and this particular model, the KA500, can be powered by battery, solar, hand-crank, USB, or wall outlet. It's also water-resistant.
For the dad who's always prepared (and behind the wheel)
According to experts, a dash cam that records any unexpected incidents while driving can help put minds at ease when it comes to things like insurance claims. The technology can cost several hundreds of dollars, but one expert told us this particular model with a three-inch LCD screen should be more than fine for dads who drive smaller cars and don't mind having a single camera in their front windshield. That it comes from a brand called Papago makes it feel even more appropriate as a Father's Day gift.
For the dad who reads the newspaper on the deck
Photo: Retailer
This foldable rocking chair is a favorite among outdoor enthusiasts and Amazon reviewers for its durable construction, portability, and, of course, the ingenious way it rocks using hydraulics. As one fan explains, "It folds up like a normal heavy-duty pop-up chair, but it's so much more." That fan adds: "The metal construction is great, the fabric is durable, it has nice hard armrests," and even a drink holster, should Dad likes to sip on something while he reads the paper.
For the dad who reads the newspaper in his office
Whether he's working from home or back at a proper office, he may need a desk lamp to illuminate that tiny print. This one, according to Strategist writer Jordan Bowman, will help simulate natural light if Dad's office isn't flooded with it. The LED lamp will also help on video calls: As Bowman explains, it acts as a "makeshift ring light" that instantly illuminates his otherwise backlit face on Zoom.
For the fire-starting dad
Contributor Steven John — "a dad who loves a good fire" — says "I know many other dads who feel the same." If yours counts himself among this group, John says this compact blowtorch "may be the most fun fire-starting tool Dad has ever used." He'll need to hook it onto a can of propane, but once he does, John says Dad can use it to get wood or charcoal burning or even for some light welding.
For the road-tripping dad
A travel mug beloved for fitting in a car's cup-holder, this tumbler will keep your dad's coffee hot (or cold) for the long haul.
For the jet-setting dad
For the dad who refuses to check his bags (but insists on being prepared for any weather situation), a set of packing cubes can help him organize — and fit — all his gear into his carry-on. Contributor Foster Kamer, a self-proclaimed "compulsive overpacker," calls this set from Eagle Creek "the Russian nesting doll of luggage."
For the dad who is more of a homebody
A smart display like the Amazon Echo Show can do a whole lot for a dad who spends a lot of time at home. Not only is it a speaker and a monitor but the device also acts as a main hub for any other smart-home appliances he may have: for instance, if he owns smart light bulbs, he can get Alexa to turn off the lights. He can even make video calls on it, allowing Dad to connect with friends and family near and far. (For this reason, we think it would make a nice gift for the dad who is also a granddad, too.)
For the dad who's on a smoothie kick
If Dad is looking to get more greens into his diet, a NutriBullet would allow him to start each day with a nutrient-packed smoothie — just like two New York City mayoral candidates do. Democrat Eric Adams and Republican Fernando Mateo each told us they can't live without the personal blender, which they use to make very different recipes (which both men shared with us, should Dad need some inspiration).
For the burger-flipping dad
John calls this "the Swiss Army knife of grilling equipment," because it combines a spatula, grill fork, tongs, and more. There's also a built-in bottle opener for dads who like to enjoy a beer while they grill.
For the nostalgic dad
If Dad misses the days of (instant) film, he'll get a kick out of the Polaroid Go, a compact instant camera that Strategist writer Jordan Bowman praised for its sharp picture quality, reliable focus, and easy-to-use controls. "There really is something transcendent about experiencing a special moment and then holding an image of it in your hands a few seconds later," he writes. If your dad is really nostalgic, you could also get him one of the brand's refurbished 1980s-era models.
For the nostalgic dad (who is glued to his computer)
A mechanical keyboard like this expert-approved one will make his workdays more like they were 30 years ago. The Bluetooth-enabled gadget not only gives a "satisfying clickity sound" as you type on it, but may also help Dad work faster: The TikToker who recommended it "feels like I can type at the speed of light" while using the keyboard.
For the dad who loves his tunes