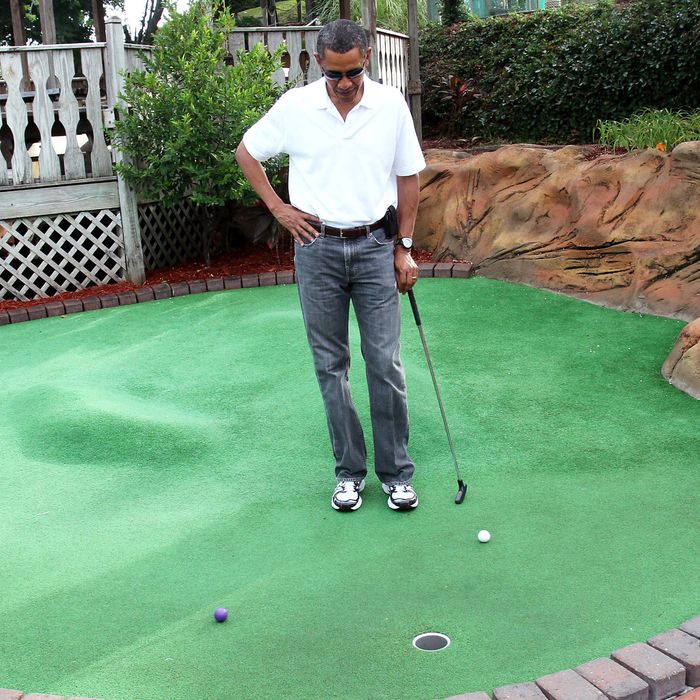 Photo: Dan Anderson-Pool/Getty Images
Combining the most predictable dad accessory (tie) with the most predictable dad hobby (golf), novelty golf-print neckwear might be the most predictable Father's Day gift of all time. In fact, back in the 1930s, Father's Day was literally invented to sell neckties. To avoid gifting dad something that will end up stuffed in the back of a drawer, we asked eight golf-loving dads what they actually want, combed through expert-recommended golf gear, and threw in some cool-looking finds of our own.
For data-driven golf dads
Two golf dads we spoke with were excited about the high-tech Arccos system for tracking their performance. Joe Ostrowski, assistant golf professional at Glen Head Country Club says that the 14 sensors that attach to club heads paired with the accompanying app "collect information in the round such as greens in regulation and how far your shots go. Using all the information it gathers [and utilizing] artificial intelligence, it will help improve your course management." Ideal for busy dads who want to make every shot count, it also topped the wish list of a golf-loving father of two.
Scott Reid, tournament director for the PGA Championship to be held at Long Island's Bethpage State Park in 2019 and father of two, admits that the best gift he's ever received was a surprise trip to the world-famous, scenic Pebble Beach Golf Links. But in lieu of figuring out how to travel safely and whisking dad away for an epic golf weekend, he suggests gifting a Swing Caddie launch monitor that measures swing speed, ball speed, and tracks stats for every club in dad's bag.
For tech-head golf dads
Ron McDougal, head pro at Golf & Body and father of a teenage daughter, says his ideal gift would be a good range finder: a GPS laser device for measuring distance from a flag or hazard on the course. The Bushnell model gives a vibrating jolt when the laser is aligned with your target.
Sleek and pocket-size, this nifty Garmin GPS is preloaded with maps of more than 40,000 golf courses around the world. It displays the shape of the green, locations of water hazards and sand traps, and your yardage from any point on the course. It's also available as a watch.
As for toting all that tech gear on the course, Steve McMillan, founder of product-review site TheGolfingDads, uses these phone caddies from Desert Fox that have a velcro strap that attaches to his golf cart. "I have two on my cart at all times," he says. "One has my GPS unit and the other has my cell phone in it." The caddy is adjustable so it'll work for most phones and devices.
McMillan recommends this clever bag that includes a solar-powered phone charger, a Bluetooth speaker, and room for up to six cans of his beverage of choice. Even with all these features, McMillan says the bag "weighs almost next to nothing" and is surprisingly comfortable to carry.
It's definitely an investment, but this electric scooter, recommended by Nick Patti, an assistant golf professional at Long Island's Tam O'Shanter Club, promises a smooth ride thanks to its front and rear suspension. There's also the option add different accessories, like speakers or rugged tires for more uneven terrain. Patti tells us it's been "a hit with COVID only allowing single riders in golf carts."
For the golf dad who's a beginner
For the dad who's just getting into golf, these FootJoy gloves are a reasonably priced gift that will help improve his game. Dan Schwabe, PGA Class A golf professional and golf instructor at Presidio Golf Course in San Francisco, recommends these for beginners specifically. He explains that golf newbies tend to "hold the club too much in their lead palm and too far to the end of the club, so it acts like a little knife high up in the heel of the hand." This glove helps prevent that by being "a little thicker overall, and there is a thicker pad in the palm," he says. Plus, synthetic gloves like these last longer.
For golf dads in pain
After a round of golf, a massager alleviates any muscle tension and soreness. The Hypervolt is "great for personal use to massage sore muscles," according to chiropractor David Perna of Back & Body Medical, who adds that it's "used a lot by therapists, masseuses, chiropractors, and athletes alike."
For stylish golf dads
A favorite of fashion-conscious golfers, these lightweight straight-leg pants might be a step up style-wise from what dad would pick on his own.
To complete the look, Mark Braziller, PGA director of instruction at Drive 495, recommends this golf polo from Greyson. "It's a perfect fit for all body types, and the colors and designs are second to none," he says. While it's a little on the pricier side, Braziller says Greyson has really "taken the golf apparel industry by storm" and is sure to be appreciated by golf dads in the know.
McMillan says these waterproof Pumas, with adjustable disc closure for a snug, socklike fit, "are the best shoes on the market bar none," and the most comfortable he's ever worn. They'll also score dad style points as they're a favorite of fashion-forward pro Rickie Fowler, who shocked the golf world when he once wore an untucked Hawaiian shirt in a tournament.
New this year, these shoes (one of Patti's picks) take inspiration from Nike's running shoes for comfort and responsiveness while adding golf-specific traction.