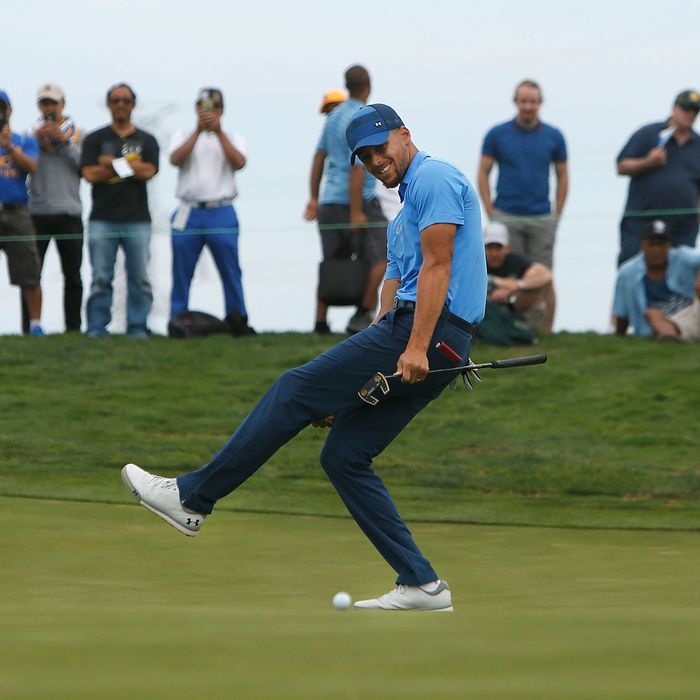 Photo: Lachlan Cunningham/Getty Images
Early on during the pandemic, people realized that golf has social distancing built right in. As long as you don't share a cart with someone from outside your pod, it's pretty easy to play a round without getting within six feet of each other, even on the green. As Dan Schwabe, PGA Class A golf professional and golf instructor at Presidio Golf Course, says, "You already have half the distance with a golf club in your hand."
Whether you're just starting out or have a handicap in the single digits, the right golf shoes provide comfort and stability and can be as important to your game as the right clubs, balls, or gloves. To find the best golf shoes for you, we spoke to Schwabe and eight other golf professionals from around the country. Here are their favorites for everyone from beginners to pros.
The best golf shoes for beginners
If you are playing golf for the first time and don't want to invest a lot in your shoes, Dawn Mercer, Director of Instruction at Innisbrook Golf Resort in Palm Harbor, Florida, says that "a lot of people really like Skechers because they are really comfortable and lightweight."
Mercer likes FootJoy's entire lineup, as does Rich McDonough, director of golf instruction at Marine Park Golf Course in Brooklyn, and Bill Neal, owner and general manager of Woodridge Golf Club in Mineral Wells, West Virginia. "FootJoy is without a doubt one of my No. 1 shoes. The company has such a massive variety of shoes, I don't think there is anybody who is playing golf who can't find a price point or shoe of comfort that works for them," McDonough says. The FootJoy Flex is versatile and comfortable, comes in multiple colors, and looks like an everyday tennis shoe.
Brian Golden, PGA director of golf at Sandy Burr Country Club in Wayland, Massachusetts, highly recommends the Adidas CodeChaos for both beginner and intermediate players and says even "tour players will play with these in dry conditions." Deven DeLuca, head golf professional at Presidio Golf Course in San Francisco, agrees, noting that CodeChaos is a popular option among his clients. As Golden says, "I'll play and work in these, and, after the round, I don't need to change my shoes. I can take them and wear them just like a normal shoe." He likes the Adidas brand because "the shoes are always on the lighter side, and the second you put them on, it feels like you've been wearing them for an entire year."
The best golf shoes for intermediate golfers
Once you've decided to spend more time and energy (and money) on golf, it's worth investing a bit more in your shoes. For $30 more than the Flex, Schwabe recommends upgrading to the XP, which are waterproof and come with a one-year warranty. "To me, waterproof is more important than breathable mesh," he says.
This women's shoe has foam cushioning on the sole for support as well as rubber traction inserts that give you added stability on the course. Mercer recommends them for hot-weather play, since the mesh material provides excellent breathability. They're not waterproof, however, so she warns that "they aren't going to be great when they get wet."