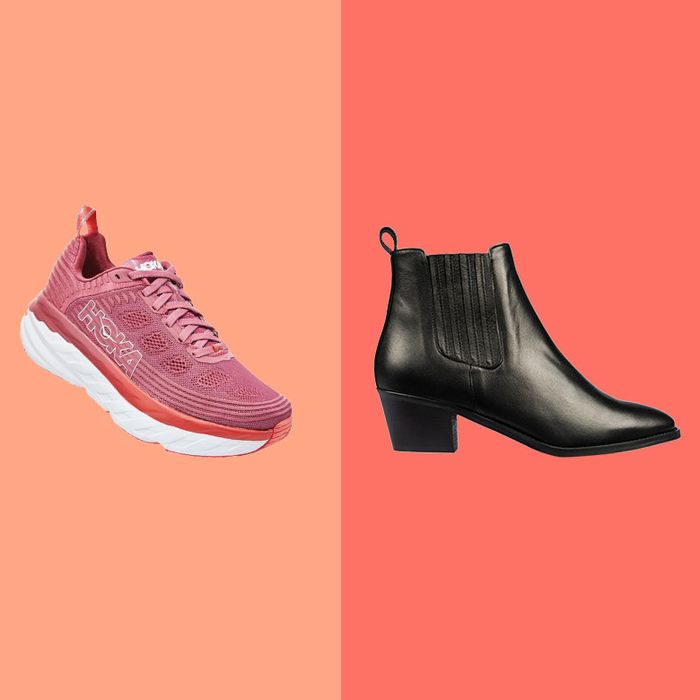 Photo: Courtesy Retailers
When celebrity reflexologist and foot reader Jane Sheehan "reads" a foot with a bunion — that is, interprets its features in order to make a prediction about a person's character — she takes it as a sign: "Bunions mean you are doing far too much for others and not enough for yourself," she says, adding that the degree of deformation reveals "the degree that you are out of balance in this area of your life."
Whether or not your life is out of balance, bunions are a pain. They're caused by genetic predispositions, foot deformities, and injuries, and occur when the big toe joint moves out of alignment, creating that characteristic bump. "The first metatarsal deviates outward and the big toe deviates inward, and you have this joint malpositioning — it's a positioning issue," says Ami Sheth, a podiatrist and member of the American Podiatric Medical Association. This can result in inflammation and discomfort while walking due to the change in the shape of the foot.
Despite popular misconception, bunions are not caused by high heels or improper footwear, but they certainly can worsen a preexisting bunion or make those genetically predisposed more susceptible. "Think of it like a framework in a car: the axle might be shifted a little bit," says podiatrist and fellow APMA member Grace Torres-Hodges. "Patients can have a front-end car-alignment problem, and it still functions to get you from point A to point B, but depending on how you take care of it, you'll have to get it fixed."
Each podiatrist agreed that proper footwear is key for managing pain and keeping joint alignment in check, especially for those who want to slow the progress of bunion formation. "[Treatment] has to do with the shoe," says APMA podiatrist Priya Parthasarathy. "Obviously, fashion is really important as well, but with fashion unfortunately comes a narrower toe box, and that can directly cause pain in the bunion."
All three podiatrists, as well as Sheehan, look for the same seven components in a bunion-friendly shoe: wide toe box, low heel, arch support, flexible uppers, cushioned inners, sturdy soles, and, if you have narrow feet, a narrow heel. "You want to keep the full range of motion of that joint — the biggest thing is, you don't want to overwork it," says Torres-Hodges. And be prepared to try on multiple styles, warns Parthasarathy. "Even if you feel a little discomfort in the bunion area when trying on the shoe," she says, "that means the shoe is not right for your foot type." Read on for a list of actually stylish, non-orthopedic-looking footwear that won't restrict, rub, or irritate your bunion — and that'll feel good right out of the box.
Open-toed
All three podiatrists recommend Birkenstocks for their sturdy footbed, arch support, and soft leather upper. "Birkenstocks are wonderful. My favorite style for bunions is the Gizeh," says Parthasarathy, who has them in three different colors. She likes the thong style, "because the two straps may irritate the bunion if you strap it too tight." She also notes that the soft, flexible suede option, as opposed to leather, is less likely to cause irritation.
For a shoe that's a little more secure, the ankle strap on this thong-style sandal from APMA-approved footwear brand Dansko anchors your foot, so you're not overworking to keep things in place. The soft suede uppers stretch with your foot, and one bunion-suffering reviewer says that her toe was "free of any pressure at all," and that "all the while [her] feet look downright awesome."
Torres-Hodges recommends a style with a low heel that "keeps your foot stabilized in both the front and the back, behind the heel, too," and often finds luck with Cole Haan shoes. This sandal, with a one-inch platform height and elasticized ankle strap to keep your foot secure, checks both of these boxes. Plus, the flexible leather straps are, according to Cole Haan, constructed to "embrace the contours of your body for the most exact fit possible" — including, even, the contour of a bunion.
Parthasarathy highly recommends shoes from APMA-certified brand Vionic for their "really supportive footbed." These soft leather sandals will easily mold to the shape of your bunion, and the podiatrist-designed footbed keeps your feet stable and your weight balanced, taking the pressure off of your big toe. For those who are afraid of commitment (or online shoe shopping in general), Vionic also has a 30-day wear test, meaning you can take their shoes for a month-long spin before taking the plunge.
Though heels are not recommended for daily wear, the podiatrists we spoke to agree that there's no real harm in wearing them for special occasions — as long as they're comfortable. Both Sheth and Grace Torres-Hodges recommend a short wedge heel, like these two-inch Cole Haan wedges, which are also available in a wide width to accommodate a protruding bunion in the toe box.
For something a little more elevated (literally) than the Gizeh, these Birkenstock platform wedges have a contoured footbed to ensure proper weight distribution, and deep heel cup to help with foot alignment. The breathable, flexible uppers will contour to your bunion, and while the width is marked as narrow, they run quite wide, reviewers assure.
Closed-toed