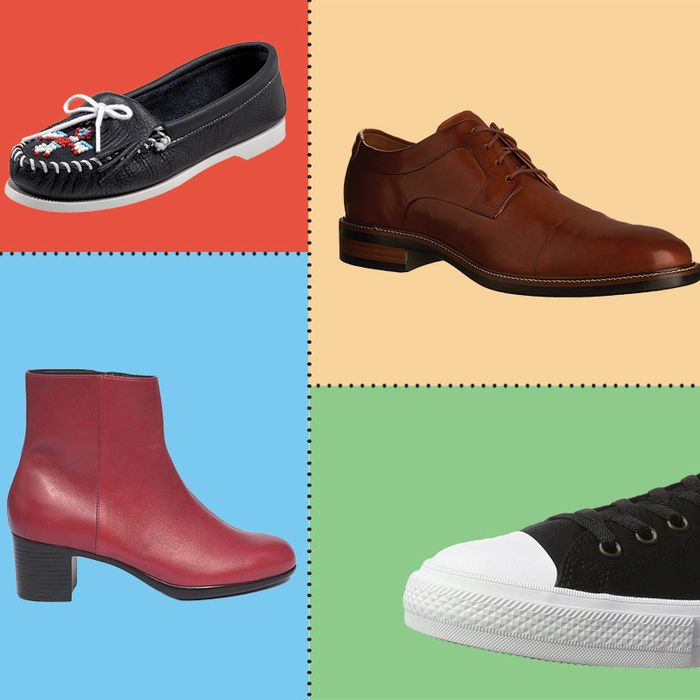 Photo: Courtesy of retailers
We are big fans of comfortable shoes (honestly, who isn't?), and we especially appreciate ones that aren't hideous. And while we've written before about the best shoes for traveling, for walking and standing, even for flat feet, we finally compiled all of the most comfortable shoes we've ever featured on the Strategist into a single handy guide, from a flexible leather, blister-proof moccasin to a pair of platform wedge sandals under $20.
Comfortable mules
Writer Molly Young tipped us off to Hopp's elegant Collared Mule, which she found while looking for "shoes that you don't want to take off at the end of the day." This pair of sandals was conceived by a former Opening Ceremony designer but have all the comforts of an orthopedic shoe. "Not too firm and not too soft," Young writes. "Goldilocks would love them."
Comfortable clogs
"Is there anything sexier than the phrase 'medical clogs'?" writer Stephanie Danler asks. "Those are Danskos at their heart." Originally designed for nurses and adopted by the food-service industry, Danskos offer extreme comfort and support. But they still go with every outfit. As Stephanie explains, "I wear them with sundresses, jean shorts, and with thick woolen socks and cuffed jeans in the winter. I like the height they give me, and I like the weight of them, the way they hit the floor with emphasis." Plus, at least four Strategist editors own them, too.
Comfortable boots
Molly also recommends the zip-up ankle boots from Hopp, and according to her, they're so comfortable that you don't need to "break them in." Plus, the soles don't wear down, though she admits, "The shoes are not cheap, but they last forever and always look box-fresh. If you divide the cost by the number of days you will end up wearing them, the outlay becomes downright prudent."
These suede shoes from Vionic were named in our roundup of the best orthopedic shoes for women (that aren't hideous) as the best heeled orthopedic boots, as recommended by podiatrists and a purveyor of orthopedic shoes. The Serena boots have a stacked heel that provides height and helps with alignment, as well as a removable, microfiber-lined, cushioned footbed that ensures you can walk in them all day long.
Comfortable sandals