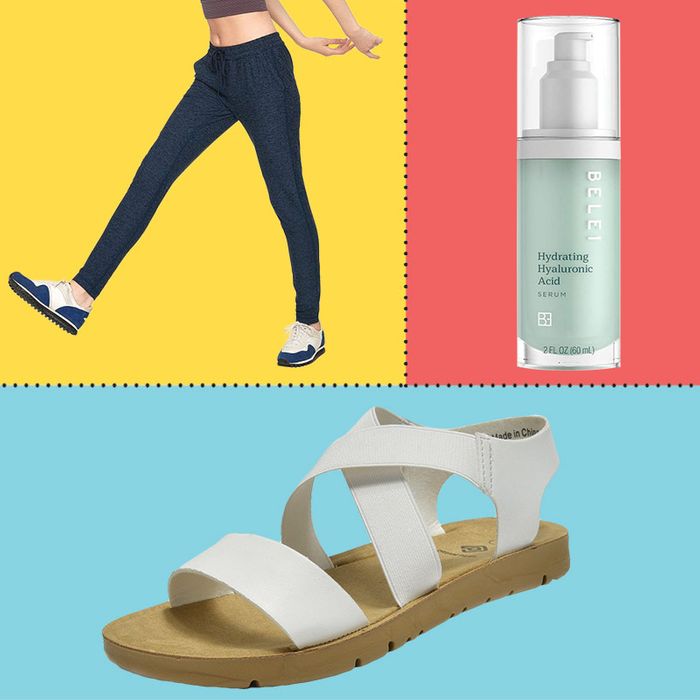 Photo: Courtesy of the retailers
Welcome back to Your Shopping Cart, wherein we break out the top-ten products that you, devoted Strategist readers, all bought in droves. Think of this as the tl;dr of the Strategist: If your like-minded brethren are buying these items, maybe you'd like to, too.
There are lots of new products on this week's list, including the No. 1 best seller, a pair of surprisingly cheap, comfortable sandals. Two new skin-care picks from Strategist beauty writer Rio Viera-Newton debut in the top five — a moisturizing serum in second and a K-beauty sunscreen in fifth. Placing second on our last list, this rose-gold lighting charging cable drops a hair to third, and a writer's beloved bathtub drain cover appears for the first time in fourth. Next up are two returning favorites, a fancy lube in sixth and a natural deodorant (that actually works) in seventh, and a bathroom-cleaning drill brush returns to the list for the first time in months in eighth. Closing out the top ten, we've got a pair of flattering sweatpants and some kooky (but not too kooky) metallic Birkenstocks.
These very affordable sandals (that have been mistaken for Margiela or Demeulemeester) are this week's runaway hit. Only days after writer Fiorella Valdesolo shared her incredible Amazon find, they quickly became the top-selling item among our readers, with several colors and sizes quickly going out of stock. Valdesolo calls them "the ideal New York summer shoe," because they're "deeply comfortable [and] able to securely carry me on the spontaneous flights of fancy that tend to happen more in the summer and so often require solid walking support."
Another newcomer making a strong debut, this moisturizing serum comes from Amazon's new skin-care line and, according to Rio, is even better than a much pricier version from Drunk Elephant. Rio says, "as soon as I applied this serum, my skin looked and felt plumper and more moisturized instantly … I've never seen a hyaluronic acid serum show its powers quite as fast as this lovely, two-ounce, $35 serum does."
For under $10, this USB lightning cable (an Amazon favorite) is worth keeping in your bag for emergency charging situations. One reviewer raves, "I've ordered endless cables and they all work great for a week and then die. I decided to try this one since it had the lifetime warranty, and I'm so glad I did. It's excellent and pretty much just like the Apple USB. It charges my phone in the car super fast and even faster via wall charger." And since it's rose gold, you'll always know which one's yours in a sea of white cords.
If, like writer Alison Freer, you love taking baths but are stuck with a tub that won't g