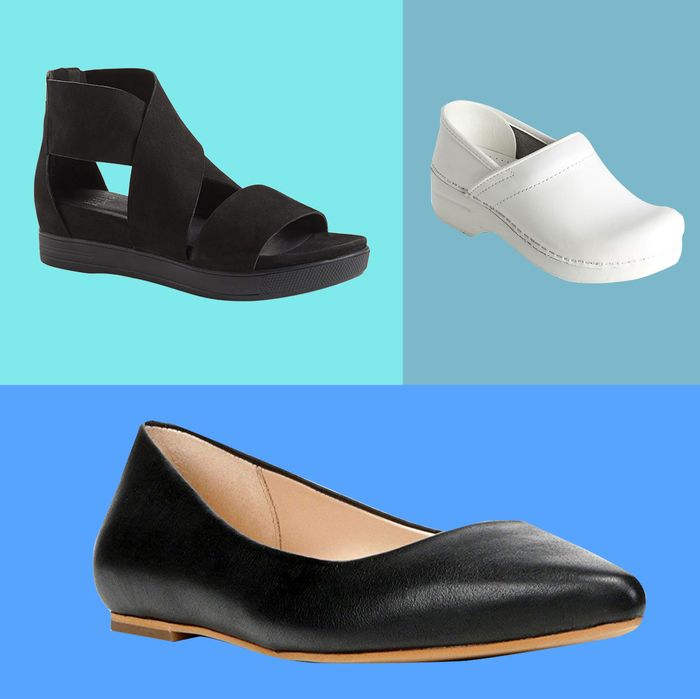 Photo: Courtesy of the retailers
In our opinion, there is no such thing as too much comfy-shoes content. Sneakers, of course, can be a boon for both comfortable and nice-looking footwear, but things can get a little trickier from there, as there's a fine line between fugly and just plain ugly. So to find the best comfy and not-offensive-looking shoes out there, we asked 14 cool women who spend most of their days on their feet — including servers, chefs, nurses, flight attendants, hair stylists, and the like — about the shoes they wear. We admit that some of their picks aren't the most stylish or trendy, but remember that the now fugly cool Dansko clog was around for a lot longer than it's been the official shoe of hipster ceramists. So who really knows what's next? All we know is that if you're dreaming of a future with blister-free feet and a pain-free back, you will find footwear — including heels, flats, clogs, boots, sneakers, and more — to help you achieve that on the list below.
Best comfortable heels
"I find the pickings to be kind of slim when looking for something supportive that still looks young and cool," says server Tess Parker. Dansko's Ankle-Strap Clogs, which Parker calls "a solid-gold tip" for anyone with knee or back problems, are the first pair of shoes she has found that fulfilled her requirements of being both supportive and young/cool-looking. The clogs have a "slight but forgiving platform" that helps make them so comfortable, according to Parker, who adds that "our jobs tend to destroy shoes, but these are really long-lasting."
According to flight attendant Crystal Roseberry, women in her field "typically wear two pairs of shoes at work." There are terminal shoes, which tend to be sexy heels worn from the time flight attendants arrive at the airport until they're in the air, and then in-flight shoes, which tend to be frumpy but comfy, she explains. But Roseberry says these Mary Janes from Clarks — which she has bought multiple pairs of — are "the best of both worlds; comfortable enough to wear all day long, and still fairly cute." They're her "hands-down favorite," she adds.
Best comfortable flats
Nurse Sorah Edeltuch told us she spends most of her days in sneakers. But she can't wear them all the time, and when she doesn't, Edeltuch puts on these Easy Spirit flats that she says are just as comfortable. "Easy Spirit mostly make grandma shoes, but this pair is the one pair that doesn't look like it's for grandmas," she says. "They feel like you're walking on supportive pillows. I get so many compliments when I wear them to work."
"I've been through so many flats," says flight attendant Heather Kovarik. And after testing out many styles that didn't do the job, she finally landed on two trusty pairs from Dr. Scholl's and Fila. Of both she says, "Their soles have traction, so you're less likely to slip, and they have a fair amount of cushion on the inside." Kovarik admits that nothing is entirely comfortable after an 18-hour day but says that "these two shoes help the most" of any she's tried.
Roseberry's favorite comfy flats are this pair from Clarks, which she says are "well made and cute, provide good support, and last forever." She wears them during long shifts in the air and says they keep her feet "feeling good all day."
Best comfortable clogs
Merica Lee, denim designer and maître d' at Frenchette, spends a lot of her time running back and forth between her factory in Brooklyn, the Garment District in Manhattan, and the restaurant in Tribeca. That's why she looks for shoes that allow her to "easily bop around between boroughs but are cute enough to wear to work." She calls Dankso clogs "a standard for restaurant folks," as well as "one of the most comfortable pair of shoes you can own." Lee opts for an all-white pair, which she says feels more stylish and unexpected than the classic black. "From running around the city all morning to standing for eight hours straight behind the host stand, I have absolutely no problems wearing them all day." Flannery Klette-Kolton and Lauren Gerrie, who spend a lot of their time standing in commercial kitchens as the co-founders of catering company Big Little Get Together, also love Dansko clogs. And author Stephanie Danler told us she's been wearing her "clunky but kitschy" Dansko clogs since since she got her first restaurant job at 15 years old.
Il Buco Alimentari's chef de cuisine Jamie Hogg's "go-to shoe" is a simple pair of Birkenstock Birki shoes. "They're nonslip, low-key, last at least two years, and have a changeable inner sole," so when you wear them down, you can swap in a new comfy sole instead of rebuying a second pair.
They aren't the most stylish pair on this list, but for an even more affordable — and just as comfortable — clog, Crocs will do the trick. By Chloe founder Chloe Coscarelli wears them while cooking in both commercial kitchens and at home in her apartment because "they're really comfortable and have the right amount of elevation to promote good posture."
Best comfortable boots
For winters in New York City, Gerrie swears by Dr. Martens Chelsea Boots as a comfortable but effective way to navigate icy streets. Lee — who wears a platform pair — agrees, adding, "I can stomp around the factory floor in them by day, but the style means they're cute enough to wear to Frenchette at night." Since Dr. Martens were originally designed as workwear, they're "really supportive and last forever," Lee explains. And the air-cushioned sole is so supportive, "you'll never want to take them off," she promises.
For her comfortable footwear, chef Adina Halpern relies on Blundstone boots because they're "very resilient" and "can transition from the kitchen to my regular life." They're waterproof, slip-resistant, and offer more ankle support than clogs or slides, which is a must in a busy commercial kitchen. Halpern even put their slip resistance to the test when she walked "around a butcher shop where the floor was completely covered in beef fat, and never slipped." Plus, these have sheepskin lining that provides extra comfort and coziness during long stints of standing.
"Not only are they super-durable, but the soft leather makes them very comfortable when I'm on my feet for hours," Helene Henderson, the founder of the Malibu Farm restaurants (which just opened a location in the South Street Seaport), says of her favorite Frye Veronica Combat Boots. Beyond feeling good, these are also super-versatile and would be easy to pair with work or weekend outfits.
"Sometimes, I work 14 hours on my feet, so I need to be comfortable, but I also want to look nice and cool all at the same time," says Chelsey Pickthorn, master stylist and founder of Pickthorn Salon. Her preferred way to keep her feet comfy but looking nice when the weather cools is by pulling on these Red Wing boots. "They are the most sturdy and soft and comfortable work boot." Pickthron loves them so much she told us she has her eye on a second pair in brown.
Best comfortable sneakers
Both Gerrie and bartender-slash-seamstress Pam Wiznitzer say that Converse's Chuck Taylor All Star sneakers (which are also a favorite among Strategist staffers) are as comfortable as they are classic. "With additional cushioning inside, elastic by the tongue, laces (to keep the fit snug), and better gripping on the floor, these have become my new work shoe, and also ones that I can walk all around New York City streets in," explains Wiznitzer, who prefers low tops. Gerrie — who gravitates toward high tops in either canvas and leather — agrees, calling her Converse her "most tried and true shoe."
According to Yuki Izumi, Hi-Collar café's manager and signature barista, Nike makes the most comfortable sneakers to wear while slinging drinks behind the counter, owing to their supportive arches and snug fit. Although they are athletic sneakers, her favorite Roshe One's look a little less so than other gym sneakers.
When she's not wearing clogs or boots, Lee relies on her "sleek and modern-looking" Nike Air Max 270s, which she says feel like walking around on "sponges." She tells us that they look good with everything from jeans and jumpsuits to dresses and trousers, "but most important, they feel good."