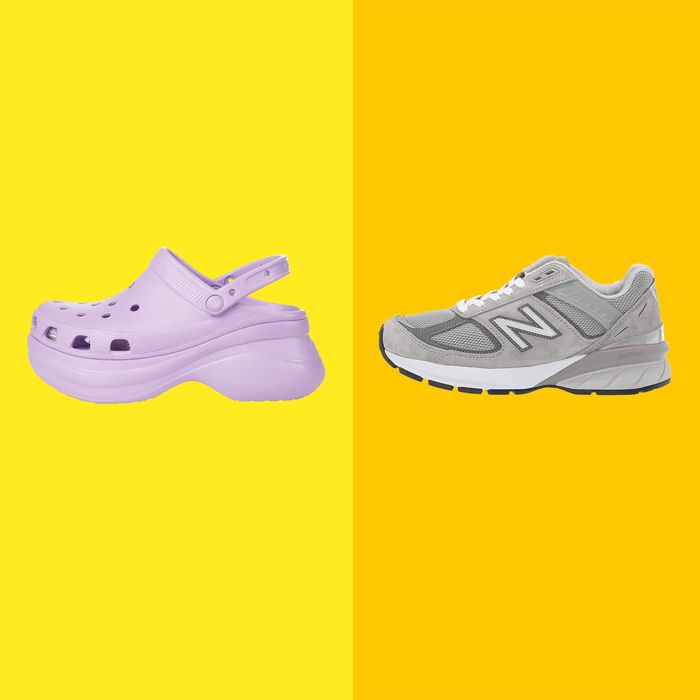 Photo-Illustration: Courtesy of the retailers
In our opinion, there is no such thing as too much comfy-shoes content. Sneakers, of course, can be a boon for both comfortable and nice-looking footwear, but things can get a little trickier from there, as there's a fine line between fugly and just plain ugly. So to find the best comfy and not-offensive-looking shoes out there, we asked 18 cool women who spend most of their days on their feet — including servers, chefs, nurses, flight attendants, hairstylists, protesters, photographers, and the like — about the shoes they wear. We admit that some of their picks aren't the most stylish or trendy, but remember that the now-fugly-cool Dansko clog was around for a lot longer than it's been the official shoe of hipster ceramists. So who really knows what's next? All we know is that if you're dreaming of a future with blister-free feet and a pain-free back, you will find footwear — including heels, flats, clogs, boots, sneakers, and more — to help you achieve that on the list below.
"I'm telling you, anything, literally anything from Clarks that I've put on my feet, I'm like, 'Oh yeah.' I'm willing to pay more for them because I know that they'll be comfortable," says Cassadi Currier, a hairstylist at Pembly Joon. (She's not alone: They're an overwhelming favorite among our experts, with three people recommending the brand.) And according to Currier, these heels — not wedges — are her go-tos, because they keep her feet comfortable for about four to six hours. Currier also likes Clarks because they come in a variety of styles, like these, which are "relatively cute," not "kind-of-grandma heels" or wedges. The Kaylins are a particular favorite, because they "look like booties but they have a sandal for your toes to show through," she explains.
According to flight attendant Crystal Roseberry, women in her field "typically wear two pairs of shoes at work." There are terminal shoes, which tend to be sexy heels worn from the time flight attendants arrive at the airport until they're in the air, and then in-flight shoes, which tend to be frumpy but comfy, she explains. But Roseberry says these Mary Janes from Clarks — of which she has bought multiple pairs — are "the best of both worlds; comfortable enough to wear all day long, and still fairly cute." They're her "hands-down favorite," she adds. Sandra Hinton, who has been working as a flight attendant for 42 years, agrees that these shoes are extremely comfortable, thanks to the "rounded toe, cushion, and some support in your instep," as well as "a little bit of platform, and a low heel."
"I find the pickings to be kind of slim when looking for something supportive that still looks young and cool," says server Tess Parker. Dansko's Ankle-Strap Clogs, which Parker calls "a solid-gold tip" for anyone with knee or back problems, are the first pair of shoes she has found that fulfilled her requirements of being both supportive and young- and cool-looking. The clogs have a "slight but forgiving platform" that helps make them so comfortable, according to Parker, who adds that "our jobs tend to destroy shoes, but these are really long-lasting."
Nurse Sorah Edeltuch told us she spends most of her days in sneakers. But for something a little more polished, Edeltuch puts on the Easy Spirit Getcity flats that she says are just as comfortable. "Easy Spirit mostly makes grandma shoes, but this is the one pair that doesn't look like it's for grandmas," she says. "They feel like you're walking on supportive pillows. I get so many compliments when I wear them to work." Easy Spirit no longer sells the Getcity flats, but they're built on the same base as these Gessica Ballet Flats, which are available for $70.