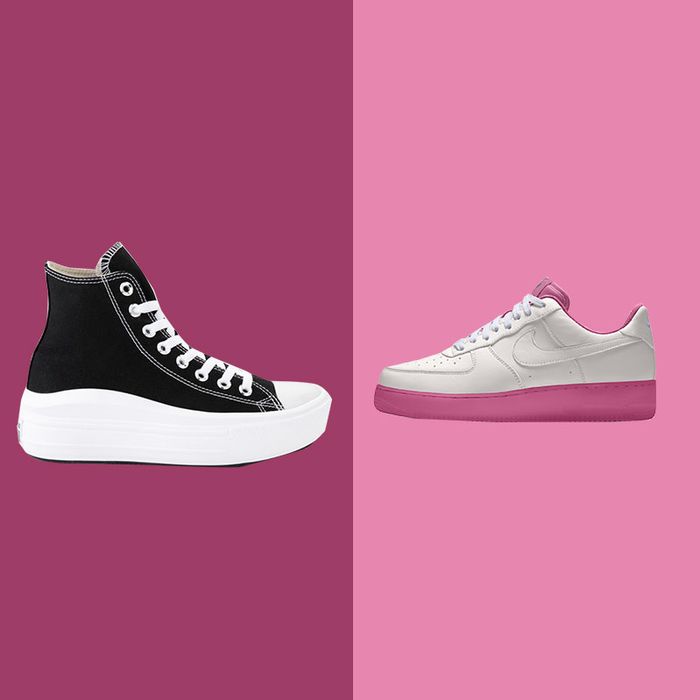 Photo-Illustration: retailers
Last year, when we polled 100 teens on their go-to sneaker, Air Force 1s were the undeniable favorite, garnering more mentions than any other shoe (and winning one heated debate among two particularly sneaker-obsessed Gen Z models). But a lot has happened since we last surveyed the sneaker scene. School's now online, and homeroom is quite literally at home. More than ever before, we're collectively prioritizing comfort over what's "cool." At the same time, we're running errands on foot (to avoid public transit), going on strolls with friends (to socialize at a distance), walking just to walk — meaning shoes need to be functional, not just fashionable. With that in mind, we asked 20 young people what sneakers they're wearing now and buying next.
Although AF1s narrowly edged out Converse last year, the classic canvas high top is back on top — but with an update. The brand's newest riff on the classic involves a thick 2.25-inch wedge platform. Sixteen-year-old Ava Paley, who believes Converse is having a "big comeback," says she "loves" the chunky All Star Move. "They are $75, which is a reasonable price for a fun sneaker!"
The AF1 has also gotten a zhuzh. Says 22-year-old Justina Sharp, it's all about the custom AF1, which have "become commodified in a way that custom Vans and Converse really haven't." She likes them because they're more accessible than other sneakers beloved by "adults," like Golden Goose, and adds that the custom AF1 redesigns, especially ones featuring luxury logos, "feed into a very specific part of the TikTok cool-grunge-luxe aesthetic." Coincidentally, 18-year-old TikTok star Loren Gray recently told us she "wasn't a big Air Force 1 person until I started buying custom ones."
Beyond custom AF1s, Sharp is also into Puma, suggesting that the classic athletic brand is overdue for a resurgence. "I would say that Puma is fast on Nike's ass with the Cali sneaker," she says. It doesn't hurt that celebrities like Cara Delevingne and Selena Gomez (who happens to be a Puma ambassador) have been spotted in the Cali.
Another all-white pick is the underrated Adidas Falcon. Lucy Norris, 23, explains that she thinks it's "a big contender to be the next big sneaker" because "they're the perfect hybrid of a delicate shoe and the chunky trainer. Plus, she likes that they're "uber comfy," and come in tons of colors.
For an even chunkier trainer, Buffalo London's sneaker — with a near 2.5-inch platform — is not for the faint of heart. "The Classics Low Leather sneaker first caught my eye when I saw dozens of e-girls sporting it in TikTok and Instagram, and I cannot get over it!" says 20-year-old Wen Hsiao. "The exaggerated height juxtaposed with the 'dad shoe' silhouette makes something that sounds horrific but looks delightful. The shoe itself is very light and despite its staggering height, it's very stable." (If these sneakers look familiar, perhaps that's because Buffalo was behind the Spice Girls' platforms in the early-aughts.)
Fifteen-year-old Cole Thompson is also a fan of the chunky platform, a trend he predicts will continue to grow. "I think heavier shoes in general will have a surge in popularity just like the AF1s," he says. Though he admits they're on the "bougie side," Thompson can't get enough of the Off-Court 3.0 trainers from Virgil Abloh's streetwear label Off-White. "I love the look and thickness of the shoe and they surprisingly pair well with many different things!" he says.
Or, for a dad shoe without the four-inch platform, New Balance is a more subtle (and budget-friendly) option. Eighteen-year-old Lexie Platt says she loves the 624 New Balance sneaker, and after she got a pair for Christmas last year, she's seen more and more people wearing them. "Within the next year, this will be the new AF1," she proclaims.
Old Standbys That Are Still Popular
Converse high-tops have been a favorite of teens since the '70s, and that's not changing anytime soon. "I'm really into my high-top Converse at the moment," says 22-year-old Bella Zoppi, who thinks "a lot of people will be venturing into oldies but goodies" this season. Nineteen-year-old Natalie Grace is also into Chucks, though she prefers hers with a little lift. "My platform white Converse are my go-to sneakers," she says. Unlike the trendier aforementioned Converse Move, the Platform Chuck is the same high top you know and love, but with a double-stacked rubber sole. "They're casual yet classy and give me some height. They look great with everything: pants, shorts, dresses."
Like AF1s, Club C Reeboks are subtly chunky and a little retro. "Maybe I'm biased because I'm so in love with them, but I feel like it's such an essential in everyone's closet," says 24-year-old Jasmine Farinas of her Club C 85 Vintage Reeboks. "[They're] super comfortable, lightweight, and just go with everything. I wear them with all my outfits and they just make it so much cuter." She notes that while the all-white sneaker trend has been around awhile, this shoe is not as omnipresent as many others — yet. Anjali Bakhru, 16, has started seeing them everywhere and says, "I have a feeling about those '80s Club C Reeboks becoming a trend."
Veja is a significantly sleeker — and Strat-approved — sneaker that's as appealing to teens as it is to New York staffers. 19-year-old Drew Ellis likes them because they "have a classic and clean look to them," she says, adding that "Veja's can be dressed up or down, and that's what makes a successful sneaker." Coco Zangi, 18, agrees, saying a "sneaker has to be versatile, comfortable and stylish," and Veja's satisfy those needs, she says. Chloe Dalton, 17, says she sees "all the girls in my area wearing them, as well as celebrities on social media," plus, she likes that "they're a very environmentally-friendly brand." Lucy mentioned the Esplars, in particular, because they "resemble the style of the Adidas Stan Smith but with a more refined, classic edge."