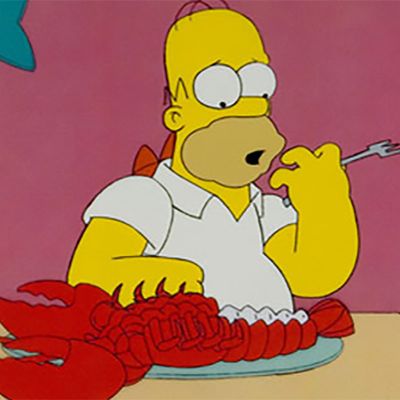 Summer is officially in full swing, which means beach days, cookouts, and, for many, the perfect time to serve a lobster feast. If you're planning to splurge on lobster this season, you may want to invest in some tools to (literally) get the most out of your meal. And by invest, we mean minimally, because many of the best things for eating lobster are inexpensive — and, according to almost all of the restaurateurs, chefs, and seafood store owners we spoke to, the absolute best tool is one you already have: your hands.
"The number-one tool I use for lobster is my hands, for picking it and eating it," says Rebecca Charles, the owner of Pearl Oyster Bar in the West Village and in Kennebunk, Maine. Bianca Piccillo, co-founder of Mermaid's Garden Sustainable Seafood in Prospect Heights, agrees: "Everyone will say this, because we're all giant dorks." But if you're wondering how to eat lobster without using your fingers to pull all that green gunk out of a shell, below are our experts' picks for the other best things to use.
Best overall tool for eating lobster
Several of the experts we spoke to named a chef's knife as the best tool for cutting into and eating lobster. Charles says that, instead of using handheld lobster crackers, she'll "take the back of a chef's knife and crack the claws. Then you can just pull the meat out." Her knife of choice is the Wüsthof Chef's Knife (which we previously named the second-best chef's knife you can buy, and has also been recommended to us by Alison Roman, author of Dining In).
Citarella owner Joe Gurrera, the author of Joe Knows Fish: Taking the Intimidation Out of Cooking Seafood, also recommends a chef's knife, saying, "Splitting with a knife is key." Using a knife is preferable to a lobster cracker, he says, because when you use a cracker, "you could shatter the shell and get little pieces in the meat that you'll have to spit out." With a knife, you split "the whole thing into two entirely separate pieces." Dorian Mecir, owner of Dorian's Seafood Market on the Upper East Side, told us that her in-store chef Pedro Castelan's "foolproof" way to open lobster claws is to "give each claw a few good cracks with the sharp side" of a chef's knife "using great care. This usually results in easy access to claw meat."
Best other knives for eating lobster
Ben Conniff, co-founder of Luke's Lobster, says that the seafood pros at the eatery's company in Saco, Maine, have developed an art form of extracting meat from shell using this tool. "Their preferred tool for cracking into the shell is a nakiri knife, like Wüsthof's hollow-edge nakiri knife. Bringing down this blade with a snap of the wrist at the fattest part of the claw makes it easy to crack the claw in half and gently shake out the meat, and not damage it in the process," he explains. "The fewer and gentler the touches on the meat, the better it will taste."
"For picking the smaller knuckles, you want to either gently push or scoop the meat out of the end of the knuckle, not jab and yank at it with fork tines," Conliff says. "Our lobster pickers actually use a homemade tool for this; the closest replica you can buy in a store is probably a bent-tipped oyster knife like Victorinox's Oyster Knife."
Best shears for eating lobster
Mecir says her market's chef, Castelan, also uses these shears to crack apart lobsters, in addition to a chef's knife (Castelan's preferred chef's knife is the Cutco French Chef Knife). The shears are "superb utensils for every kitchen, professional or personal," adds Mecir.
"Honestly, these are just amazing for so many applications," Piccillo says of her preferred scissors. "They're especially good for opening the knuckles of lobsters, which can be tricky to get into with a cracker or other larger tools."
Best seafood crackers for eating lobster
Piccillo also recommends using a seafood cracker, and her favorite is this plastic one from Zyliss, which she loves for its durability and ease of use. "These are the sturdiest crackers around, and unlike metal crackers, they are easy and comfortable to hold, even when your hands are slick or sticky," she says. Plus, this one's dishwasher safe, making for hassle-free post-lobster cleanup.
Mecir also recommends using crackers, and likes Williams Sonoma's stainless-steel model because it is also "easy for guests to handle" and "will allow you to get every ounce of meat from your lobster."
Chef Anthony Rodriguez of North River Lobster Company likes Williams Sonoma, too — it's his "favorite brand to use at home"— but prefers this style of cracker due to its handles, which feature grips. "The grips on them are super-comfortable to work with, and don't slip out of your hands as you start getting to work on your lobster," he says.
Best forks and picks for eating lobster
Many of the experts we spoke to suggest using cocktail forks for getting into the nooks and crannies of lobster shells and removing the meat. Edward McFarland, the owner of Ed's Lobster Bar in Soho, says to find the "cheapest available" cocktail forks. "You don't need anything special," he explains, "you just need ones that are small and thin on the end, so the cheap ones are generally the best." This 20-piece set — which almost 90 percent of Amazon reviewers gave five stars — seems like a good place to start.
To use the cocktail fork, McFarland says, "You would put the back of it in between your thumb and your pointer finger, and go into the first part of the [lobster] knuckle, scrape the piece of knuckle meat out, then break [the piece] at the joint." Next, "you would go in and pull the rest of the knuckle meat out with the back of the cocktail fork — not the forkside, the back of it."
Photo: Retailer
For something a little nicer, you could try Reed & Barton's hammered stainless-steel cocktail forks, which Mecir calls dining-room "staples" when she's serving lobster to guests. These forks are "elegant, sturdy, and reasonably priced," she says.
If you're looking for flatware specifically designed for lobster eating, consider a lobster pick, which is like a cocktail fork, but a bit longer and narrower. Freeman Wong, manager of Aqua Best Fresh Seafood Market on the Lower East Side, says that his spot uses picks from Morty the Knife Man to get the meat out of lobsters. "It's got a forked end and bent end to get those hard to get morsels!"
Best napkins for eating lobster
McFarland suggests having some linen napkins on hand to both protect your hands from getting burned when digging into just-cooked lobster, and to soak up any runaway juices as you indulge. The napkins come in especially handy when it comes time to devour a sometimes spiny lobster tail. For this, he says to put a napkin around the tail "so you don't hurt your hands, and twist it off of the body, in between the napkin." This 12-pack of linen napkins is nice-looking and inexpensive enough that you won't feel bad if you or your guests really make a mess. And if you're on an even tighter budget, McFarland says some sturdy paper towels will work, too.
Best multi-tool kit for eating lobster
For a smaller, more-casual lobster dinner, Mecir "loves [Sanders Lobster Co.'s] the Maine Lobster Kit." It comes in a beachy wooden box manufactured in Maine, and includes four picks, four crackers, four stainless-steel butter dishes, and eight wet naps.
The Strategist is designed to surface the most useful, expert recommendations for things to buy across the vast e-commerce landscape. Some of our latest conquests include the best acne treatments, rolling luggage, pillows for side sleepers, natural anxiety remedies, and bath towels. We update links when possible, but note that deals can expire and all prices are subject to change.