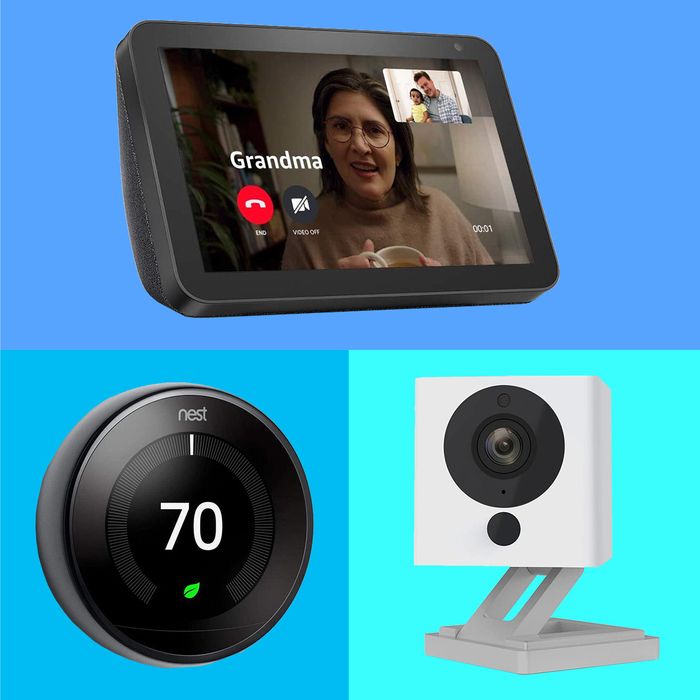 You don't have to be a tech wizard to turn your house into a smart home. And you certainly don't have to be a tech wizard to benefit from it. Indoor cameras give you added security — and let you check in when you're away. Smart plugs let you quickly turn on anything from a lamp to a TV without finding the remote or getting up from your seat, and a smart thermostat can learn when you go to bed and automatically lower the temperature to make you more comfortable. And while some of these amenities can be complicated to install, there are quite a few things — the things in this list — that take no prior knowledge to set up. In fact, most of them simply require you to plug them into a power outlet. Voilà, your house is like 10 percent smarter. The other piece of good news is that, over the last few years, smart home tech has gotten a more affordable. The following products are a mix of things that I have tested, that have been recommended to me by experts, and that we have written about previously. They'll all make your home smarter — and you just a little more cozy and relaxed.
Smart speakers
The smart speaker is the brain of your entire smart-home operation. It plays music and gives you news and weather updates, but, most important, you can use it to control your other smart-home appliances. All you have to do is be within earshot of your speaker and say, "Alexa (or 'Hey, Google,' if you prefer the Google ecosystem), turn on the lights."
The sound quality is not quite as good, but a Dot or Mini gives you the same functionality as the Echo or Home in a more discreet package. You can easily tuck them into a corner so that your smart speaker is less of a focal point in the room.
If you prefer a speaker with a little more oomph, Jade Baker, partner and assistant buyer at the British department store John Lewis, likes the Sonos One, which has Alexa and Google Assistant built in. He calls the One "the classic starter speaker for your multiroom collection" and says, "With the ability to link up to all other Sonos speakers in the range, you can kit out your whole house with room-filling sound."
The HomePod Mini works best if you're already hooked up to the Apple ecosystem. If you can ignore Siri's shortcomings (like supporting only Apple Music) and you already own a MacBook, an Apple Watch, or an iPhone, the HomePod Mini's setup will feel seamless. As with the Amazon and Google offerings, you can control all of your home's smart devices from your speaker. Add items to a grocery list, play songs on Apple Music, and send out an intercom message if you have a HomePod Mini in another room.
This Alexa-enabled smart speaker should appeal to anyone with an appreciation for retro tech. It has a volume, bass, and treble knob for easy analog adjustments, or you can use the Marshall app and adjust the settings on your phone.
Smart displays
This device has all the features of the Echo but with a screen, which allows you to do things like cook along with recipes, watch TV and movie trailers, and take video calls. If you're worried about Bezos constantly listening in, there's a button to turn off the camera and mic whenever you want.
If your prefer a larger touchscreen, you may want the 10-inch Facebook Portal. You can rotate the view between portrait and landscape mode, and it has four microphones, allowing people to pick up your voice a lot easier during calls.
The Hub has similar features to the Show but is going to be much more familiar and easy to use if you're accustomed to Google's ecosystem.
Smart plug
"If something plugs into the wall, you can make it smart," says Strategist contributor Kyle Schurman. "The plug itself connects to your Wi-Fi, allowing you to determine when and for how long power reaches anything that's plugged in." So if you need to switch on a lamp while you're on vacation to fool people that you're home (or just turn on the light without getting off the couch when the room gets too dark), just plug it into one of these. Instantly smart.
Smart thermostats
Smart Thermostats get better with every iteration. They can now learn your habits and adjust your cooling and heating options depending on the time of day you wake up and when you go to sleep. "This 3rd Generation Learning Thermostat has an easy-to-read, well-organized screen, with a control system that's familiar to anyone who's ever used a traditional round thermostat: Just spin the outside ring," Schurman says.
Schurman also likes this Ecobee Thermostat, which comes with a remote sensor. (You have to buy them separately with the Nest.) Why do you want a remote thermostat? If, for instance, your bedroom is always too hot but your thermostat is in the living room, put the sensor in your bedroom and the AC won't cut off until the bedroom is cool too.
Smart lock