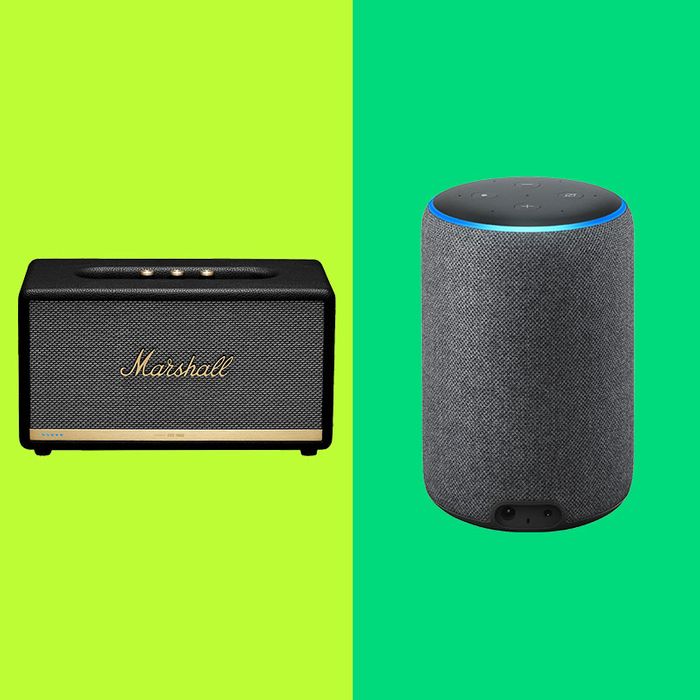 Photo-Illustration: retailers
You don't have to be a tech wizard to turn your house into a smart home. And you certainly don't have to be a tech wizard to benefit from it. Indoor cameras give you added security — and let you check in when you're away. Smart plugs let you quickly turn on anything from a lamp to a TV without finding the remote or getting up from your seat, and a smart thermostat can learn when you go to bed and automatically lower the temperature to make you more comfortable. And while some of these amenities can be complicated to install, there are quite a few things — the things in this list — that take no prior knowledge to install. In fact, for most of the products below, they simply require you to plug them into a power outlet. Voilà, your house is like 10 percent smarter. The other piece of good news is that, over the last few years, smart home tech has gotten a more affordable. The following 17 products are a mix of things that I have tested, that have been recommended to me by experts, and that we have written about previously. They'll all make your home smarter — and you just a little more comfortable and relaxed.
Smart speakers
The smart speaker is the brain of your entire smart-home operation. It plays music and gives you news and weather updates, but most important, you can use it to control your other smart-home appliances. All you have to do is be within earshot of your speaker and say, "Alexa (or 'Hey Google,' if you buy into the Google ecosystem), turn on the lights."
The sound quality is not quite as good, but a Dot or Mini gives you the same functionality as the speakers above in a more discreet package. You can easily tuck them into a corner so that your smart speaker is less of a focal point in the room.
If you prefer a speaker with a little more oomph, Jade Baker, partner and assistant buyer at the British department store John Lewis, likes the Sonos One, which has Alexa and Google Assistant built in. He calls the One "the classic starter speaker for your multiroom collection" and says, "With the ability to link up to all other Sonos speakers in the range, you can kit out your whole house with room-filling sound."
This Alexa-enabled smart speaker should appeal to anyone with an appreciation for retro tech. It has a volume, bass, and treble knob for easy analog adjustments, or you can use the Marshall app and adjust the settings on your phone.
Smart displays
This device has all the features of Echo but with a screen, which allows you to do things like cook along with recipes, watch TV and movie trailers, and take video calls. If you're worried about Bezos constantly listening in, there's a button to turn off the camera and mic whenever you want.
If your prefer a larger touchscreen, you may want the 10-inch Facebook Portal. You can rotate the view between portrait and landscape mode, and it has four microphones, allowing people to pick up your voice a lot easier during calls.
The Hub has similar features to the Show but is going to be much more familiar and easy to use if you're accustomed to Google's ecosystem.
Smart plug
"If something plugs into the wall, you can make it smart," says Strategist contributor Kyle Schurman. "The plug itself connects to your Wi-Fi, allowing you to determine when and for how long power reaches anything that's plugged in." So if you need to switch on a lamp while you're on vacation to fool people that you're home (or just turn on the light without getting off the couch when the room gets too dark), just plug it into one of these. Instantly smart.
Smart thermostats
Smart Thermostats get better with every iteration. They can now learn your habits and adjust your cooling and heating options depending on the time of day you wake up and when you go to sleep. "This 3rd Generation Learning Thermostat has an easy-to-read, well-organized screen, with a control system that's familiar to anyone who's ever used a traditional round thermostat: Just spin the outside ring," Schurman says.
Schurman also likes this Ecobee Thermostat, which comes with a remote sensor. (You have to buy them separately with the Nest.) Why do you want a remote thermostat? If, for instance, your bedroom is always too hot but your thermostat is in the living room, put the sensor in your bedroom and the AC won't cut off until the bedroom is cool too.
Smart lock
This is the top-rated smart lock on Amazon, with more than 2,700 ratings, 81% of which are five-star. Reviewers praise its ease of use. "The lock was installed and operational in less than 15 minutes," according to one. "The software application has a simplistic user interface that allows you to manage users, lock and unlock your door remotely, and set auto-lock features so your door locks behind you." With a smart lock, you can lock and unlock your door from your phone — and never again have your heart jump out of your chest because you suddenly can't remember if you locked up before you left home.
Smart cameras
At 4.3 stars and nearly 52,000 ratings, the Wyze Cam is the top-rated smart camera on Amazon. "All you need to set up is Wi-Fi, have the camera plugged into an electrical outlet and the Wyze app downloaded on your phone," one reviewer says. It has a motion sensor and sound-recording capabilities, a 1080p livestream, and night vision. And it works with Alexa and Google Assistant.
Stephen Farrell, director of merchandising at Hammacher Schlemmer, likes Nest's smart camera, which alerts you to any suspicious activity directly on its app and comes with built-in speakers and a microphone, technology that would have really changed the outcome of the Home Alone movies. Farrell says it helps his family feel more secure.
Smart light bulbs
Colors have been shown to affect your mood. Highly saturated bright colors can be relaxing, and warm or cool colors can actually make your body feel warmer or cooler. Plus, everybody benefits from mood lighting.
This is a great option if you're not worried about controlling your mood and are more interested in lowering the lights from the couch when you watch a movie.
Smart lamp for kids
The Glow is about the size of a football. "It can be set to a specific color, cycle through a rainbow timer, or light up with fun patterns called things like campfire, disco, and underwater," says Strategist contributor Tobey Grumet Segal, whose tween and teen sons use the Echo to add a little light to their room at night. (Just don't call it a night light.) "And if waking up for school is as big a problem in your home as it is in ours, you can sync it with Amazon routines so that it gradually brightens until it's time for the alarm to go off," she says.
Smart vacuum
The Eufy RoboVac is designed to be ignored. Just plug it in and set the schedule. But, "for the first few weeks, I didn't ignore it at all," says Strategist staff writer Liza Corsillo. "I stared at it lovingly as it did its work rolling underneath our couch and our bed devouring dust bunnies." It's smart enough to avoid ledges, it can alert you anytime it gets stuck in a certain area, and it can adapt to cleaning carpets or hard surfaces automatically. You can also control it remotely using the app or your smart speaker. So anytime you drop crumbs on the floor, you can just give Eufy a holler and watch it roll through, sweeping up your latest mess.