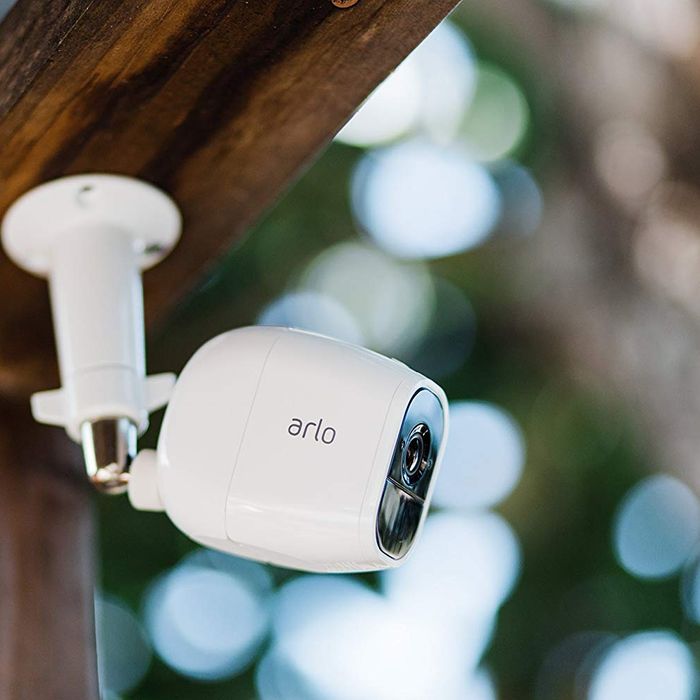 Here at the Strategist, we like to think of ourselves as crazy (in the good way) about the stuff we buy, but as much as we'd like to, we can't try everything. Which is why we have People's Choice, in which we find the best-reviewed products and single out the most convincing ones. (You can learn more about our rating system and how we pick each item here.)
And while we've written about lots of gadgets to give you peace of mind — including dashcams and smart doorbells— here, we've rounded up the best security cameras, including one popular doorbell security camera, as praised by the most enthusiastic reviewers on Amazon.
Best-rated (and least expensive) security camera
"Overall if anyone complains about this camera then they are expecting a Ferrari for a Pinto price," one reviewer writes, before going on to say that this camera works "amazingly well" for the price. Close to 7,000 reviewers also give this security camera a five-star rating and are impressed with the overall quality — starting with the easy setup. "Seriously, this was the fastest, easiest set up EVER," one user writes. "I think it took me all of maybe 3 minutes, if that." Another writes, "All you need to setup is Wi-Fi, have the camera plugged into an electrical outlet and the Wyze app downloaded on your phone." Reviewers are also impressed with all the features this camera comes with "Things such as motion detection, sound detection, detection zones, night vision, smoke alarm detection, 14 days cloud storage, SD slot, two way audio," one writes. Although one another user mentions it lacks a "pan and tilt" feature, they still say, "this gives me a very large range to look at — I was surprised at the amount of space it covered — I can hear, talk through to, night vision — all that I need."
Best indoor security camera
"I won't lie, I did doubt the quality when I saw the low price but after seeing it for myself I am dearly impressed," one reviewer writes, and they're one of many who are impressed with the value of this product. Another assures, "You'll get way more than what you paid for," and they add, "You can use this to monitor your home or office, live stream your pets and kids, and capture special moments using motion tracking and tagging." Another who uses it as a baby monitor says, "After going through multiple nursery cams, I am SUPER impressed with this camera (especially for the money)!" They continue, " No app issues, great video quality, simple easy setup. Hands down better than the other video monitors we've had." Another says the camera's range of motion and technical features are impressive: "You can pan the camera, move it side to side, up and down, and zoom, all from your phone app. And according to one reviewer, this security camera is excellent for keeping tabs on a nocturnal pet chinchilla: "The night vision is incredible. I can zoom in without it disrupting her view mode. I can pan and tilt remotely." While this is an indoor camera, one clever user notes they "shoot mine through internal windows for the same effect." They conclude, "You simply can't buy peace of mind for under $40 — unless of course you get this camera."
Best compact indoor security camera
About 10 percent of all five-star reviewers of this Ring indoor camera describe it as "small," "compact," and "tiny." It's only about three-inches tall, but it has a 115-degree horizontal view and 60-degree vertical view, which customers say is just enough to monitor a room. One customer uses it to "monitor the activities of [his] three cats from the bedroom." And he's not the only one who bought it specifically to watch his pets. Another customer wanted it for his living room to make sure his dogs stay off the furniture. So far, he's happy with it, and the best part for him is the "two-way communication and an alarm." He uses it to "scare the dogs when they fall asleep on the couch." A third reviewer has no pets to check in on, but he wanted to monitor the front door to see when his family comes into the house. Though more often than not, "I can check and see if I left the garage door open." He appreciates that "the view is pretty wide" and the model itself is "compact, convenient, and not so obvious. This little baby is just right for the money."
Best outdoor security camera
"I absolutely love these Ring floodlight camera's with motion activation, they are great," one customer writes. "Being able to see outside our home anytime day or night whether we are at home or not is priceless. The range of vision is impressive; according to one reviewer, "The video is also crystal clear with the ability to zoom in on your cell phone," while another notes, "I have a rather large backyard and I can see almost every inch of it with adjustment of the camera." About a fifth of five-star reviewers also mention this security camera's floodlights. "The two spotlights are very bright and are more than sufficient to illuminate my driveway and backyard," one says, adding, "They adjust easily and can be positioned pretty much however you need them." One even writes, "We opted for the Ring Floodlight Cam because I love the sense of lighting up the area to anyone who gets close enough, but also capturing anything they do on camera." And as one reviewer explains, all of these features add up to peace of mind: "Having the ability to control the outside lights and cams via my mobile phone offers me additional peace of mind when traveling, and the motion detection feature notifies me anytime someone comes on my property. It also provides a stored video in the event we ever have an intruder or theft."
Best wireless security camera with siren
These security cameras have a few selling points, chief among them that they are wireless. "Looked at several systems beforehand but to find a system TRULY portable (no video wire, and NO power wiring) that works this well in sunlight, night periods, and heavy rains has been difficult, until we obtained the Arlo Pro 2 system," one writes. Another says, "One of the main reasons I bought these cameras was so I wouldn't have to worry about having wires ran, and I was hoping it was something I could do myself." Others give it top marks for its image quality, even when compared to the already well-reviewed Arlo Pro. "I was considering buying the original Arlo cameras but decided I wanted to go with the Arlo Pro 2 to get a full 1080P resolution," one user explains. "These cameras perform very well and have helped us monitor our home remotely for the last month and a half." The Arlo 2 has a number of safety features as well like a siren and the ability to call 911, which at least one user finds helpful: "It will, if requested, call 911 in your remote location when you are somewhere else but need emergency assistance for, say, a fire or, in my case, a bear that decides to break in a window when you are not at home."
Best security camera with cloud storage
While having cloud storage is not exactly a unique feature among these security cameras, this Blink security camera offers free cloud storage, without a monthly subscription fee. One reviewer says he's "completely amazed by this system" because not only was it easy to install ("the only tool necessary is a common Phillips screwdriver," he says), but "you have total control of the free cloud storage," though it is limited. But it's not insubstantial. "You can store up to 7,200 seconds in the cloud," one reviewer explains, which he thinks is "plenty for a private home." He also adds that it's super easy to just delete the unimportant clips. This Blink system also doesn't record constantly. "Blink detects motion, begins recording, uploads the clip to the cloud, and sends you a notification," one reviewer explains. You can then view the clip and decide from there if you want to call 911 or if it was just your cat running around.
Best security camera system
This "bundle" gives you two outdoor cameras and one indoor camera, so your entire house can be monitored, and customers like the ease of getting everything at once, with the same video quality across cameras. "What makes this shine is its ease of installation and turn-key setup and operation. Everything just works," writes one customer. He appreciates that "no messing around" was required. "The free Nest app is your gateway to your video stream and associates with your camera during the setup process in a dead simple way." Another customer just "freaking loves these cameras." He admits he was overwhelmed with picking out a system, but Google made it easy. "I installed them myself, it was so much easier than I thought it would be!" Plus, one reviewer says the quality of these cameras can't be matched. He "had a Christmas package stolen" but "because of the camera, [they] were able to identify the license plate and the thief, which ultimately resulted in his arrest." He posted the video on social media and got an overwhelming response of people "amazed at the quality." If you don't need the whole system, though, you can just buy one indoor camera or just the outdoor cameras.