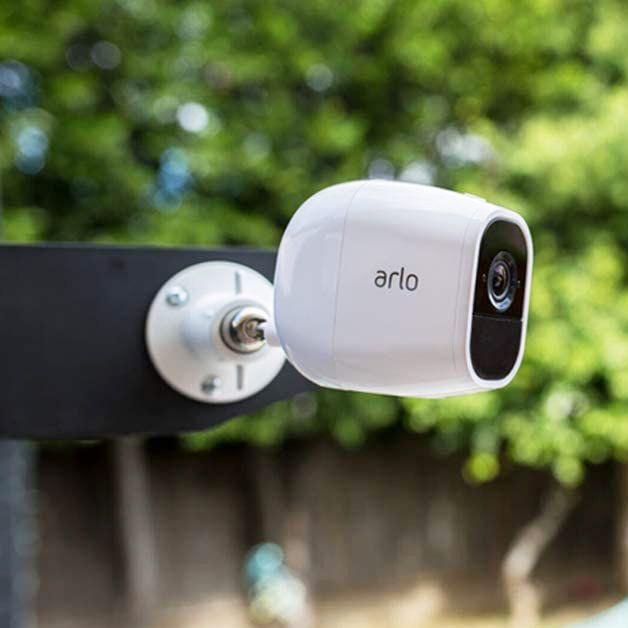 If you've been spending more time away from home, whether for holiday travel or daily commutes, a good security camera can help you feel a bit more at ease. But with so many options out there, it can be difficult to know which one to buy. To help you find the best one, we've rounded up the best of the best of the available categories, according to Amazon reviewers. And if you're looking for more gadgets to give you peace of mind, we have roundups on dashcams, video doorbells, and even hidden cameras.
Related Articles: The Best Video Doorbells | The Best Hidden Cameras | A Camera That Turned a Writer's Backyard Into an Episode of Nova
Best-rated security camera
Nearly 29,000 reviewers give this indoor and outdoor security camera five stars because it's easy to install, has an excellent battery life, and comes with plenty of features, including motion detection, sound detection, night vision, two-way audio, and live view. "Set up is as easy as it gets, and you can place it just about anywhere, on any surface," says a reviewer who now has five Ring devices installed around their house. Another reviewer "feels much more secure" since they now get motion-detection alerts sent to their phone and can easily "open the app, turn on the camera, and see what's going on inside the house from anywhere." They add that after four days and "about 15 to 20 alerts a day," their Ring's battery life is still at 96 percent. And a third reviewer who has tried Blink, Arlo, and other security cameras says the Ring Stick Up is "by far the best I've used" because "the battery life, the picture, the playback, and live view are all far superior to the others."
Best-rated (less expensive) security camera
"Overall if anyone complains about this camera then they are expecting a Ferrari for a Pinto price," one reviewer writes. Close to 22,000 reviewers also give this security camera a five-star rating and are impressed with the overall quality — starting with the easy setup. "Seriously, this was the fastest, easiest set up EVER," one user writes. "I think it took me all of maybe 3 minutes, if that." Another writes, "All you need to setup is Wi-Fi, have the camera plugged into an electrical outlet and the Wyze app downloaded on your phone." Reviewers are also impressed with all the features this camera comes with, including "motion detection, sound detection, detection zones, night vision, smoke alarm detection, 14 days cloud storage, SD slot, two way audio," one writes. Although one another user mentions it lacks a "pan and tilt" feature, they still say, "this gives me a very large range to look at — I was surprised at the amount of space it covered — I can hear, talk through to, night vision — all that I need." And another reviewer says, "The night vision is good for about 15/20 feet, but still pretty decent, especially considering it is only $36."
Best indoor security camera
About 10 percent of all five-star reviewers of this Ring indoor camera describe it as "small," "compact," and "tiny." It's only about three-inches tall, but it has a 115-degree horizontal view and 60-degree vertical view, which customers say is just enough to monitor a room. One customer uses it to "monitor the activities of [his] three cats from the bedroom." And he's not the only one who bought it specifically to watch his pets. Another customer wanted it for his living room to make sure his dogs stay off the furniture. So far, he's happy with it, and the best part for him is the "two-way communication and an alarm." He uses it to "scare the dogs when they fall asleep on the couch." A third reviewer has no pets to check in on, but he wanted to monitor the front door to see when his family comes into the house. Though more often than not, "I can check and see if I left the garage door open." He appreciates that "the view is pretty wide" and the model itself is "compact, convenient, and not so obvious. This little baby is just right for the money."
Best compact indoor security camera
"This is one bada** cam," writes one reviewer. After posting a picture of a pitch-black room, they add, "Omg the video is perfect. I did not show a daylight picture because looking at this in night mode, you know day mode rocks." Another reviewer, who was skeptical about the camera's low price, says they put it to the test: "I armed it. Left and waited for about five mins. I opened my door, and from the time that I open the door seven seconds later, I was getting a notification on my cell phone telling me my camera had some kind of motion detection. I watch myself coming in and saw how quick it was notifying me." And this user has now bought five: "I have three and just bought two more … garage, back door, and front door. I check on my kids in virtual school every day and talk to them through the camera."
Best outdoor security camera
"I absolutely love these Ring floodlight camera's with motion activation, they are great," one customer writes. "Being able to see outside our home anytime day or night whether we are at home or not is priceless. The range of vision is impressive." A different reviewer says, "The video is also crystal clear with the ability to zoom in on your cell phone," while another notes, "I have a rather large backyard and I can see almost every inch of it with adjustment of the camera." About a fifth of five-star reviewers also mention this security camera's floodlights. According to one, "the two spotlights are very bright and are more than sufficient to illuminate my driveway and backyard. They adjust easily and can be positioned pretty much however you need them." Plus, installation is simple, says one surprised 70 year old.
Best security camera with siren
This particular Ring Spotlight Cam has the same features as other Ring devices, but it also comes with a built-in siren alarm, which could help ward off intruders. One reviewer reports, "the siren is loud enough to grab your attention and give a good warning," adding that "the LED lights are bright and the video is clear." Another reviewer, who calls it a "nice security camera without breaking the bank," writes, "I really like how it has a light and siren built in it, which can be controlled from the Ring app." And a third reviewer describes this Ring Cam as "phenomenal" because of its siren, motion detection, night vision, and bright spotlight. "Overall, I honestly have no negatives about the spotlight camera … it provides peace of mind and comfort for my family now."
Best security camera with full-color night vision
While other devices listed come with night vision, these low-light recordings are black-and-white. By contrast, this Arlo camera is able to record at night in full color, which nearly 100 reviewers say is both impressive and helpful. "The night vision is outstanding and better than I thought it would be," writes one reviewer, adding, "These cameras not only distinguish between motion, person, and vehicle, but they also have a spotlight, which makes it nice to see." Another reviewer says the night vision is "great with or without the spotlight" and that installing the device was "quick and easy." They liked the camera "so much I recently bought another to add." A third reviewer goes so far as to say the night vision makes the Arlo "far superior" to other cameras: It's "amazing at immediately detecting the difference between animals, cars, and people to avoid having to watch every motion alert while I'm away on business." Plus, they write, the "battery lasts a month, even with lots of activity triggering motion detection."
Best security camera with cloud storage
The weatherproof Blink Outdoor camera runs on two AA batteries for up to two years. A reviewer who has owned many security cameras says that the Blink Outdoor's "sound is much louder and more clear" than the others and that "the front of the camera has an all-new face with a very smooth and shiny surface I am sure helps to combat the weather and give it a more high-tech look." According to another excited reviewer, "These are better than expected! We plan to get 3+ more, they are that cool. We are not ones to use a security system, but someone took something from my yard and that was all we needed to push us to get something."
Best solar-powered security camera
The solar panel on this Ring camera stood out to customers because it will constantly keep the battery charged, no cords required. "With the solar plate, I'm hoping I don't have to replace the battery for years," says one customer who is impressed that the camera "holds a full charge all the time." Another bought indoor cameras and outdoor cameras with solar panels to test the difference. He said that it took the indoor cameras about two months to get to low battery, and given the solar panels, the outdoor cameras "fully charged at all times, even though they're on nonstop" and point to a busy street, so it constantly records the motion detected. He says if you're considering getting solar panels for your outdoor cameras, he "highly recommends" them because he has zero concerns of his batteries dying. Some worry that their cameras are not in sunny enough spots to keep the battery activated, but one customer says that his "solar panel only gets about 3-4 hours of sun each day, but that seems to keep the battery at full charge."
Best security-camera doorbell
Although it's not a traditional security camera, the Ring doorbell offers video-surveillance capabilities. This is mostly a doorbell, not a traditional security camera. Ring recently released the Video Doorbell 3, which multiple reviewers say is a noted improvement over the original. As one customer explains, "The field of view, responsiveness, sound quality and quality of the picture are much, much better on the Ring Doorbell 3 than the first generation unit." The updated version limits motion response to just the area you select — unlike the older model, which reviewers say alerted you when anything at all moved, even cars or trucks driving by almost 30 feet away. What most people use the Ring for is protecting their deliveries. "Literally just installed and caught someone stealing our packages the same day," one person says. Another, who had a similar incident, calls this the "best product ever invented." You can also use your smartphone to interact with people at your door, no matter where you are: "Even if you are shopping or at work, you can talk to the people over your smartphone and they have no idea if you are in the house or away."
The Strategist is designed to surface the most useful, expert recommendations for things to buy across the vast e-commerce landscape. Some of our latest conquests include the best women's jeans, rolling luggage, pillows for side sleepers, ultra-flattering pants, and bath towels. We update links when possible, but note that deals can expire and all prices are subject to change.
Every editorial product is independently selected. If you buy something through our links, New York may earn an affiliate commission.