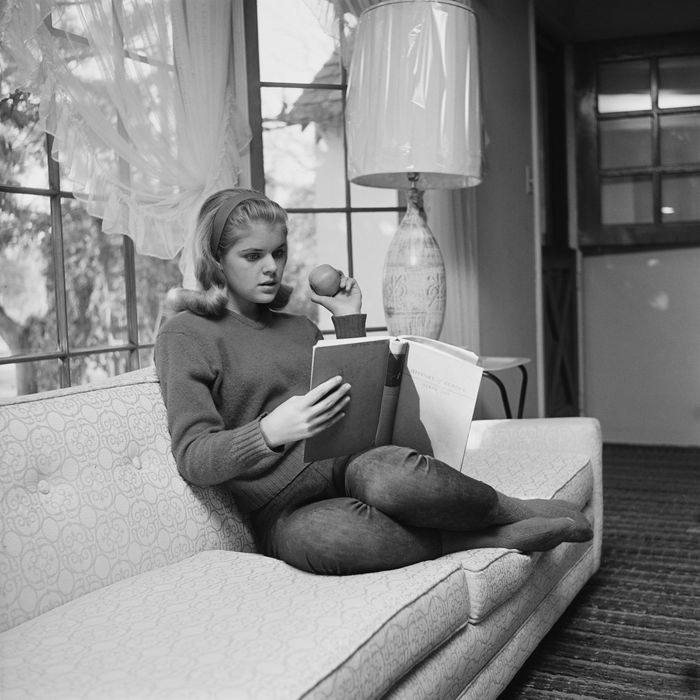 Photo: Graphic House/Archive Photos/Getty Images
Like much of the in-office workforce, millions of high-school and college students are now also working from home — though in this case, by work, we mean homework, and by home, we mean their parents' homes.
And while many WFH professionals told us they reach for sophisticated smock dresses and double-breasted blazers to take conference calls from the comfort of their couches, we couldn't help but wonder what students are wearing now that their days consist of Zoom classes and remote exams from their poster-covered bedrooms. So we reached out to 15 stylish young people and asked them just that.
"My daily routine goes like this: Wake up, do online school, watch around 700 TikToks, and maybe, if I feel like it, get dressed," says Georgia Freyer, 15. When she does get dressed, she reaches for BDG mom shorts and one of her many oversized T-shirts that have been "stolen from siblings or gifted by well-meaning relatives." And because she lives in the South, where it's already hitting 80 degrees, she often throws on a bathing suit top underneath. She calls her look "summer at the beach — but we can't go to the beach because there's a global pandemic, so now it's just summer at the house with anxiety."
Wen Hsiao, 20, was struggling to find motivation wearing the same pair of black leggings, so she started wearing black jeans instead. The elastic waistband makes these comfortable enough to wear all day, she says, while the "structured design makes me feel like I have a sense of purpose and somewhere to be." She notes that they're lightweight, making them an ideal transitional piece for spring — "or your once-per-week grocery run."
"My go-to school-from-home outfit is comfortable yet put-together," says Alaina Chou, 19. "I never really wear sweatpants to school, so I follow a similar rule for my online classes." She's been wearing her See By Chloe flare jeans, which are just stretchy enough to be comfortable, and usually pairs them with tank tops — Free People's black spaghetti-strap tank is a favorite, she says. And if she gets chilly — or needs to look professional on Zoom — she just adds a cropped blazer.
Sylvie Nelson, 20, says she's "pretty much figured out a comfortable stay-at-home uniform that still makes me feel cute." She likes square-neck tanks from Brandy Melville — which she can wear without needing a bra, "the last thing I want to put on in quarantine" — with oversize, relaxed-fit Levi's that are "perfect for lounging around in."
When she's not in Levi's, Sylvie likes Girlfriend Collective leggings and bike shorts. She loves that they're "supersoft," come in cool colors, and are made out of recycled water bottles.
Alli Hoffer, 22, says that while she has been dressing for comfort, she'll "go crazy if I'm not at least a little put-together, so I'm trying to look cute as well." To satisfy those conditions, she's been reaching for big T-shirts and biker shorts. Her favorite is this pair from Aerie; they're high-rise, hit mid-thigh, and have a stylish V-shaped waistband. When she has to venture out to the grocery store, she adds platform Tevas.
"I always pull inspiration for my outfits from whatever I'm watching at the moment," says Elise Esquibel, 17. "Earlier this year, I was heavily influenced by Rory Gilmore and Miriam Maisel, but during this self-isolation period, I've really embraced a more casual androgynous style inspired by Zoë Kravitz in High Fidelity and Diane Keaton in Annie Hall." With that in mind, she's been wearing vintage-y band tees, like this Blondie one, with Levi 501s or her vintage army pants. And when she's forced to wear shoes, "I've been living in my platform Vans," she says.