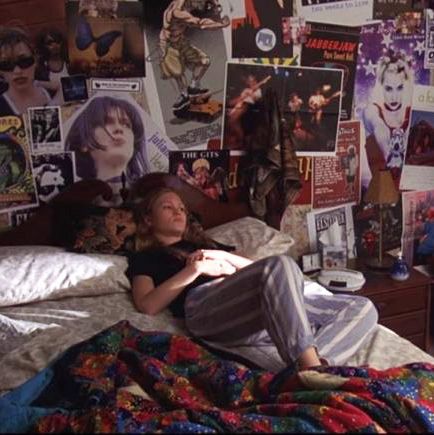 Photo: Touchstone Pictures
Whether you're using it to study, watch Cheer, or sleep (or watch Cheer when you should be sleeping), your bedroom is one of the few places where you can fully express yourself. But decorating a small space can be a challenge, especially if you're trying to transition from the bubblegum pink bedroom of your childhood. So we asked 16 intimidatingly cool teens about the bedding, lighting, wall art, seating, and tchotchkes they love. Read on for their 35 picks, which include fuzzy chairs, vintage movie posters, and a ton of fairy lights.
Best lighting
For inexpensive mood lighting, many of the teens we talked to said twinkle lights are a must. "They've gotten really popular from TikTok and social media, but despite that, they are still a nice accessory and are just fun," explains 17-year-old Hayley Bruner. "Different colored lights can match different moods and times of the day, and it adds something unique to my room when it feels kind of boring." Kennedy Garcia , 15, has twinkle lights strung around her ceiling that are remote-controlled, can be set to different colors, and can blink or strobe. Eighteen-year-old Jenna Wasserman likes this rainbow set from MINGER, which she says makes "you feel like you are having a party by yourself or with friends." It Bluetooth-syncs with music, blinks in rhythm, and "helps relieve stress," she says. Sixteen-year-old actor and model Brooke Dylan Stein is also planning on installing LED lights around her entire ceiling: "They should be voice activated to go on and off, dim, change color, and even pulse to music."
For a slightly different take on the twinkle light trend, Wasserman also has these string lights with clips, allowing her to hang up photos of her "favorite days and people, so the memories stay lit up in my mind as much as they are on my wall." If you just got a Polaroid camera (or are thinking of asking one for your next birthday), then this is a good bet.
Or try the curtain of lights that 13-year-old actor and dancer Bella Yantis told us about. She says she loves to watch "while relaxing or falling asleep."
Two of the teens we talked to are into neon lights as an alternative to fairy lights. "I love my pink unicorn neon light," says 13-year-old model Parys B, adding that they cast the perfect glow for selfie-taking. Wasserman agrees, saying that her neon lightning bolt not only gives her an energy boost but is also great when she's having a dance party with friends.
And if you want your room to look less 1990s — and more 1890s — 16-year-old Vivian Lipson likes this retro lampshade because it's "a little bit goth" and creates "ambiance in a bedroom" by casting a dim, moody glow.
If you are in the market for a floor lamp, 12-about-to-be-13-year-old actress Miya Cech says "you can't go wrong with a simple gold floor lamp." This one was such a "great deal" that her parents even bought two more for the living room.
Best bedding
The teens we spoke to said that having a cozy bed is super important when it comes to unwinding. Yantis loves this wavy quilt because "the color and texture is perfect with soft, cream, faux-fur pillows."
If you're a dog person (or have a friend who's into personalized presents), Wasserman loves her pillow of her dog Cooper. "This was a gift given to me when I went away to college," she says. "I get to show him off to my friends when they come to visit."
For a more budget-friendly option, Wasserman recommends her cozy UGG reversible throw blanket, which she says is almost too comfortable. She told us that when she's snuggled under it, she doesn't feel "like staying awake to finish studying."
Best seating
Garcia also told us that comfy seating is a must. She cozies up in her purple swivel chair when she's "watching TV or hanging with friends."