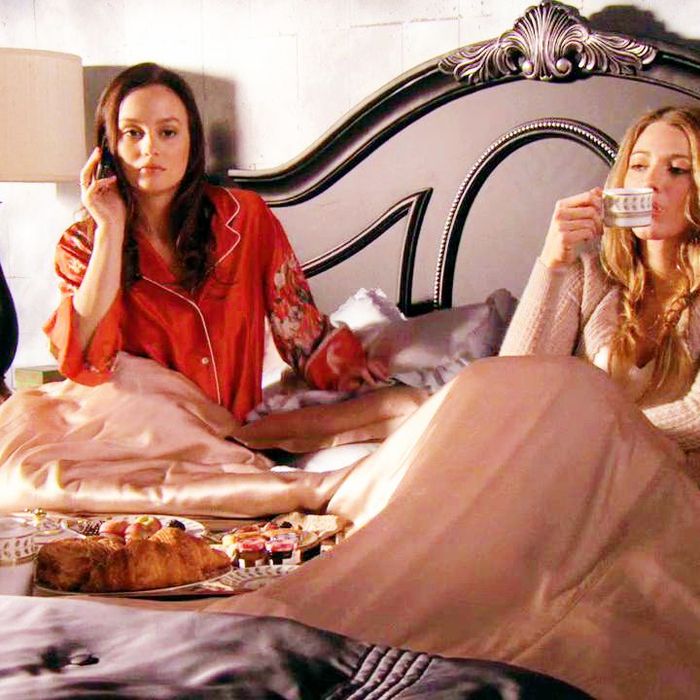 Blair Waldorf taste on a Lonely Boy budget.
Photo: The CW
Whether you're studying, sleeping, or staring at an iPhone screen, you probably spend a lot of time in your bedroom. So you may as well make it as aesthetically pleasing as possible because no one understands the importance of #aesthetics more than teenagers. I know this because I've spent my career talking to teens (and following them on Instagram). With that in mind, I scoured Amazon for fairy lights, flower planters, and other cool décor fit for a Netflix high-school series (or, more realistically, a TikTok backdrop). Best of all, it can all be acquired on a babysitter's (or, again more realistically, Depop seller's) budget.
More understated than your standard green-wire Christmas lights, this bendable LED string casts a subtle glow — and happens to be fireproof thanks to its sealed copper wires. Hang it up along your ceiling or turn it into a photo wall (heads up, though: Photo clips sold separately).
The only thing more cheerful than a live plant is a live plant inside a porcelain llama pot. Go for an itty-bitty cactus; not only is it easy to grow, but this ultrasweet planter is begging for something with a little bit of attitude.
Can't keep a plant alive to save your life? This ceramic-cactus ring holder is a nice compromise.
Nothing elevates a getting-ready routine quite like a Hollywood-inspired light-up mirror … even if you're just getting ready for 8 a.m. homeroom.
Put your scrunchie stockpile on display — and keep it organized — with this clever hair-tie holder. (And if your collection is still a work in progress, might we direct you to this 60 scrunchies for $6 deal?)
This collapsible cotton laundry hamper comes in lots of subtly whimsical patterns, like a paper-airplane motif as well as some not so subtle ones (yes, that's a dabbing unicorn).
This tiny table does it all, as its 1,137 glowing reviews attest. Prop up your laptop and crank out a term paper, then treat yourself to a Netflix marathon — all without leaving your bed. (You can also take it camping or to the beach when school's not in session.)
If you're not in a position to get a dog, this cuddly Shar-Pei pillow will keep you warm at night.
There's no shortage of neon signs on Amazon (and beyond), but we're partial to this pink rose. It kind of looks like a tattoo, and it feels a little cooler than the omnipresent "Good Vibes Only" sign that lights up many a storefront. If flowers aren't your thing, there's also a very fun Popsicle version.
These rose-gold containers are almost too nice to relegate to your bathroom. Sure, you could use them to stash makeup pads and cotton balls, but we think they'd also be great atop a desk for craft supplies, school miscellanea, and other nowhere-to-put odds and ends.
Whether you stock it with skin care, snacks, or seltzer, this tiny fridge is surprisingly useful (and even if it weren't, it would still be mind-bogglingly cute).
Mount this jewelry holder right by the door — the mirror's perfect for last-minute touch-ups, and you'll never forget to grab your favorite necklace again.
This is the easiest way to hang a poster, and because it uses just magnets, you can swap out the art (in literally seconds!) whenever you need a change.
This do-it-all gadget is a digital alarm clock, Bluetooth speaker, desk lamp, and night-light. The colors change according to volume and rhythm, sort of like a 2020 take on a lava lamp.