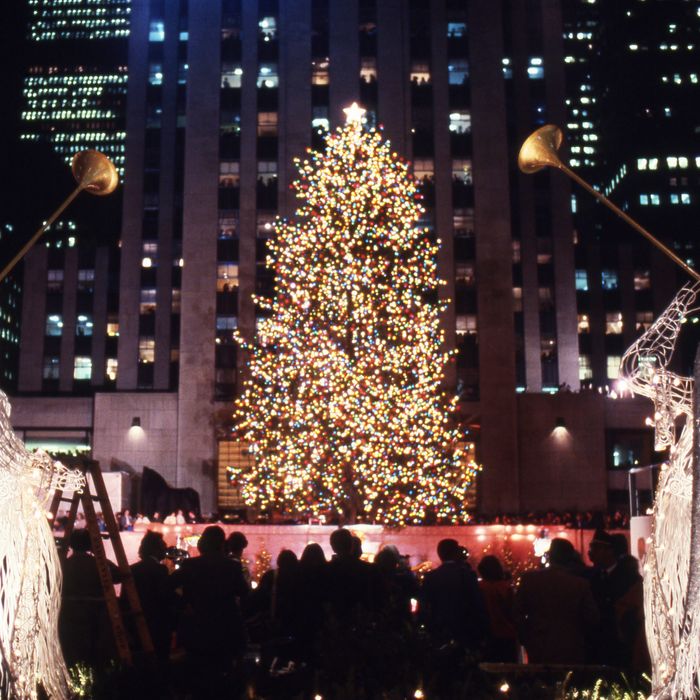 Photo: Bettmann Archive/Getty Images
With holiday shopping starting earlier than ever this year, a lot of us are already thinking about Christmas traditions like buying a tree, either fake or otherwise, or starting an advent calendar, either beauty or otherwise. (If there was ever a time that could use some added brightness and cheer, it's 2020.)
If you're planning on putting lights on your house this year, know that there are more choices than ever: LED bulbs that use less energy and are less likely to burn out; hearty bulbs that are outdoor rated; bulbs that twinkle and pulse. Instead of simply buying the first outdoor Christmas lights that you see, you should find what's right for you, your home, and your willingness to spend time on a ladder.
To help you in that search, we spoke with four different professional Christmas-light installers (one of whom has the last name Tree, in case you needed another reason to trust him) and a dedicated homeowner named Bob Young who's been causing traffic jams in his hometown of Port Washington, New York, with his light displays for more than two decades.
Young uses about 300,000 individual bulbs, he says, which accounts for about 20,000 total feet of wiring. While you don't need to use that many bulbs on your house to make an impression, there are tips from his and the other experts' experience that can help you with your own display. The first, Young says, is symmetry. Good lighting setups don't look haphazard. Like all of our experts, Young also stresses safety. He recommends always using ground-fault circuit interrupter extension cords and LED lights, which are safer and more cost-effective than incandescent bulbs. And with LED bulbs, you don't have to worry about finding multiple outlets, since thousands (should you get carried away) can be connected into one plug.
Here are the best Christmas lights — and how to use them — according to our experts.
The best Christmas lights for your house
Brandon Stevens, president of the Decor Group, a Texas-based Christmas light installation company with franchises in 48 states, agrees with Young that LED is the way to go when it comes to outdoor holiday lights. LED bulbs stand up to harsh weather, they last for years, and if you're going full Griswold, they can save you quite a bit of money over time. "Warm white has been the standard for outdoor decoration for 25 or more years," Stevens says. "You see some incorporation of color these days, but white light is still the most popular for roofs, windows, trees, and shrubs and all." Long strands like this 105-foot option from Decute are perfect for long roof lines. "We use clips along gutters or that go right onto the shingles," Stevens says. "They are always removable." Plus, these lights twinkle, and that's a good thing, according to Matthew Jesue of LEDup Manufacturing Group Limited. "Starry lights are the hottest thing in LED lighting right now," he says. "This is not a trend, but definitely here to stay."
The best Christmas lights for windows
"We recommend mini lights on windows because they don't overpower the window," Stevens says. Since they're about half as tall as traditional Christmas lights, "you can enjoy the lights from inside and outside but still see out of the windows at night," he says.
The best Christmas lights for wreaths
Whatever lights you buy, make sure they have the UL seal from Underwriters Laboratories, which means the lights meet important safety standards. "The good news," says John DeCosmo of the Ulta-Lit Tree Company, "is that all reputable merchants sell UL-listed light sets." So you won't have to search long. DeCosmo recommends Sylvania, "a great brand" that offers lights that are "reliable, beautiful, and wildly functional." This shorter string of bright white lights are perfect for wrapping an outdoor wreath.
The heartiest Christmas lights
"These heavy-duty lights stay lit even if a bulb gets damaged, is missing, or burns out," says Jesue. Plus, they're "weather-resistant, with a sealed husk that keeps out moisture" and are "great for indoor and outdoor use," he says. And they come with a ten-year limited warranty.
The best permanent Christmas lights