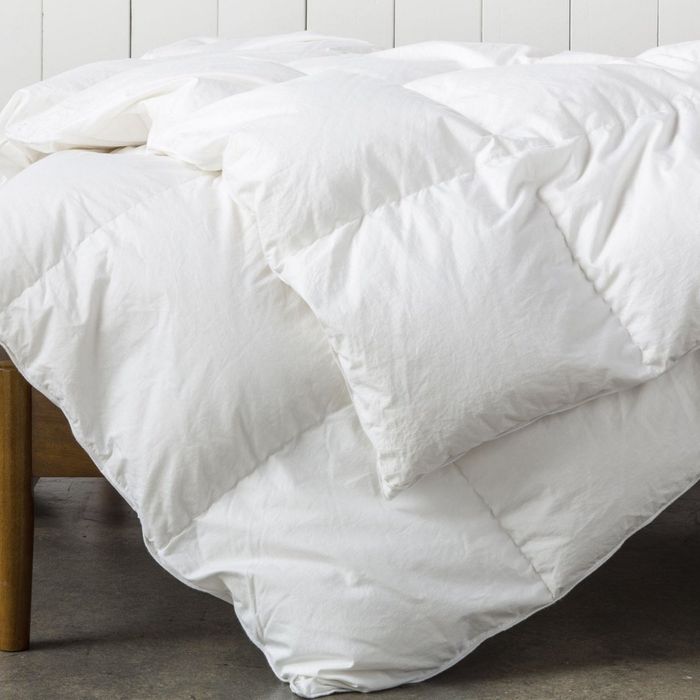 For that cozy, sinking feeling.
Photo: Courtesy Retailer
We've covered everything from mattresses and mattress toppers to linen sheets and duvet covers, but here, we've rounded up the best comforters as praised by the most enthusiastic reviewers on Amazon. Unless otherwise stated, each option is priced for a queen-size comforter, but most brands offer different sizes for whatever size bed you're sleeping in.
Related Article: Best Duvet Covers
Best-rated comforter
In thousands of five-star reviews, reviewers mention again and again how impressed they are by the warmth and softness of this reasonably priced, lightweight comforter. One calls it "soft, fluffy, and warm (but not too warm)," and another says "it's very light, yet still provides enough warmth that I'm only using this with a flat sheet." Others also like the comforter's streamlined appearance: "It looks very nice on my bed, regardless of what sheets I use," says one reviewer, and another says it "looks very sleek."
Best of all, reviewers say this comforter helps them sleep more comfortably. One who normally sleeps hot raves, "For the first time in…um…EVER I slept through the night with my feet UNDER the blanket all night….It was PERFECT. It wasn't hot, it wasn't cold, it was the perfect weight and perfect temperature thus not making me feel trapped." Reviewers also note that it's easy to clean and stands up well to machine washing and drying, like this one who says, "after a single wash cycle and a trip to the dryer, it was even softer and fluffier that before, and there was not a single clumpy spot."
Best-rated (less expensive) comforter
Reviewers who are sensitive to down love that this comforter has "the look of down without the allergies." Another reviewer writes, "my sneezing due to allergies has almost disappeared," and says, "this may be the best duvet possible if you suffer from allergies or if you don't care for real down." Others also love that it "launders like a dream," is "definitely hotel quality – extremely soft and fluffy," and, according to one reviewer. "so good my husband didn't realize it wasn't Pottery Barn!"
Best ecofriendly down alternative comforter
When Strategist writer Lori Keong tested out this comforter from the bedding startup Buffy, she said, "the Buffy really does feel like sleeping under a pile of cotton candy," and Amazon reviewers found it just as delightful. One writes, "Buffy keeps me cool when it's hot in my room, and warm when it's too cold. This is simply the best comforter I've ever owned. Hands down," and another says it's "the most comfortable, soft, and light comforter I have ever experienced. My husband and I sleep like babies ever since we got it." This reviewer loves it so much that they write, "it's like I'm drowning in clouds and I don't even mind."
Best lightweight comforter
One reviewer says the very low price of this comforter "almost scared me away" as she thought it'd be poorly made, but she ended up loving it: "It's surprisingly light, crisp, and fluffy. Hands down the best 'feel' I've had in years. It's also a true bright white which I can appreciate as the rest of my bedding is all bright white. This is just a steal!" Another reviewer agrees that it's "very well made. The stitching quality is good, the shell fabric seems perfect for the job, and the filling is uniformly distributed and stable — no thin spots … very pleasant to sleep under."
Best reversible lightweight comforter
"If you are a 'human microwave' like I am and radiate heat to uncomfortable levels under a normal comforter, this is one for you," claims one reviewer, and lots of other sweaty sleepers agree that this lightweight comforter keeps them from overheating at night. "It's not so heavy that you will sweat to death during the summer but heavy enough to keep you warm during the winter," writes a reviewer who finds it just warm enough without being too hot.
Best reversible down alternative comforter
"The quality is what I would expect from a $300 comforter," writes one reviewer of this down-alternative comforter. Many others agree that the comforter is a "steal," a "bargain," and "a good value for the price," with another saying that they are "super impressed with the quality and comfort of this duvet." It's also "beautiful, super comfortable, and the perfect weight," according to a satisfied customer, and another agrees, saying that it "Keeps me warm without weighing me down." As for how it feels, reviewers love that it's "soft, smooth, and cuddly," "super super soft," and so puffy that "it's really like being under a cloud." The fact that this down-alternative comforter is reversible is a bonus, as this satisfied customer writes, "It's a perfect blend of softness and comfort. I love the fact that it's reversible too."
Best cloudlike comforter
As one reviewer says, "this bedspread literally is like sleeping on clouds," and the analogy comes up a lot in the hundreds of five-star reviews for this puffy comforter. Reviewers say sleeping under it feels like "cuddling with a cloud," "sleeping on the clouds of heaven," and "being wrapped in a cloud made of angel kisses and fat puppies." Besides the heavenly feel, reviewers also like that "the squared stitching keeps the fluff evenly spread out," and "how warm it is without being too hot."
Best goose-down comforter