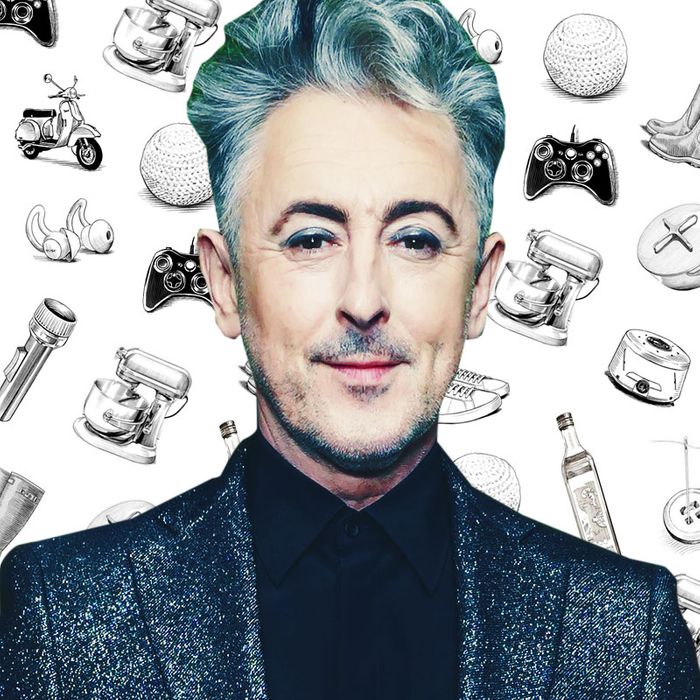 Photo-Illustration: Getty
If you're like us, you've probably wondered what famous people add to their carts. Not the JAR brooch and Louis XV chair but the hair spray and the electric toothbrush. We asked Alan Cumming, whose new book, Baggage: Tales From a Fully Packed Life, was released today, about the bear-proof composter, portable lamp with flattering lighting, and less-bad-for-you eye drops he can't live without.
A couple of years ago, I went to get my eyes tested, and the eye doctor told me to use these drops because they're less bad for you than other eye drops. Being an actor is annoying sometimes because you have to look cute. In the morning, I was using eye drops about six times when I had to look presentable. I got tired of putting all these chemicals in my eyes. My doctor told me these Lumify drops do what I want but don't have the damaging chemicals the others do. They really do work. At three in the morning, when your eyes are bloodshot and you're very tired, I definitely see a difference. I also keep mine in the fridge. They feel really nice and cool when I put them in my eyes after.
I have two dogs: Lala, who is a collie-spaniel mix and a gentle, shy little thing, and Jerry, who is a rat-terrier-Chihuahua mix. Jerry is the butch guy of the house. These poop bags have become essential, obviously. I was in Vancouver one time, and somebody asked me if my poop bags were compostable. I was like, "Oh no, but I think they're made of recycled things?" And they pointed me to these, telling me they were compostable and better. A lot of bags say they're recyclable, but that still takes forever to break down. The little roll is very handy and easy to use. We only use these in the city, because upstate, we just fling the poop into the woods — it's natural compost.
I was out to dinner in the summer with some friends on the east side of midtown. We sat outside, and they had these little lights at the table. I thought they were amazing. A lot of outside lights look ugly, but this one is so lovely. I'm all about lighting. One positive thing to come out of the pandemic is people's awareness of good lighting. I think it's time people finally stop using ghastly overhead lighting. This light gives off a really beautiful light. You plug it in to charge, then it lasts forever. I rarely have to recharge it. I love lamps where you don't have to fiddle about for the switch; you just hit the top, and it goes off. I only have one, but I wish I had bought more. We take it everywhere around the house — the deck, our kitchen, wherever. You can pick it up just like a glass.
I'm a big griller now. I feel like a cowboy when I use it. I've spent a lot of time in the Catskills over the past year, so I've done quite a lot of grilling. I've cooked on a traditional barbecue before, but I enjoy my grill-swing-campfire-firepit thing. My friend had one, and I thought it was so great, so I had to buy it. You can do so many things at once with all these hanging things. Just the other day, I grilled vegan burgers on this plate thing that sits right over the flames. I had a Dutch oven full of water boiling potatoes over the fire. I had baked beans heating up in a pan and two corn on the cobs in their skin over the fire. This was all at once. It's very efficient.
Photo-Illustration: retailer
I am obsessed with hardware and outdoor shops. I love going into the camping section of stores, not because I go camping, but because I love all the gadgets you can get, like hammocks and chairs that fold up and portable tables. I have so many hammocks, but this is my favorite. I found it at a shop in the local village where my home is. This one has a foot rest and a thing for your phone and glass. I even got a little fold up tent that goes over it in case it rains — it looks like the ones you have on film sets that goes over the tables holding the catering. I keep it up all the time with a few other hammocks I own, so multiple people can lie in separate hammocks and chat together. I call it my hammock park. Even if I'm not in my hammock, just the idea that I can plop on it at any moment is very soothing to me — honestly, the idea of hammocks is just relaxing as actually being in one at times.
My obsession with these — a sort of men's kaftan with a hood — started about two years ago. I don't wear them in the city, but they really make sense for my upstate home. I buy them off of Etsy; lots of shops make good ones. I just search around until I find one I like. I enjoy a nice stripe on my djellaba. The fabric varies. I have lightweight ones for summer, then more hard-wearing, wooly ones, which are more cozy for winter. In the summer I particularly love them. You don't have to worry about getting sunburned, so it's great if I'm gardening or just wandering around. The hood keeps the sun out of my face. And if you want to have a swim, you just flick it off, jump in the pool, then put it back on again. It acts a little bit like a towel. They're brilliant. It's funny, though, because during Fashion Week, my friend Cynthia Rowley featured loads of caftans in her show. I think the pandemic has made us all rediscover pajamas and caftans and other things of the sort.
I made a film in China two years ago with Jackie Chan. You might as well be an alien if you're vegan in China. They had to cook special things for me, but I always wanted a little extra pep in the food. So I found this great Chinese chile sauce. It was so delicious, oily but with adequate amounts of chile flakes. I bought 12 jars of it and brought them back with me from Shanghai, thinking it was so rare and special. Turns out, you can find it at any Chinese supermarket in the city. It has quite a lot of chemicals in it, so the Fly By Jing one tastes very similar, but it's a bit less mass-produced and not full of shit. I own several sauces and spices and whatnot from the brand. They're all delicious. You know when you ask for chile sauce in a restaurant and they bring you that really sweet stuff or plain chile flakes? I don't like that. I love the gritty, oily sort of chile sauce. I would take it around with me, but I'm afraid of having a spill.